The Edge: Cruz Snags Another Bush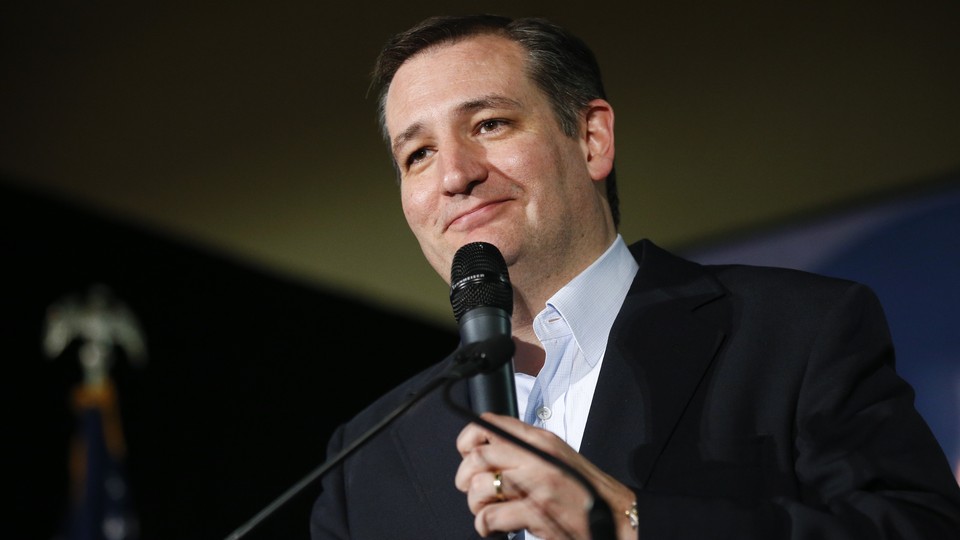 Today in One Paragraph
Belgian authorities identified two of the men responsible for Tuesday's explosions in Brussels, and said another assailant was still on the run. Jeb Bush endorsed Ted Cruz. House Speaker Paul Ryan said Americans should not be "disheartened" by American politics. President Obama commended Argentine President Mauricio Macri for new economic reforms and pledged to destroy ISIS. And the Supreme Court began hearing oral arguments for one of the most contentious cases on the docket regarding the so-called contraception mandate.
---
Top News
Update on Brussels Attacks. Three suicide bombers—including two brothers—were responsible for Tuesday's explosions in Brussels, according to Belgian authorities. They're still searching for at least one more assailant. Turkey's president said in a news conference that Turkey had previously detained one of the attackers, alerted the Belgian government that he was a foreign fighter, and deported him. Secretary of State John Kerry will travel to Brussels on Friday. (Alissa J. Rubin, Kimiko De Freytas-Tamura, and Aurelien Breeden, The New York Times)
Bush Endorses Cruz. The former presidential candidate announced his support for the Texas senator in a Facebook post, saying Cruz was a "principled conservative" who could overcome "the divisiveness and vulgarity Donald Trump has brought into the political arena." The move—which comes after Cruz's overwhelming win in the Utah caucuses—reflects a new level of confidence in Cruz from the establishment. (Mike Allen and Alex Isenstadt, Politico)
Ryan Denounces 'Ugliness' in Politics. The speaker of the House cautioned against becoming "disheartened" with the current state of American politics, alluding to Donald Trump in a speech to congressional interns. Ryan said his mission as speaker has been "to raise our gaze and aim for a brighter horizon." (Russell Berman, The Atlantic)
Obama in Argentina. The president vowed to destroy ISIS during a joint news conference with Argentine President Mauricio Macri who concurred and voiced his support. Obama also praised Macri for moving rapidly "on so many of the reforms that he promised, to create more sustainable and inclusive economic growth." Obama's two-day visit to the country marks a shift in the relationship between the U.S. and Argentina following years of tension. (Kamilia Lahrichi and Gregg Zoroya, USA TODAY)
Zubik v. Burwell Headed for Tie. U.S. Supreme Court justices began hearing a lawsuit brought by several plaintiffs, including the Little Sisters of the Poor, challenging a provision of Obamacare. Little Sisters claims that, even though they aren't required to provide contraception under the Affordable Care Act, having to opt out of birth control coverage constitutes an undue religious burden.The Court appears to be headed for a 4-4 tie. (Pete Williams, NBC News)
Tomorrow in One Paragraph. Hillary Clinton will host several fundraisers in California, Bernie Sanders is campaigning in Washington, and Ted Cruz will speak at a forum in Wisconsin.
---
Follow stories throughout the day with our new Politics & Policy page. And keep on top of the campaign with our 2016 Distilled election dashboard.
---
Top Read
"Researchers have long noticed that an oddly large number of jihadists have engineering backgrounds. Recently two social scientists, Diego Gambetta and Steffen Hertog, scrutinized the numbers and concluded that, yes, the proportion of terrorists who are engineers far outpaces expectations. Why is that?" The Chronicle of Higher Education's Dan Berrett on why there appears to be a number of terrorists with engineering backgrounds.
---
Top Lines
RevUp Fundraising. The founder of a sports science company has created a new piece of software that could revolutionize the way politicians raise money for their campaigns. (Joshua Green, Bloomberg)
New Rules for Stogies? Seven years after Congress imposed tighter regulations on cigarettes, the cigar industry might be facing a set of unprecedented rules—including an FDA-required warning label. (Sheila Kaplan, STAT News)
---
Top Views
What We Know. On Monday, attacks in a Brussels airport and a subway train killed at least 30 people and wounded more than 250 others. Here's The Washington Post with a series of graphics showing the locations of the blasts, as well as the concentration of foreign fighters in countries around the world. (The Washington Post)
We want to hear from you! We're reimagining what The Edge can be, and would love to receive your complaints, compliments, and suggestions. Tell us what you'd like to find in your inbox by sending a message to newsletters@theatlantic.com.