The Edge: Bloomberg Will Continue Not Running for President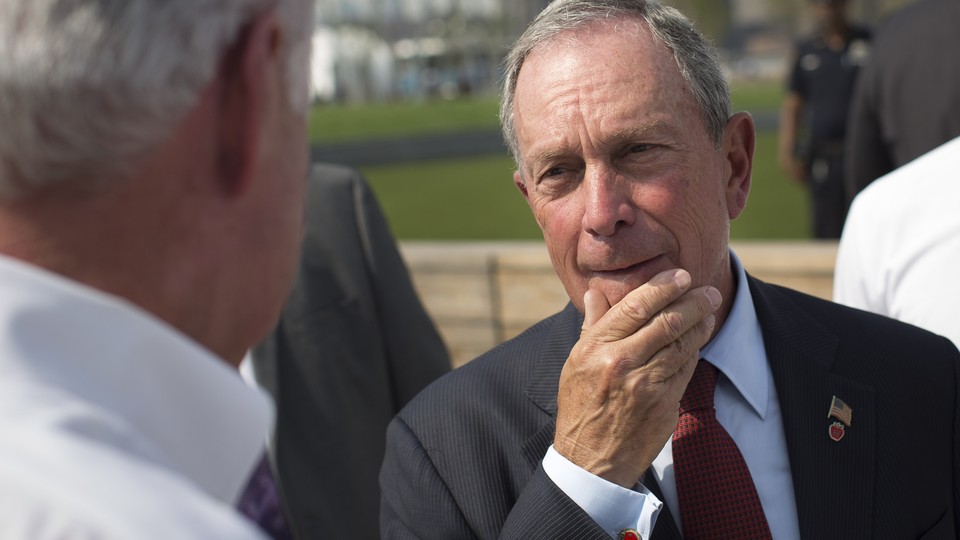 Today in One Paragraph
Former New York Mayor Michael Bloomberg announced that he won't run for president. U.S. airstrikes in Somalia killed more than 150 al-Shabaab fighters over the weekend, the Pentagon said. The U.S. Supreme Court reversed an Alabama court's decision that refused to recognize same-sex adoption. Former first lady Nancy Reagan will lie in repose on Wednesday and Thursday, and her funeral will be held on Friday. European Union leaders met with Turkey on the refugee crisis, offering the country more than $3 billion in aid to reduce the flow of migrants. And another lawsuit has been filed against Michigan Governor Rick Snyder, as a result of the city's water crisis.
---
Top News
Nevermind. Michael Bloomberg announced on Bloomberg View that he will not be running for president. The former New York mayor had been quietly planning to enter the race as an independent, but said he feared a three-way race would enable Donald Trump or Ted Cruz to win the presidency, which he says "is not a risk I can take in good conscience." (Maggie Haberman and Alexander Burns, The New York Times)
U.S. Airstrikes Hit al-Shabaab Training Camp. More than 150 al-Shabaab fighters were killed in U.S. airstrikes in Somalia on Saturday, according to Pentagon spokesman Captain Jeff Davis. The site posed an "imminent threat" against U.S. and African forces, according to Davis, and had been under surveillance for several weeks. (Phil Stewart, Reuters)
Court Upholds Lesbian Mother's Parental Rights. The U.S. Supreme Court reversed an Alabama Supreme Court decision that refused to recognize an adoption granted to a same-sex couple. A prior court in Georgia had recognized the woman's rights in granting her the adoption, the Court said in an unsigned opinion, and the Alabama court had failed to give "full faith and credit" to that decision. (Chris Geidner, BuzzFeed)
Nancy Reagan's Funeral Announced. A private service for the former first lady, who died Sunday at age 94, will be held on Friday, according to a spokesperson for the Ronald Reagan Presidential Library. Her body will lie in repose at the library in Simi Valley, California on Wednesday and Thursday. President Obama has ordered all flags at half-staff. (Jason Kandel, NBC Southern California)
Turkey Asks EU for More Money. At a meeting in Brussels, European Union leaders asked Turkey to stem the flow of migrants into Europe, offering $3.3 billion for the country to take some of the migrants back. Turkey, already sheltering more than 2.7 million refugees, has agreed but is asking for double that amount. (BBC News)
Flint Sues Michigan Governor. Seven families in Flint, Michigan, filed a federal lawsuit on behalf of the city's residents against the state's governor Rick Snyder and other government officials. The lawsuit alleges that thousands of people suffered physical and economic injury as a result of "dangerous levels of lead" in the water, while officials "downplayed the severity of the contamination." (The Associated Press)
Tomorrow in One Paragraph. Hillary Clinton and Marco Rubio will be campaigning in Florida. John Kasich will split his time between Michigan and Ohio. Voters in Michigan and Mississippi will head to the polls for the states' primaries, as well as in Idaho for the state's Republican primary. And in Hawaii, Republicans will caucus. It's also the last day of the Democrats Abroad presidential primary in 40 countries around the world. Join The Atlantic staff here as we follow it all live.
---
Follow stories throughout the day with our new Politics & Policy page. And keep on top of the campaign with our 2016 Distilled election dashboard.
---
Top Read
---
Top Lines
Filling the Vacancy. Here's a rundown of the handful of federal judges President Obama is reportedly considering to take the late Antonin Scalia's place at the high court. (Amy Goldstein, Jerry Markon, and Sari Horwitz, The Washington Post)
Gridlock on Privacy. Digital privacy has typically been a bipartisan issue in Congress, but the public fight between Apple and the FBI has revealed that the issue of privacy legislation is beginning to split along party lines. (Kaveh Waddell, The Atlantic)
---
Top Views
So, Who's Winning? Check out this interactive graphic from Bloomberg for the latest on the presidential delegate count.
We want to hear from you! We're reimagining what The Edge can be, and would love to receive your complaints, compliments, and suggestions. Tell us what you'd like to find in your inbox by sending a message to newsletters@theatlantic.com.