The Crowded Bliss of Cherry Blossoms
For a few weeks in springtime, blossoming cherry trees transform Washington, D.C. But good luck getting past tourists.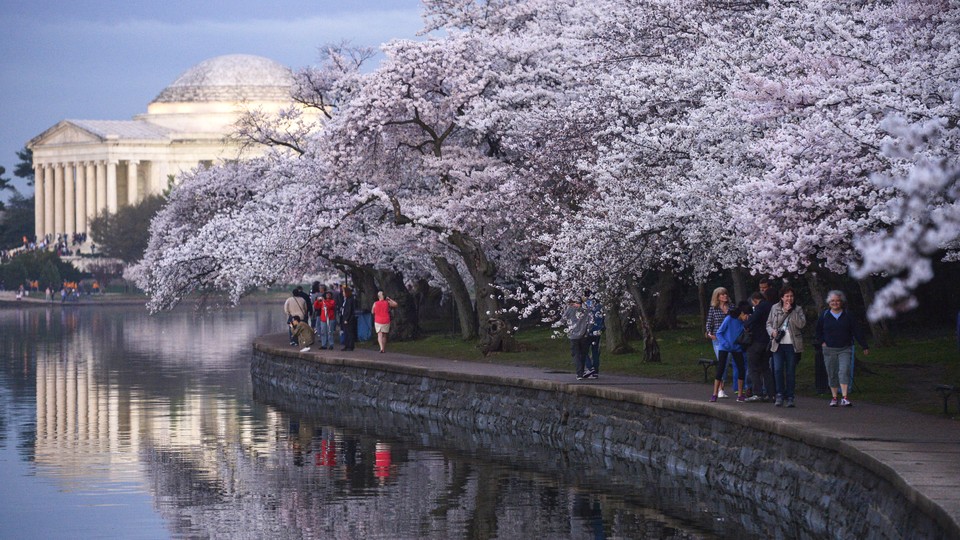 Forget, for just a minute, all the awful things people say about Washington, D.C.
Stipulate that everything is fair game during the rest of the year. Insulting the seat of government—the federal capital, the statehouse, a ramshackle town hall—is an American birthright.
But the cherry blossoms are blooming.
Many cities have cherry trees. Some have a lot. But none have this: an otherworldly crown of pink and white, wrapping around the shores of the Tidal Basin alongside the National Mall, framing the stone pillars of the Jefferson Memorial in petal-soft light. It's a moment when all the derogatory adjectives slip away and D.C. becomes, in its own right, a completely beautiful city.
But all that's pink cannot stay. This year, the blossoms are blooming early; the National Park Service estimates that most of the trees surrounding the Tidal Basin will show their colors within the next week or so. And as any visitor knows, the ethereal beauty of the Japanese gift takes a bit of a hit when one is crowded shoulder-to-shoulder with fellow blossom-peepers and their strollers.
So for the second year, I'm launching Cherrypicker, an Atlantic project that pairs you with your very own Washington, D.C. cherry tree. Using data from the city's Urban Forestry Administration, the web app charts the location of every cherry tree on the city's streets and flags the ones planted closest to your current location, hopefully in the midst of bloom. And if, like most of our readers, you're far away from the nation's capitol, you can use the map to explore its many blossoms.
Cherrypicker purposefully excludes trees rooted near the Tidal Basin; if you're looking to go there, just follow the long line of tourists. Instead, it picks trees in everyday locations—along a sidewalk, lining a road, beside a path. This morning, I alighted upon a trio of trees planted along my street, burst into flower seemingly overnight.
It's a reminder that Washington is more than the Mall and the monuments. You can find beauty in uncommon places. Then, after taking a deep breath, feel free to go back to calling it a swamp.