A Voter-ID Battle in Texas
As the 2016 elections near, the entire U.S. Fifth Circuit Court of Appeals will reconsider the state's voter-ID law.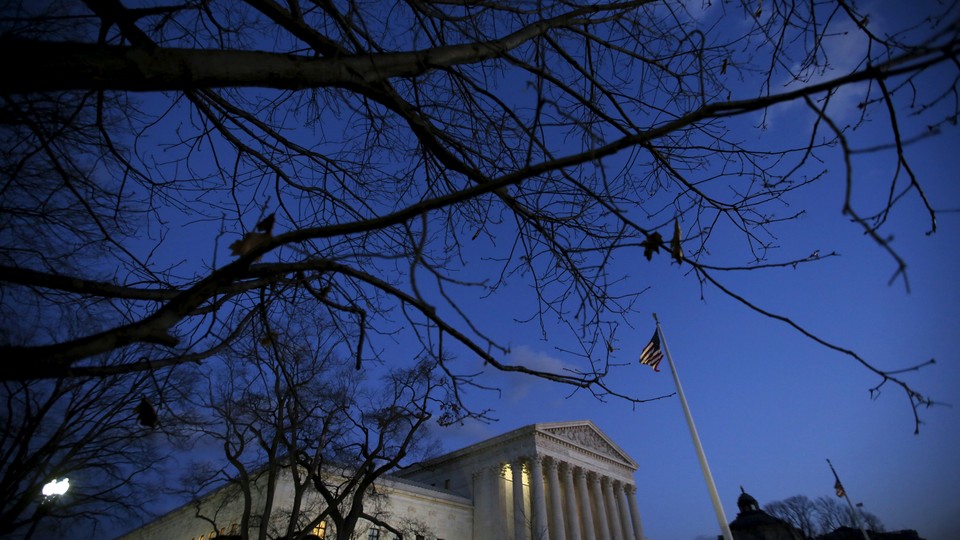 The Fifth Circuit Court of Appeals said Wednesday it would rehear a case on Texas's voter-ID law with its full complement of judges, setting up a major voting-rights battle ahead of the 2016 elections.
Wednesday's order underscores the increased power of the federal appellate courts while Justice Antonin Scalia's former seat remains vacant on the U.S. Supreme Court. A potential 4-4 deadlock between the justices for the foreseeable future means the Fifth Circuit's full ruling "may be the final word on Texas's law," Rick Hasen, a professor at UC Irvine law, wrote Wednesday.
A three-judge panel in the Fifth Circuit ruled last August that the state's voter-ID measure violated the federal Voting Rights Act of 1965, which banned racial discrimination in election laws. Texas officials then sought a rare en banc review of that ruling, meaning the case would be reheard by the Fifth Circuit's entire 15-judge bench. The circuit judges granted the request more than six months after it was made.
"Today's decision is a strong step forward in our efforts to defend the state's Voter ID laws. Safeguarding the integrity of our elections is a primary function of state government and is essential to preserving our democratic process," Texas Attorney General Ken Paxton said in a statement. "We look forward to presenting our case before the full Fifth Circuit."
The law in question, known as Senate Bill 14, imposed voter-ID requirements on Texas voters when it was signed by then-Texas Governor Rick Perry in May 2011. But a federal court blocked the law from going into effect soon thereafter, ruling that Texas hadn't proved the law lacked a racially discriminatory purpose or effect. Section 5 of the Voting Rights Act required certain jurisdictions, including Texas, to receive federal approval for changes to voting laws before enacting them. Critics argued the law would leave thousands of poorer voters, many of them from African American and Hispanic communities, without the means to cast a ballot.
SB 14 lay dormant until June 2013, when a Supreme Court decision helped revive it. In a sharply divided 5-4 ruling in Shelby County v. Holder, the Court struck down the formula in Section 4 that determined which jurisdictions fell under Section 5's preclearance requirements. With that formula gone, Section 5 became inoperative. Texas officials announced a few hours after the ruling that they would enforce SB 14.
A group of Texas voters then challenged SB 14 under a different part of the Voting Rights Act that forbids racial discrimination in voting laws nationwide. That provision, known as Section 2, is a weaker alternative to preclearance. Section 5 required state officials to prove the absence of discriminatory intent or effect when crafting new election laws—an extremely high threshold for those jurisdictions. Section 2 instead places the burden to prove racial discrimination or effect on voters themselves.
But the challenge succeeded despite the higher threshold. In October 2014, a federal district court in Corpus Christi ruled that SB 14 had both a discriminatory intent and effect against African-American and Hispanic voters, violating Section 2. Texas then appealed the decision to the Fifth Circuit, where a three-judge panel upheld the lower court's finding of discriminatory effect in August 2015.
An en banc review of the panel's decision could be an ominous sign for the plaintiffs who challenged SB 14. The Fifth Circuit is considered the most conservative federal appellate courts in the nation, with 10 of its 15 current judges appointed by Republican presidents.
The court did not announce when it would hold oral arguments, but a ruling is likely to come before the November elections.