The Sanders-Clinton Battle for Latino Voters
The Vermont senator is connecting his economic policies to the concerns of the Hispanic community. The former secretary of state is just plain connecting. Whose message will work?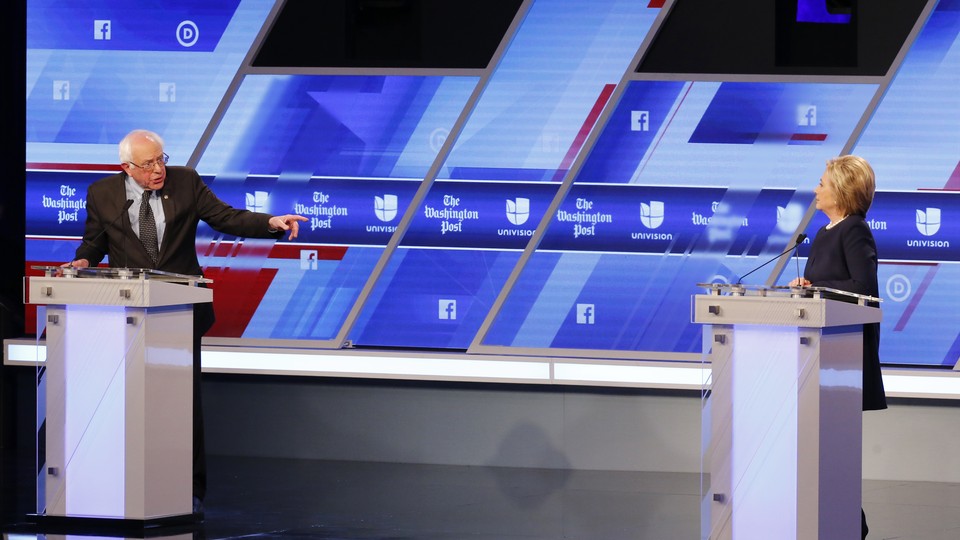 During the Democratic debate on Wednesday night, Clinton and Sanders sparred over their records on immigration, a divisive topic on the campaign trail and an important one within the Latino electorate. There's not a lot of light between their current positions, but beyond their stock responses lies a fundamental difference in how the two presidential candidates approach the Latino electorate: Clinton appears to prioritize immigration narratives, whereas Sanders pitches his plan for economic equality.
According to a Pew Research Center survey, jobs and the economy are ranked above immigration among Latino registered voters. Sanders appears to be driving home that point. On Wednesday, he continued to relay his message, noting, "We have a real crisis not only with real unemployment in America being close to 10 percent, but youth unemployment in this country." (The official unemployment rate for Latinos is 6.5 percent, and for African Americans it's 9.1 percent.)
Adding to his regular talking points on the economy, Sanders also released a five-minute campaign ad documenting the life of a female farmworker in Florida. The Spanish-language ad illuminates the challenges she faces in trying to provide for her family. "Voy a luchar mientras," she says in Spanish: "I will always fight." About three-quarters of the way through, Sanders is shown speaking at a meeting of the National Association of Latino Elected and Appointed Officials, decrying the conditions at the farmworker's field.
The ad—which will air on the Univision network and some local Univision-affiliated stations—encapsulates how Sanders has so far addressed the Latino electorate: by addressing the plight of those confronting inequality. Sanders's platform has resonated best in largely white states. On Tuesday, Sanders emerged as the victor in Michigan. But in states with a larger share of minority voters, he hasn't fared as well. Sanders lost Texas—a state where Latinos make up 28 percent of Texas eligible voters—to Clinton who held a commanding lead among the electorate at 71 percent compared with Sanders's 29 percent, according to CNN's exit poll results.
Clinton, on the other hand, has appeared more empathetic toward Latinos. In a moving moment during Wednesday's debate, a mother of five asked the candidates what they would do for families like hers that have been separated because of deportation. "First of all, please know how brave I think you are, coming here with your children to tell your story," Clinton said. "This is an incredible act of courage that I'm not sure many people really understand." Last month, ahead of the Nevada Democratic caucuses, Clinton pushed out a one-minute ad capturing a moment similar to Wednesday night's on the campaign trail; a young girl expressed concern about her parents being deported. "My parents, they have a letter of deportation," the girl says, visibly shaken. "I'm scared they are going to be deported." Clinton reassured the girl that she would do "all the worrying."
When convening with the Latino electorate, Clinton addresses the emotional costs of immigration. And here Sanders appears to be at a disadvantage. The Vermont senator has struggled to connect with minority voters on the stump. He'll come up against a similar challenge in Florida, which has its primary on March 15. There, 18 percent of eligible voters are Latinos.
But it's not just a state-by-state calculus. According to a projection from the NALEO Educational Fund, Latino turnout will increase by 17 percent for the general election—fueling the urgency of these efforts to capture their votes.