Congress Plumbs the Depths of Flint's Water Crisis
Michigan Governor Rick Snyder and EPA chief Gina McCarthy on Thursday faced harsh questioning about lead poisoning in the city.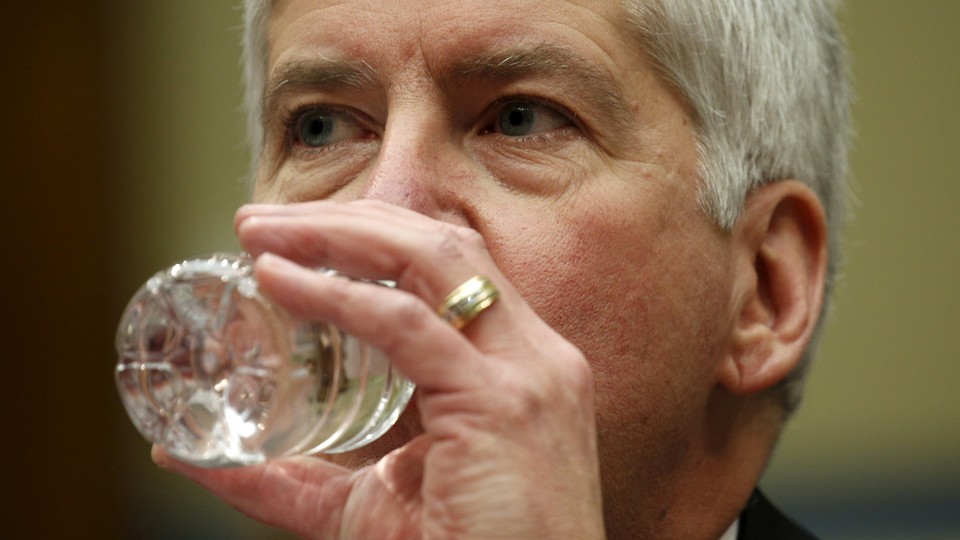 Rick Snyder didn't want to do it.
The Michigan governor declined an invitation to testify before a House Democratic panel about the Flint lead crisis. He then agreed agreed to appear before the House Oversight Committee. Snyder's trepidation was well placed. It was a tough day for Snyder on Thursday as he was battered by members of the panel.
Snyder, in his opening statement, tried to share blame with other authorities.
"Let me be blunt. This was a failure of government at all levels. Local, state, and federal officials—we all failed the families of Flint," he said. "This is not about politics or partisanship. I am not going to point fingers or shift blame; there is plenty of that to share, and neither will help the people of Flint."
The Republican said he learned of the crisis last fall. "It was on October 1, 2015, that I learned that our state experts were wrong. Flint's water had dangerous levels of lead. On that day, I took immediate action."
As Snyder's critics have pointed out since the scandal broke, however, there was little real local authority in Flint, because the city was under the control of an emergency manager appointed by the governor. The city is only now working to regain all of its autonomy. Snyder admitted on Thursday "it would be a fair conclusion" to say that the emergency-manager law failed in Flint's case.
Snyder's account of when he learned about the poisoning raises eyebrows, too. Snyder accused the Environmental Protection Agency of stifling a report earlier in 2015 that would have blown the whistle; several EPA employees resigned when the incident came to light. Snyder has maintained he moved quickly once he learned about the crisis, but his timeline is undermined by emails and news reports. In essence, Snyder's defense hinges on convincing the public that his aides did not inform him of a burgeoning crisis in the city and that he missed news reports about it.
In March 2015, for example, a Snyder aide was informed of an uptick in cases of Legionnaires's disease, a bacterial infection that killed 10 people in Flint. The state Department of Environmental Quality downplayed any connection with the water supply. (Several department officials, including its chief, have been forced to resign.) In July, Snyder's then-chief of staff complained in an email that residents of Flint were being shunted aside. The same month, my colleague Alana Semuels published a long article on the lead crisis.
During the hearing, Pennsylvania Democrat Matt Cartwright railed against Snyder and called on him to resign.
"I've had about enough of your false contrition and your phony apologies," Cartwright said. "Plausible deniability only works when it's plausible, and I'm not buying any of this that you didn't know until October 2015. You were not in a medically induced coma for a year."
So did Ranking Member Elijah Cummings of Maryland. "I'm going to have to live with this for the rest of my life," Snyder said, to which Cummings replied: "You have to live with it, but many of these children will never be what God intended them to be when they were born."
Whatever other ill effects the scandal has for Snyder's conscience, it has derailed his political future. Once mentioned as a potential vice-presidential candidate for the GOP, his approval rating has tumbled 30 points in six months.
Republicans at the hearing had their own target, in EPA Administrator Gina McCarthy. Chairman Jason Chaffetz, in particular, had heated exchanges with her, accusing McCarthy of failing to use a provision to intervene.
"You failed. You had that under the law and you didn't use it," he said.
"No sir, I didn't," she responded, but he insisted she failed to use the tools at her disposal.
McCarthy and Republicans also tangled over whether the state had provided all the relevant information to her agency and over whether the employee who flagged the high lead levels had been disciplined. (He felt he had; Republicans said he had; McCarthy insisted he hadn't.)
Depending on how cynical you are, Thursday's hearing was a welcome moment of accountability, a cathartic but futile gesture, or feeble grandstanding by representatives. Congress could do more. There's a $250 million bill for lead-affected communities under consideration. The bill represents a tiny fraction of the cost of stopping the threat to American water sources from lead, estimated at as high as $300 billion. But that bill has been blocked by Senator Mike Lee, a Utah Republican, who insists Michigan has all the money it needs. For the time being, hearings will have to do.