Inside La Isla: The Primary in Puerto Rico
Statehood, the Zika virus, and bankruptcy are big issues on the Island of Enchantment, but when you can't vote for president, how do you make your voice heard?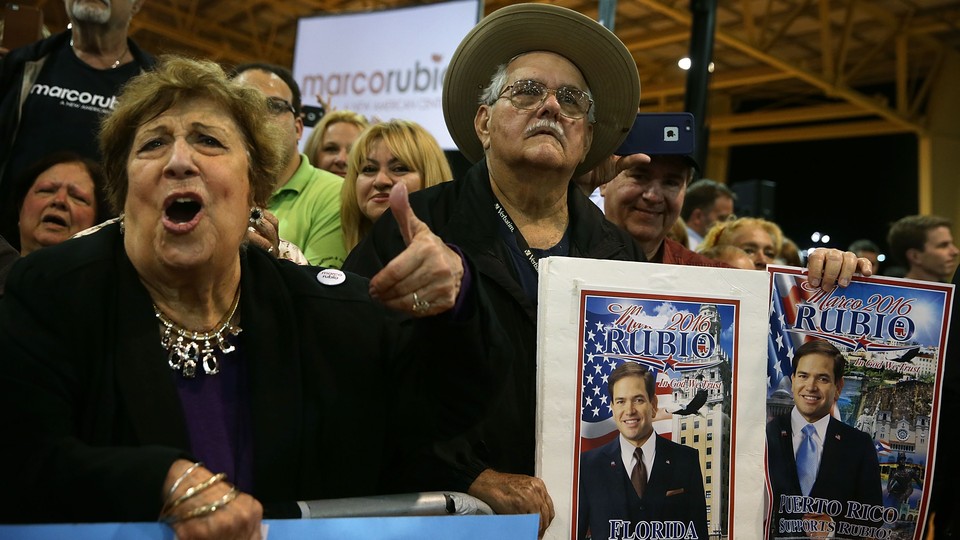 What is voting in the Puerto Rico primary like? As we reported earlier this week, there are no polls in advance of Puerto Rico's March 6 Republican primary, so it is hard to get a sense of what issues are shaping the race or even how Puerto Rican residents view the primaries. Puerto Ricans on the island can't vote for president in the general elections, but the Republican primary on Sunday, March 6, and the Democratic caucus on June 5 give the territory a chance to put its delegates to use in perhaps addressing some of the island's pressing issues, including mass emigration, an economic crisis, a potential health-care collapse, and the rising threat of Zika.
The lack of national insights into the primary process is mirrored by some local lack of enthusiasm for participating in national politics. Anthony Carrillo, chair of the Hispanic Caucus of the Young Democrats of America and a resident of Puerto Rico, says that disconnect is partly caused by Puerto Rico's unique local politics.
"There's some complex local politics," Carrillo says. "We have three parties. We have the Statehood Party, we have the Commonwealth Party, which is the status quo party, and we have the Independence Party. Local politics here basically dominate the scenarios."
Carrillo stresses that education and awareness initiatives, such as instructing people on the differences between primaries and caucuses, and more party outreach can help Puerto Rico advocate for itself more in national affairs. But his biggest concern is that apathy often stems from the simple fact that, while Puerto Ricans can vote in the primaries, they cannot vote for president. "I served in the Army," Carrillo says. "But I don't get to vote for the commander-in-chief. That's not right."
The ubiquitous TV ads and yard signs of campaign season on the mainland are absent through most of Puerto Rico. Most of the information people receive about the races comes from sparse radio coverage. The lack of media penetration combined with the factors Carrillo mentioned contribute to a climate in which many Puerto Ricans are not even sure that they can participate in the primary elections. "I wasn't really aware that we could vote this weekend," says Leandra Davila, an advertising representative in San Juan. "What we've been told always is that we can't vote. We don't have a right for voting. So with that, we thought that we could not even vote in the primaries."
Even working in advertising, Davila has not come across national political advertisements or endorsements often. "We do have some influencers that are political analysts and they do talk about the primaries, but not many people follow them because they are mostly on blogs," Davila says. The 24-hour news and debate cycle of the campaign in the mainland is largely substituted by a handful of in-person candidate visits and hyperlocal rallies and events by the parties and affiliates.
Newly armed with the info that she can vote in the primary elections, Davila plans on availing herself of the tool. "We can have a voice, since we're a U.S. territory. We can have our participation in politics," she stresses. Her enthusiasm underscores Carrillo's point that awareness and unclarity about voting status are key barriers to turnout.
For those people who are planning on voting, it appears that party identification takes a backseat to the questions surrounding Puerto Rico's status and economic future. Even Carrillo, an avowed surrogate of Hillary Clinton, emphasizes that the Puerto Rican primaries in the aggregate are unique in that many Puerto Ricans are making choices to stack the deck in the territory's interest as opposed to deciding on party lines. "If we split up in both parties and we engage and have a vote inside, whoever wins the election, we can make sure Puerto Rico is included in the agenda and not forgotten," Carrillo says. "We need to make sure the next president presents a resolution for Puerto Rico's status that is final, is clear, and is fair."
The implications of that status reverberate throughout policy decisions on the island. After multiple defaults and a credit-rating downgrade to junk levels, the statehood movement has gained traction as an economic respite. Statehood would allow Puerto Rico the bankruptcy protections that states are afforded and from which Puerto Rico is currently barred. Statehood would have the drawbacks of more limited local decision making and an exposure of citizens––who already have incredibly high local taxes––to federal taxes. Those on the commonwealth side are pushing for a federal decision to simply allow Puerto Rico bankruptcy protections without statehood.
The issues in front of Puerto Ricans are complex, and many are downstream effects of the territory's dire financial situation. Davila worries most about public education, as the university system and local schools have all faced funding cuts, and student protests have sparked as young people have defaulted on loans and felt the pressures of rising costs.
Fabiola Torres, a biological-science technician for the U.S. Department of Agriculture in Lajas, plans to vote in one of the primaries and also sees education as a key issue. "They are trying to change some public schools to private schools," she says, which would increase costs. Torres is also concerned about the health-care system, which faces its own crisis as lower Medicare and Medicaid rates push doctors to the mainland, emigration leaves sicker people behind, and the threat of Zika looms.
Social issues, while more distant than the pressing economic and health-care issues, are also important for Puerto Rican voters, according to Carrillo. For Carrillo, solidarity for Latino citizens and immigrants on the mainland is important. "The Latino community nationwide, we need economic help," Carrillo says. "We need to get immigration reform done for our immigrant brothers and sisters."
So who will win? Senator Marco Rubio supports statehood, while Donald Trump and Governor John Kasich support self-determination, both of which endear them to some pro-statehood organizers on the island. However, Rubio has also opposed the option of Chapter 9 bankruptcy protection, which has angered many Puerto Ricans. Senator Ted Cruz has remained silent on the issue. On the Democratic side, Clinton does not have an official campaign promise on the issue, although she has said that she would "ensure whatever choice Puerto Rico makes will be respected." Carrillo has been convinced that she will work for a resolution. Senator Bernie Sanders has explicitly endorsed only the ability for Puerto Rico to be provided bankruptcy protections.
Torres recognized Rubio and Trump by their name value—both candidates have invested the most on the island—and Carrillo has seen an uptick in Trump support. However, PredictWise's market-based predictions put Rubio in a commanding lead in the Republican primary on Sunday, with a 77 percent chance of winning. He will look to solidify that commanding lead and his hold on all of Puerto Rico's delegates with a rally tomorrow night. While some Trump surrogates on the island are mounting a last-minute push, the Republican primary appears to be Rubio's to lose.
The June 5 Democratic-caucus predictions are much cloudier. No polls or PredictWise data exist yet this far out. However, Clinton has already racked up key endorsements from prominent Puerto Rican figures, and many Puerto Ricans fondly remember her visit as first lady to the island in 1998, after the astonishing devastation of Hurricane Georges. "In our worst times, Clinton came here," recalls Carrillo. These accomplishments may already be more than enough for Clinton, given how late the election is and the difficulty of scoring big wins or suffering big losses in the Democrats' favored proportional systems.
This is the most pivotal political and economic time on the island since that hurricane, and some leaders are imploring Puerto Ricans to use their voices in the primaries to push to secure Puerto Rico's future. Perhaps this will help lead to the kinds of political exchanges and insights that can better connect American citizens on the mainland and on the island. At the very least, for Puerto Ricans, the elections offer a chance to put their concerns at the top of a candidate's docket. As Carrillo notes, "In our present time, our community needs someone that can deliver results."