Puerto Rico's Super Sunday
America's largest territory could make a statement in the primary races.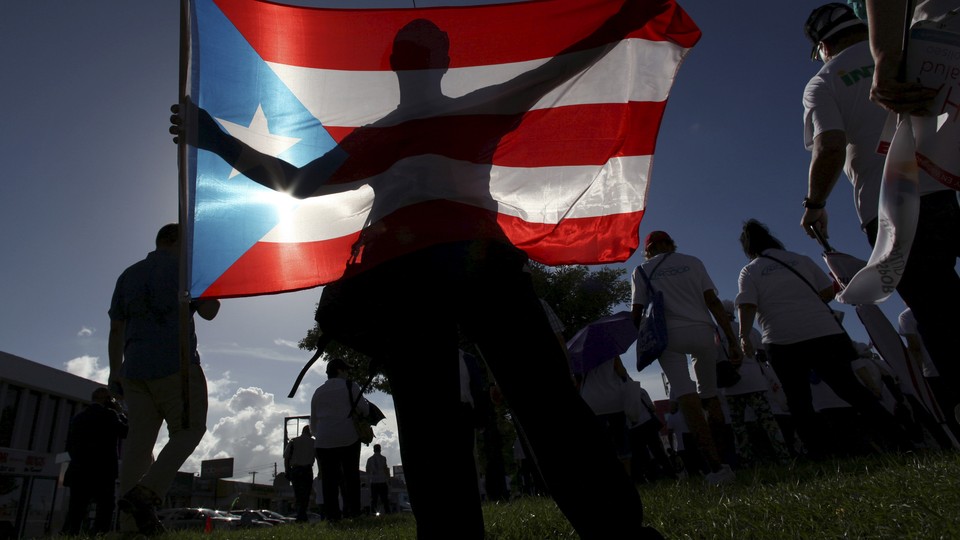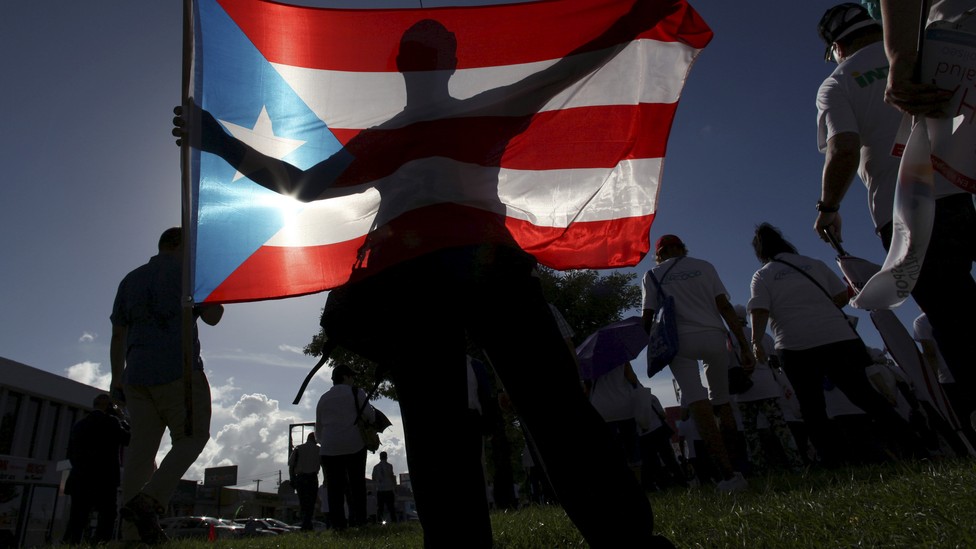 Puerto Rico is not a state. It has no electoral college votes for president, no senators, and no representatives. After the grind of the 2016 primary season and the fireworks of post-convention campaigning, November ballots in Puerto Rico will not feature the names of those running for America's highest offices. However, as one of the most important financial and political crises in Puerto Rico's recent history unfolds, it is still primed to make a statement in the presidential race.
Like all other inhabited territories of the United States—Guam, the United States Virgin Islands, the Northern Mariana Islands, and American Samoa—Puerto Rico is part of the primary process for both the Republican and Democratic parties. But unlike its fellow territories, which are comparatively tiny, Puerto Rico's population of 3.7 million is roughly similar to Oklahoma's.
Puerto Rico's size gives it real power in determining party nominees. It has more Republican delegates than Vermont and more Democratic delegates than four of the states that voted on Super Tuesday. Despite the territory's size, though, Puerto Rico's elections have gone largely overlooked—there haven't even been any polls to gauge support.
There might be fewer people overlooking Puerto Rico come March 6, the date of Puerto Rico's Republican primary. A tumultuous debt crisis, which has left the island over $70 billion in debt and facing a budget gap of more than $20 billion over the next decade, has led to multiple defaults and an economic "death spiral," according to Governor Alejandro Garcia Padilla.
This economic crunch has turned into a humanitarian crisis, producing a massive exodus of Puerto Rican people from the island to the mainland. Migration of young job-seekers has accelerated the aging of the island's population. Cuts to Medicare Advantage tied to the Affordable Care Act have led physicians to leave the island. Together, these factors threaten the integrity of Puerto Rico's already-struggling health care system.
Like other Americans, Puerto Ricans are concerned about their economy, and their health care. But these national challenges have become acute crises in Puerto Rico. The issue of statehood also looms over the race.
Those challenges might provide one of the few remaining pathways for candidates not named Trump in the Republican primaries. With the road to nomination likely requiring a massive surge for Senator Ted Cruz or a dramatic turnaround for Senator Marco Rubio, Puerto Rico's 20 at-large delegates are suddenly a tempting prize. Like several other early Republican contests, Puerto Rico is a majority-takes-all primary, in which delegates are assigned proportionally if a candidate wins a plurality of the vote—but when a candidate takes more than 50 percent, they take all the delegates. Unlike those other primaries, Puerto Rico has a history of landslide-majority victories. Mitt Romney took home all of Puerto Rico's delegates in 2012, as did Senator John McCain in 2008.
The votes of Puerto Rico's superdelegates tend to follow those of the delegates. So far, Rubio has captured endorsements from all three of the territory's superdelegates, Republican chairman Jenniffer González Colón, committeewoman Zori Fonalledas, and committeeman Luis Fortuño, which may signal he has a chance of capturing the majority of Puerto Rico's primary votes. That in turn could help catapult him to a critical win in his home state of Florida's winner-take-all race, as Florida is the fastest-growing enclave of Puerto Ricans, many of whom migrated during the crisis.
Of course this isn't all about the Republican nomination. The Democratic primary process with its proportional systems favors inertia, so the results from Puerto Rico have less potential to upend the race. In Puerto Rico, where politics tend to align around the questions of statehood and independence, the standard partisan divides, and even the intraparty fault lines, matter less. Puerto Rico's economic future informs that debate, as statehood would allow it bankruptcy protection and better Medicare and Medicaid rates, but also expose citizens to paying federal taxes. It's part of what makes the island's politics unpredictable.
Whether Puerto Rico promotes the inevitability of Trump or provides a sliver of hope for Rubio or Cruz will help determine if the last stages of the Republican primaries will be a coronation or a dogfight. Regardless, candidates will have to create and promote serious strategies for helping fix Puerto Rico's problems, some that involve fixing health-policy issues nationwide and some that may end with a 51st star being added to the American flag.
So although they won't be voting for president on November 8, the statement that Puerto Ricans on the island make in the primaries will shape the choices available that day to voters on the mainland.