The Stakes Are High in Ohio and Florida
A Trump loss in either state would be heartening for the establishment hoping to beat him.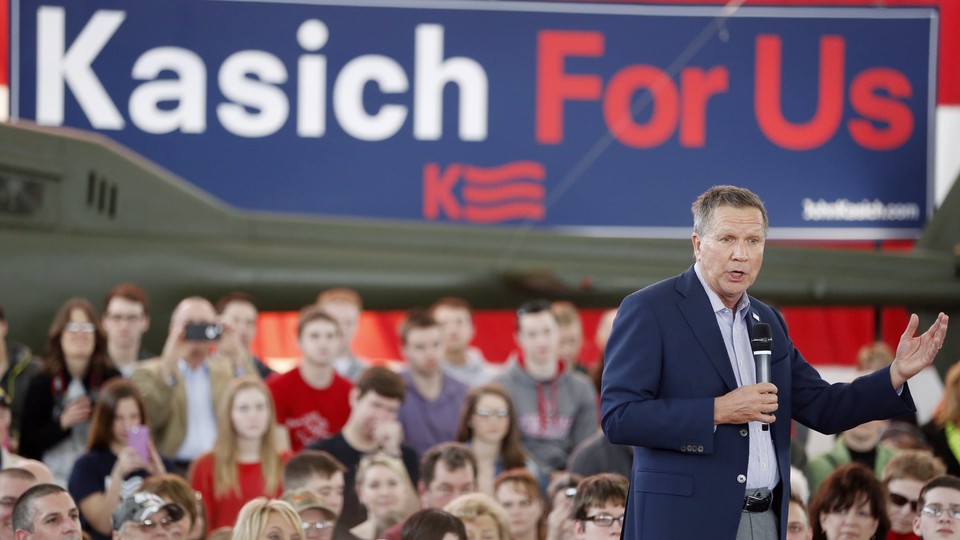 Tuesday marks a deadline in the Republican establishment's crusade to stop Donald Trump. If he takes the Florida and Ohio primaries—two significant winner-take-all states—he could be hard to catch. And that's not to mention the other three states—North Carolina, Missouri, and Illinois—that could fuel his growing lead.
But if hope springs anywhere for the Republican establishment, it's probably in Ohio, where popular sitting governor John Kasich and his sunny disposition present an attractive foil to Trump's scorched earth. A recent Quinnipiac University poll—which wrapped up surveying Sunday night and was released Monday—shows Kasich and Trump in a dead heat; other recent polling shows Kasich ahead, but close to the margin of error. In a race where Trump has so often held major leads, those numbers have to be heartening.
It's those numbers—and Kasich's popularity—that have driven recent establishment efforts to rally around the governor. Over the weekend, he received the endorsement of former House Speaker John Boehner. And this month, no less than his rival Marco Rubio and former Republican presidential nominee Mitt Romney asked Ohioans to vote for Kasich in an effort to stop Trump. At a town hall Monday in North Canton, Romney pitched to Ohio's voters why they should back Kasich, even if he stopped short of an official endorsement. "Unlike the other people running, he has a real track record," Romney said alongside the candidate, highlighting Kasich's work as a former congressman and sitting governor. "He has the kind of record that you want in Washington, and that's why I'm convinced you're going to do the right thing tomorrow."
In Florida, Rubio's fate is more grim; that same Quinnipiac poll shows him some 20 points behind Trump. But he and Romney have tried to make the case that he's the only candidate who can beat Trump, and have pushed for anti-Trump Floridians to vote Rubio. "Any vote that doesn't go to me in essence is helping Donald Trump to win," Rubio said last week. "If Donald Trump wins by one vote, he will take 99 delegates."
A big loss for Trump in Ohio or Florida could embolden the establishment, after it's suffered weeks of criticism for too little, too late, and too disorganized efforts. Just as consequential, a big loss for Ohio's and Florida's local boys could end their campaigns—and doubtless embolden Trump.
It's not clear whether voters will actually listen to Romney and Rubio, or whether they heard their pleas at all. It's possible this public advocacy for strategic voting could put off voters with an anti-establishment streak. It also leaves anti-Trump voters in Tuesday's other primary states unclear as to whom they should back. As FiveThirtyEight described on Monday, the contests in Missouri, Illinois, and North Carolina are murkier. But if voters can deprive Trump of Ohio and Florida alone, the race will take on a new shape. And really, deprivation is the establishment's game: They aren't likely holding out hope that a not-Trump candidate will sweep the remaining primary states; rather, they're trying to keep him from attaining the delegates he needs and, potentially, force a brokered convention. The Washington Post has a helpful explainer on how the delegate math would work out:
1. Donald Trump is, realistically, the only Republican candidate who can get to 1,237 delegates before the convention in Cleveland.

2. If Trump wins Ohio and Florida, he will be the Republican nominee.

3. If he loses Ohio and Florida, this race is going to be decided at an open convention.

4. If he wins Ohio or Florida but not both, he could—but probably won't—get to 1,237 before the convention.
Rubio's weak positioning in Florida might be driving anti-Trump investment there in recent weeks, including big ad buys from Our Principles PAC, Club for Growth, and American Future Fund. "Florida is being set up, ad-wise, as an anti-Trump last stand," a senior vice president with Kantar Media's Campaign Media Analysis Group told The Boston Globe. Our Principles PAC, led by a former Romney campaign official, has released multiple ads since the weekend as part of a recent $3.5 million buy. One, released Monday, highlights the language Trump has used to talk about women. Another, from Saturday, addressed the tenor of Trump's signature rallies, as well as his campaign manager's alleged assault against a Breitbart reporter.
It's Trump's temperament, and how it's revealed in public, that's driving much of the establishment antipathy; that was true ahead of Tuesday's nominating contests and it'll be true in its aftermath. At his town hall with Romney on Monday, Kasich explained the stakes to voters in attendance, framing his state's contest as one of widespread concern. "Ohio should send a message to the country," Kasich said. "Everybody is watching us now. You know that?"
---
Related Videos