The Supreme Court Confirmation Battle Begins
President Obama nominated 63-year-old Merrick Garland to the U.S. Supreme Court, setting up an election-year battle with Senate Republicans.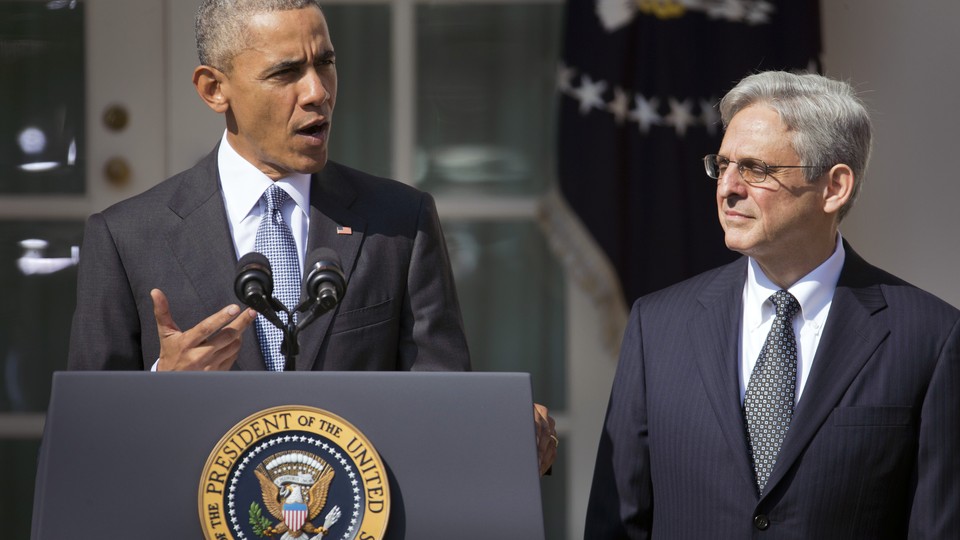 Updated on March 16 at 11:54 a.m.
Let the confirmation battle begin.
President Obama nominated Merrick Garland to the U.S. Supreme Court on Wednesday, setting up a historic election-year showdown over the high court and its future.
"I've selected a nominee who is widely recognized not only as one of America's brightest legal minds, but also a spirit of decency, modesty, integrity, evenhandedness, and excellence," Obama said when announcing Garland's nomination. "He is uniquely prepared to serve immediately."
Garland is the chief judge of the D.C. Circuit Court of Appeals, which is widely considered to be a stepping stone to the Supreme Court. The U.S. Senate confirmed the 63-year-old jurist to that bench by a 76-23 vote in 1997. The White House said Garland "has more federal judicial experience than any other Supreme Court nominee in history" and praised his "rare ability to bring people together."
Garland's nomination bucks some recent trends for presidential nominations to the Court. Both Obama and his predecessor, George W. Bush, opted for younger picks who became reliable liberal or conservative voices on the Court. Garland, by contrast, is older than most of the recent Supreme Court justices at the time of their nomination. Many observers also saw him as a relatively moderate option compared to others on Obama's reported shortlist.
In other ways, Garland fits the mold of a modern Supreme Court justice. Educated at Harvard, he clerked for legendary federal Judge Henry Friendly and Supreme Court Justice William Brennan after receiving his law degree. He worked in the Justice Department during the Carter administration before switching to private practice during the Reagan years. Garland then became an assistant U.S. attorney for the District of Columbia in 1989 before taking up a senior Justice Department post, where he oversaw high-profile federal prosecutions during the Clinton years.
A formative moment in his Justice Department career came in 1995 when Garland oversaw the investigations and prosecutions in response to the Oklahoma City bombing. He took an intense personal interest in the case, which resulted in a death sentence for Timothy McVeigh and a life sentence for co-conspirator Terry Nichols.
"We promised that we could find the perpetrators, that we would bring them to justice, and that we would do that in a way that would honor the Constitution," Garland said Wednesday, recalling his conversations with family members of the victims of the attack.
If confirmed, Garland would fill the seat left vacant after the unexpected death of Justice Antonin Scalia on February 13. His elevation would produce a substantial ideological shift on the nation's highest court. Alongside Justices Ruth Bader Ginsburg, Stephen Breyer, Sonia Sotomayor, and Elena Kagan, Garland would give the Court's liberal wing a five-justice majority for the first time in almost 50 years.
With the stakes so high, Senate Majority Leader Mitch McConnell and his Republican colleagues vowed within hours after Scalia's death to not confirm any Supreme Court nominees until after the election. That unprecedented position quickly turned into a broad refusal to hold hearings on the nominee or even meet the person.
Garland's selection did not seem to shake that position.
"It seems President Obama nominated Garland not with the intent of seeing him confirmed, but in order to politicize it for the purpose of the election," McConnell claimed on the Senate floor shortly after the announcement.
Other senators also reiterated their opposition.
My colleagues and I on Judiciary Committee have already given our advice & consent on #SCOTUSnominee: We won't have any hearings or votes.

— Mike Lee (@SenMikeLee) March 16, 2016
Democrats and liberal interest groups have vowed to make the issue a central one throughout the election, hoping to crack the conservative resistance and energize the liberal base. An intense response by Democratic voters could cause headaches for Republican senators up for re-election in Illinois, New Hampshire, Pennsylvania, and other blueish states. Donald Trump's potential nomination for the presidency on the Republican ticket could also place vulnerable senators in an even tougher position.
In an email announcing the nomination on Wednesday morning, Obama again urged the Senate to act.
"In putting forward a nominee today, I am fulfilling my constitutional duty," he wrote. "I'm doing my job. I hope that our Senators will do their jobs, and move quickly to consider my nominee. That is what the Constitution dictates, and that's what the American people expect and deserve from their leaders."
The White House also unveiled a verified Twitter account, @SCOTUSnom, as part of its public-outreach campaign.