Obama in Cuba: Time to 'Leave the Past Behind'
President Obama urges Cubans, and Raúl Castro in particular, to embrace democracy, open markets, and universal human rights.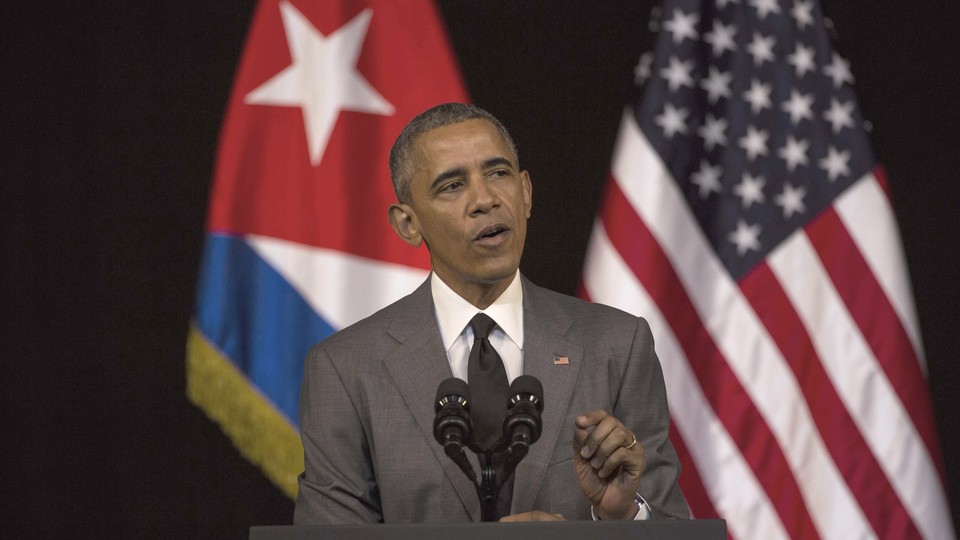 President Obama used his speech Tuesday at El Gran Teatro in Havana to urge the Cuban people—and more pointedly, their leader, Raúl Castro—to "leave the past behind" and embrace democratic elections, open markets, human rights, and the reconciliation between two neighboring nations that have feuded for half a century.
"I have come here to bury the last remnant of the Cold War in the Americas," Obama declared as he spoke to an audience that included Castro as well as American diplomats and lawmakers. The 30-minute address came on the second day of Obama's historic visit to Cuba, the first by a sitting U.S. president since 1928 and the culmination of his effort to normalize relations with the island nation.
The speech was a lengthy balancing act for the president: He offered praise both for Cuban artists and innovators and the Cuban government, and he wrapped criticism of America's own flaws into a broad defense of its open society and democratic values. "There's still enormous problems in our society. But democracy is the way that we solve them," Obama said.
At the heart of his address was an exhortation for the Castro regime to allow the Cuban people more freedom—a polite but direct push that Obama tried to deliver as a new friend rather than an old adversary. "I've made it clear that the United States has neither the capacity nor the intention to impose change on Cuba," he said. "What changes come will depend upon the Cuban people."
We will not impose our political or economic system on you. We recognize that every country, every people must chart its own course and shape its own model. But having removed the shadow of history from our relationship, I must speak honestly about the things that I believe, the things that we as Americans believe.
Obama received some of his biggest applause when he called on the U.S. Congress to lift the decades-long embargo on commerce with Cuba. But Castro and much of the crowd sat quietly through what followed. "Even if we lifted the embargo tomorrow, Cubans would not realize their potential without continued change here in Cuba," the president said.
It should be easier to open a business here in Cuba. A worker should be able to get a job directly with companies who invest here in Cuba. Two currencies shouldn't separate the type of salaries that Cubans can earn. The Internet should be available across the island so that Cubans can connect to the wider world and to one of the greatest engines of growth in human history.

There's no limitation from the United States on the ability of Cuba to take these steps. It's up to you. I can tell you as a friend that sustainable prosperity in the 21st century depends on education, health care, and environmental protection. But it also depends on the free and open exchange of ideas. If you can't access information online, if you cannot be exposed to different points of view, you will not reach your full potential. And over time, the youth will lose hope.
Obama continued with a recitation of human rights that he said were universal. Among them:
I believe that every person should be equal under the law … Every child deserves the dignity that comes with education, health care, food on the table, and a roof over their heads … I believe citizens should be free to speak their mind without fear … to organize and to criticize their government and to protest peacefully, and that the rule of law should not include arbitrary detentions of people who exercise those rights … I believe that every person should have the freedom to practice their faiths peacefully and publicly … And yes, I believe voters should be able to choose their governments in free and democratic elections.
In a nod to the critiques that both Raúl and Fidel Castro have leveled against the United States for years, Obama acknowledged that America has struggled with income inequality, racial bias, and "wars abroad." But he held up his own election and the tumultuous campaign to replace him as examples of "what's possible in America."
Now, there's still some tough fights. It isn't always pretty, the process of democracy. It's often frustrating. You can see that in the election going on back home. But just stop and consider this fact about the American campaign that's taking place right now.

You had two Cuban Americans in the Republican Party running against the legacy of a black man who was president while arguing that they're the best person to beat the Democratic nominee, who will either be a woman or a democratic socialist.

Who would have believed that back in 1959?
Notably, Obama made no reference to the Republican front-runner, Donald Trump.
For most of the speech, the president directed his remarks to the Cuban people, injecting occasional lines of Spanish and references to cultural touchtones in a bid to wash away the suspicions of the past. But at one point, he addressed Castro specifically: "I want you to know, I believe my visit here demonstrates that you do not need to fear a threat from the United States," Obama said. "And given your commitment to Cuba's sovereignty and self-determination, I'm also confident that you need not fear the different voices of the Cuban people and their capacity to speak and assemble and vote for their leaders." A day earlier, Obama prodded Castro to take questions from reporters at a joint press conference, a rarity for the Cuban leader that he punctuated awkwardly by trying to lift up Obama's arm in a victory embrace.
Critics of the president's Cuba rapprochement had mixed reactions to his speech, noting that for all of his attempts to speak directly to Cubans, it will be a repressive dictator who decides whether to allow change on his watch. Responding in real time on Twitter, Representative Mario Díaz-Balart said that although Castro was in the balcony for the address, Obama's words were "falling on deaf ears." Before leaving Cuba, the president planned to meet with dissidents at the U.S. Embassy and attend a baseball game between the Cuban National Team and the Tampa Bay Rays.
Tuesday's speech came at a difficult moment for Obama, who began his remarks by commenting on the terrorist attacks that killed more than two dozen people in Brussels hours earlier. "We will do whatever is necessary to support our friend and ally Belgium in bringing to justice those who are responsible," Obama said. "And this is yet another reminder that the world must unite. We must be together, regardless of nationality or race or faith in fighting against the scourge of terrorism."