McConnell Puts the Ball Into Obama's Court
The Republican Senate leader still isn't budging when it comes to considering a nominee to replace Antonin Scalia on the Supreme Court.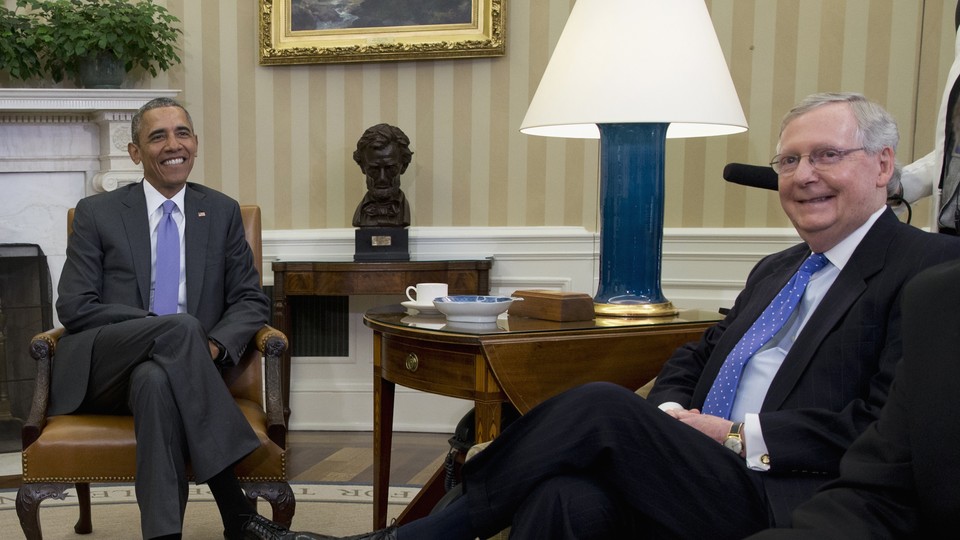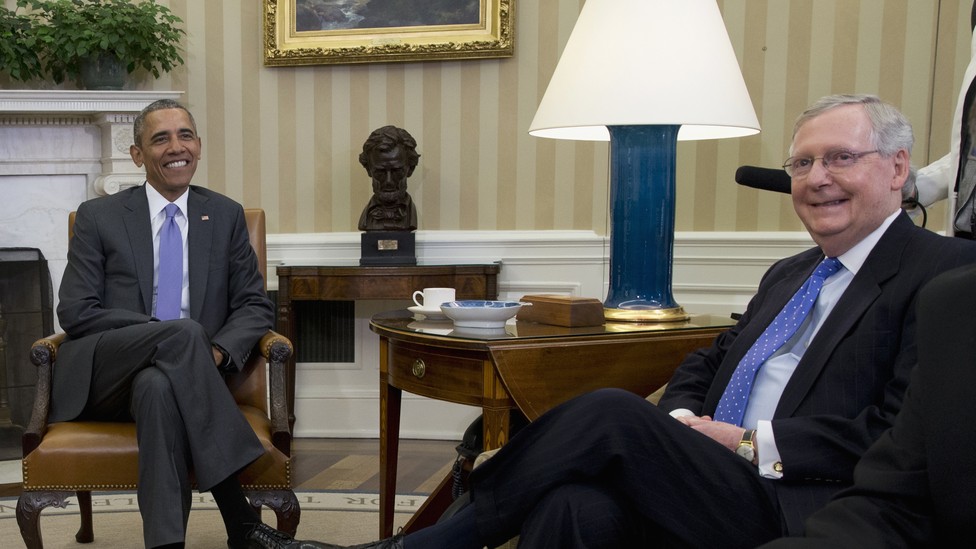 Rarely has a White House meeting between the president and congressional leaders seemed, on the surface, so pointless.
President Obama on Tuesday convened Senate Majority Leader Mitch McConnell and Judiciary Committee Chairman Charles Grassley in the Oval Office, ostensibly to discuss his plans for nominating someone to replace the late Justice Antonin Scalia on the Supreme Court. (Vice President Joe Biden, Minority Leader Harry Reid, and Grassley's Democratic counterpart, Senator Patrick Leahy, also sat in to provide some balance.)
Yet was there really anything to talk about?
McConnell has made it abundantly clear that he won't allow the Senate to even consider a nominee in the final year of Obama's term—no hearings, no vote, not even a courtesy meeting. And in case anyone thought he would buckle under a hard sell from the president, the Kentucky Republican reiterated his stance Tuesday morning on the Senate floor, in a speech to House Republicans, and in an op/ed on the website of a local TV station. He said he hoped instead to discuss other issues before the Senate, beginning with legislation to address the opioid crisis.
Publicly, Democrats insist that McConnell's position will be politically unsustainable once Obama makes his pick, which he is expected to do in the next couple of weeks. Senate Republicans, including Grassley, up for reelection in November have already taken hits over the hard-line stance, and a few have broken with McConnell to suggest that the Senate should at least grant the forthcoming nominee a hearing and maybe a vote.
The White House meeting took place as voters in a dozen states headed to the polls on Super Tuesday, and the long shadow of Donald Trump loomed over the discussion. McConnell is pushing for "the next president"—a Republican, he hopes—to pick Scalia's replacement. And yet, as Democrats are increasingly pointing out, the Republican who is most likely to have that chance is a man who more and more of the party's lawmakers are vowing never to support. The New York Times reported on Saturday that McConnell himself told his Senate colleagues they would drop Trump "like a hot rock" if he imperiled their electoral chances this fall.
Obama didn't even bother to make a few perfunctory comments at the top of the meeting, when photographers were ushered into, and then quickly out of, the Oval Office to snap pictures of the men for the traditional photo-op. And needless to say, the meeting didn't last long. Barely 40 minutes later, Reid stepped to the microphones in front of the White House to confirm that McConnell hadn't budged.
"They're going to wait and see what President Trump will do, I guess," Reid told reporters in an attempt to needle the Republicans. "There wasn't much said at the meeting," he added. Obama offered to seriously consider candidates put forward by Republicans, but neither McConnell nor Grassley would name any.
So if the Supreme Court talk didn't go anywhere, what did they discuss? "We killed a lot of time talking about basketball," Reid said.