Obama's Clemency Bucket List
The White House has commuted the sentences of dozens of inmates in federal prisons.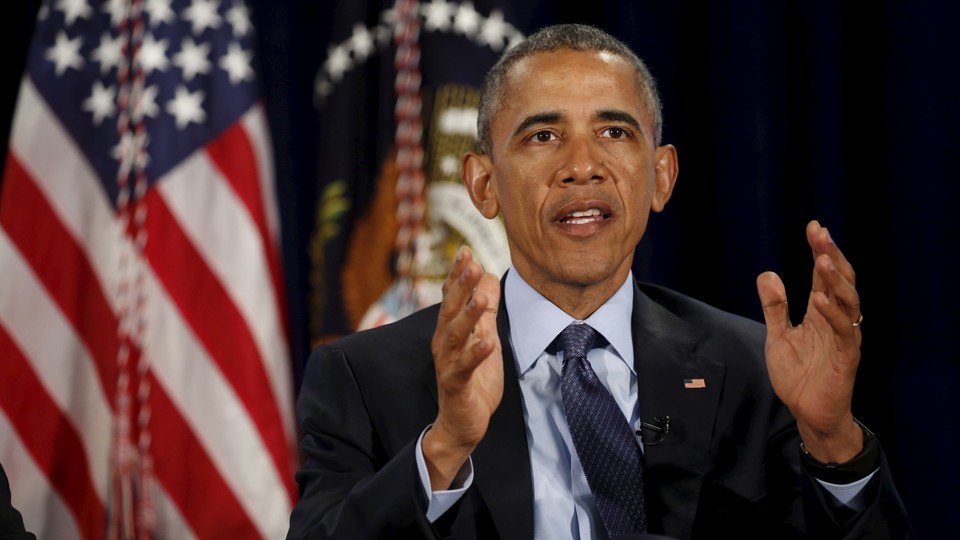 President Obama on Wednesday commuted the sentences of 61 federal prisoners, more than a third of whom were serving life sentences, as part of his administration's push for changes to decades-old sentencing laws, particularly for nonviolent, drug-related offenses.
Most of the individuals are low-level drug offenders "whose sentences would have been shorter if they were convicted under today's laws," Obama said in a Facebook post.
The announcement brings Obama's total number of commutations during his tenure to 248. He has also issued 70 pardons.
The president met Wednesday afternoon with formerly incarcerated individuals whose prison sentences were commuted by him, and his two immediate predecessors, George W. Bush and Bill Clinton. A video posted on Facebook showed Obama shaking hands and hugging the men and women and asking them to lunch.
Obama has vowed to change laws adopted during the nation's war on drugs in the 1980s and '90s that led to a dramatic increase in the U.S. prison population. Bipartisan legislation years in the making that would significantly alter federal sentencing laws is idling Congress, facing opposition from some Republican lawmakers.
Neil Eggleston, the White House counsel, pointed out Wednesday that Obama has commuted the sentences of more people than the previous six presidents combined. Until about 2014, Obama had used his clemency powers more sparingly than his predecessors; at the time, one in seven of his pardons had been issued for Thanksgiving turkeys. That year, he commuted 22 sentences in March and 46 in July, most of which were for nonviolent drug crimes. His largest, one-time use of clemency came in December, when he commuted the sentences of 95 prisoners, most of whom received lengthy sentences for cocaine trafficking and possession in the 1990s.
The White House said more commutations and pardons will follow in the months left in Obama's presidency. Unlike some other items on the president's bucket list—closing the prison at Guantanamo Bay, a new Supreme Court justice, anything having to do with gun laws—granting clemency is comparatively easy. As my colleague Matt Ford wrote in December 2014, at the start of an uptick in Obama administration commutations:
Few presidential powers are as unconstrained as the pardon. Neither Congress nor the courts need be consulted, and neither branch can override its application. President Lincoln, the pardon's most prolific wielder, liberally exercised the power of mercy. "Gen. Joseph Hooker once sent an envelope to the president containing the cases of 55 convicted and doomed deserters," wrote one historian. "Lincoln merely wrote 'Pardoned' on the envelope and returned it to Hooker."
A recent policy change stands to have far more impact on existing life sentences than sweeping executive clemency in the next few months. In 2014, the U.S. Sentencing Commission, the federal agency that established sentencing policies for federal courts, voted to reduce sentencing guidelines for most federal drug-trafficking offenders. The new rules could be applied retroactively, which meant more than 40,000 incarcerated individuals could be eligible for a reduction in their sentences.
Presidential clemency powers only apply to the federal prison system, which houses 196,144 inmates. The American Civil Liberties Union estimates 3,278 people are spending life in prison for nonviolent drug offenses. And many more individuals are denied commutations than are granted them; in January, the Obama administration denied 745 applications and approved three.
The Department of Justice has 9,115 pending clemency applications from federal prisoners, according to The Washington Post.