Why the Border Patrol's Union Is Backing Trump
The labor organization threw its weight behind the Republican front-runner, citing his hardline stance on immigration.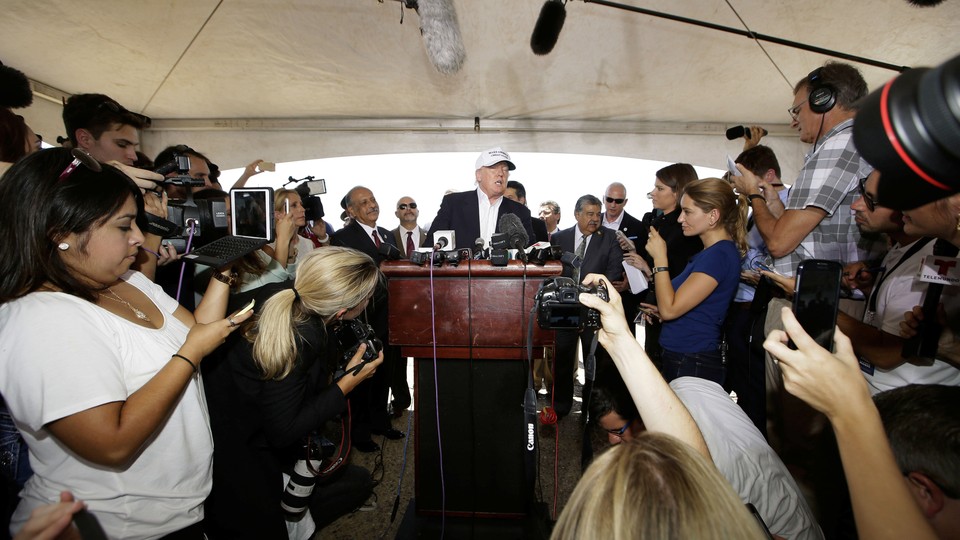 In an unprecedented move Wednesday, the National Border Patrol Council announced that it is endorsing Donald Trump, a candidate it touts as "bold and outspoken as other world leaders who put their country's interests ahead of all else."
The National Border Patrol Council, a labor union representing 16,500 agents, has refrained in the past from making such endorsements, but cited the "lives and security of the American people" as reason enough to break with precedent.
"The NBPC has had a longstanding practice of not endorsing presidential candidates in the primaries. We will not, however, shy away from voicing our opinions as it pertains to border security and the men and women of the United States Border Patrol," the statement reads. It adds: "As an organization we expect our elected officials to aggressively pursue the interests of the country."
With that, the border agents are throwing their weight behind Trump, a political outsider, who has made immigration a central pillar of his platform in his pursuit for the White House. Trump has regularly cited border security on the campaign trail, saying that he'll build a wall, which Mexico will foot the bill for, and calling for the deportation of the roughly 11 million undocumented immigrants in the United States. His hardline stance on immigration seems to have appealed to Republican primary voters, some of whom have ranked immigration among their top concerns.
The policy that has buoyed Trump's candidacy also appears to have caught the attention of the NBPC. "Mr. Trump is correct when he says immigration wouldn't be at the forefront of this presidential campaign if months ago he hadn't made some bold and necessary statements," its statement said.
Concerns about border security aren't new, but it's not clear how effective Trump's approach would be. The U.S.-Mexico border extends roughly 2,000 miles from California to Texas's Gulf Coast. Covering it would likely rack up a huge sum of money that Mexico has already said it will not pay. Other challenges also arise, such as topography.
But Wednesday's announcement is one of a slew of endorsements this month from supporters who have adopted a hardline stance on immigration. Phoenix Sheriff Joe Arpaio and former Arizona governor Jan Brewer are backing Trump, as is Senator Jeff Sessions. It can't hurt, either, that intense public debate over the perils of immigration, and calls to bolster enforcement, are presumably good for the job-security of Border Patrol agents. Earlier this month, the National Border Patrol Council's Tucson chapter gave a nod to Trump, saying he's the "only candidate that has publicly expressed his support of our mission and our Agents." According to the group, Trump's campaign reached out "about a potential endorsement." He's secured that now in a move that'll likely boost his standing among immigration hardliners.