Nancy Reagan's Legacy
The former first lady has died at the age of 94.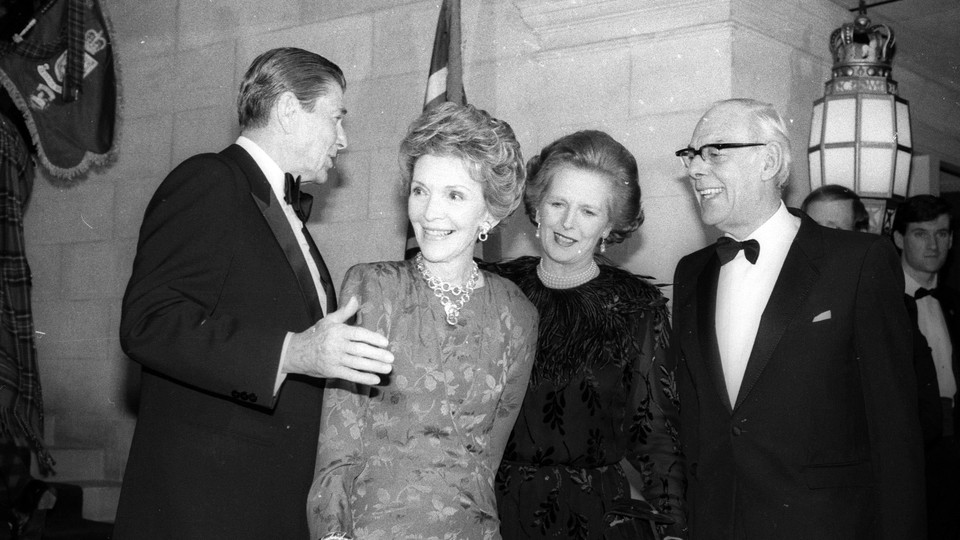 Former U.S. first lady Nancy Reagan has died, a spokeswoman for the Reagan library said Sunday. She was 94.
Reagan died Sunday morning in her home in Los Angeles, said Joanna Drake in a statement on the Ronald Reagan Presidential Library's website. The cause was congestive heart failure. The former first lady will be buried at the library in Simi Valley, California, next to her husband, former president Ronald Reagan, who died in 2004.
Reagan was born Anne Frances Robbins on July 6, 1921, in New York City to Edith Luckett, an actress, and Kenneth Robbins, a car dealer who left the family soon after she was born. In 1929, her mother married Loyal Davis, a neurosurgeon, and the family moved to Chicago. Davis formally adopted her in 1935 and her name was legally changed to Nancy Davis.
She attended Smith College in Massachusetts, graduating in 1943. She subsequently went into acting, working in film, television, and stage productions. She met Ronald Reagan, the actor who would eventually become the 40th president of the United States, and they married in 1952.
Reagan was new to politics when her husband started campaigning for governor of California in the 1960s. But she was "a quick learner, always absorbing," and was soon advising campaign managers on strategy, said Stuart Spencer, who managed the gubernatorial campaign, in The New York Times's obituary for the first lady.
By the time her husband entered the White House in 1981, Reagan was an immense source of advice for the commander-in-chief, whom she affectionately called "Ronnie." In her 1989 memoir, Reagan recalled the day her husband was shot as he left the Washington Hilton Hotel in 1981. She left the hospital and couldn't sleep. "Nothing can happen to my Ronnie," she wrote in her diary. "My life would be over." Reagan was fiercely devoted to her husband, and was known for being his strongest protector.
Reagan's main policy initiative as first lady involved traveling the country and speaking out against drug and alcohol abuse by young people. Her tagline,"Just Say No," would become synonymous with substance-abuse prevention for years to come.
She was known for her style and glamour, which occasionally critics pointed to as signs of an out-of-touch administration. Shortly after moving into the executive mansion, Reagan launched a major renovation of several rooms, including the first family's living quarters and even the press briefing room, that called for refinished floors, fresh paint, and designer fashions.
In 1987, Reagan underwent a mastectomy after being diagnosed with breast cancer.
After the couple left the White House in 1989, Reagan continued raising awareness for substance abuse. Her husband was diagnosed with Alzheimer's disease in 1994, and she spent the next decade taking care of him and supporting research for a cure for the disease.
"There are people who told me it gets much easier," Reagan said in 2007 about grieving the loss of her husband. "Well, maybe for them, but not for me. I miss him more now than I ever did."
In 2004, Reagan broke from her party and began supporting stem-cell research in the search for a cure for Alzheimer's disease.
Reagan is survived by her son Ron Reagan and daughter Patti Davis, who runs support groups for family members of people with Alzheimer's.