Why Michigan Voters Are Hungry for Change
The state's vibrant, blue-collar era is over—and what's left is a core of hard-bitten residents who are disconnected from the political system.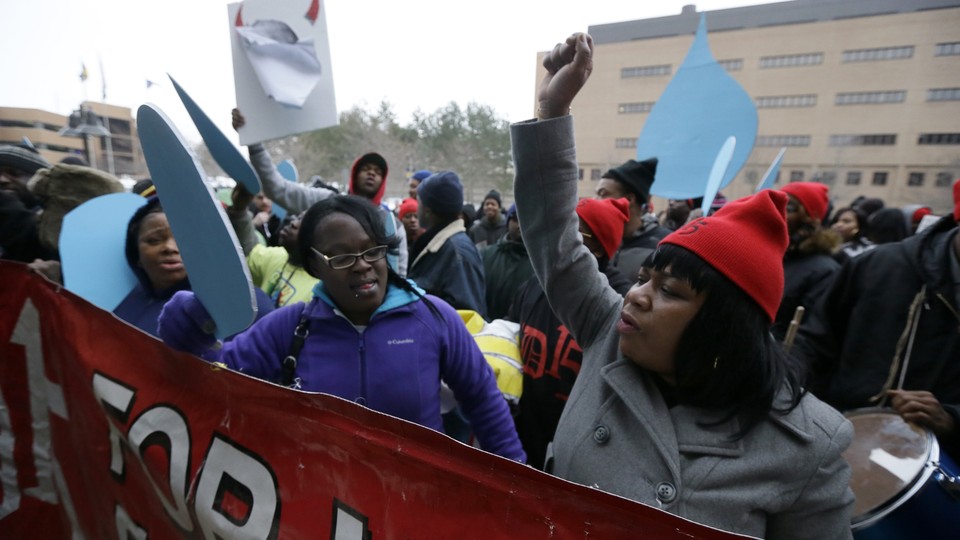 DETROIT—A death in the family brought me home to Michigan last week and put me into a rental car, careening between potholes along a familiar stretch of I-75 populated by a diverse and anxious public struggling to choose a president.
Among them are friends and family, but also brief acquaintances—relationships forged over coffee and a reporter's notebook.
People like David Kirby, a young entrepreneur from Brooklyn, who moved to Detroit three years ago as part of a wave of millennials seeking purpose and profit in the city's revival. "I don't have any connection to Old Detroit," Kirby told me last fall, "the don't-come-down-here-it's-too-dangerous Detroit."
Democratic socialist Bernie Sanders needs a huge turnout today among voters like Kirby: young, liberal, idealistic and—more often than not—white.
The seeds of progress in Detroit are planted in shallow ground, limited mostly to downtown and a couple miles north. Driving through the vast, half-empty neighborhoods of Detroit is a depressing tour of abandoned homes and abandoned people.
People like Khali Sweeney, a 46-year-old African American man who graduated from the Detroit public school system unable to read. He ran the streets, got in trouble, got shot, and finally got his act together. "I decided to stop being a victim." Now he runs a literacy program on the city's east side, using boxing lessons to lure kids off the streets and into his classrooms.
While Sanders has made awkward attempts to court African American voters, Hillary Clinton has deep ties to the community. She was the first presidential candidate to visit Flint, Michigan, a predominately African American city with toxic water.
Clinton hopes to appeal to people like Lawrence White, a 43-year-old state employee and owner of a small security firm who feels betrayed by every level of government and by both parties. "I'm not just singling out Governor [Rick] Snyder," the African American Democrat told me in January. "All the politicians including the EPA are playing tit-for-tat, playing games at our expense. It's everybody. It's Republicans. It's Democrats. It's a globalization of not caring for the people of Flint."
Just north of Detroit, in the suburbs of Oakland and Macomb counties, live the children and grandchildren of Reagan Democrats, white working-class voters who defected their party to support Ronald Reagan in the 1980s.
I grew up among Reagan Democrats; their racial and economic grievances were the soundtrack of my childhood. For people like Benson Brundage, a Macomb County contractor who told me in 2012 that welfare is racial "subsidization," Donald Trump gives voice to their fears.
Mitt Romney dog-whistled at them in 2012. Now the former GOP nominee is suggesting that Trump is a bigot.
Drive farther north on I-75, past Flint and Saginaw and into the scenic woods of northern Michigan, and you'll find people who remember when the area was thriving. For generations, blue-collar workers poured out of city factories on Friday afternoons and headed to their cottages, which, along with defined pensions and new cars they helped build, were emblems of the 20th-century American middle class.
That era is gone—and along with it, for many Michigan residents, went the family cottages. What's left is a core of hard-bitten residents who couldn't be more disconnected from the political system.
In December 2014, I stopped by northern Michigan diner for breakfast. It smelled like bacon and wet socks. I sat at one table, scrolling through Twitter as news broke from Washington that the economy is on a supposed upswing. At four other tables sat five regular customers sharing a single conversation.
"I leave my Christmas lights on for two hours—tops," said the waitress, flitting between regulars with a pot of off-brand coffee.
"An hour for me," said the local cop. The farmer at the next table nodded his head, "That's about all I can afford, too."
In Washington and New York, people celebrate economic numbers. In Michigan, people number the minutes they can afford Christmas lights.
"I will say I'm keeping them on longer than last year," said the guy who works at the hardware store. "Things are a bit better."
Things are a bit better in Michigan than they were in 2008, but there's still little hope that they will get good enough, fast enough for most of its people. That's why the voters of Michigan are hungry for change. For many, the craving is so strong that they'll vote for a Democratic socialist or a Republican demagogue.