Will Trump's Campaign Manager Face Criminal Charges?
Corey Lewandowski has denied accusations that he grabbed Breitbart reporter Michelle Fields, bruising her, but she has filed a police report.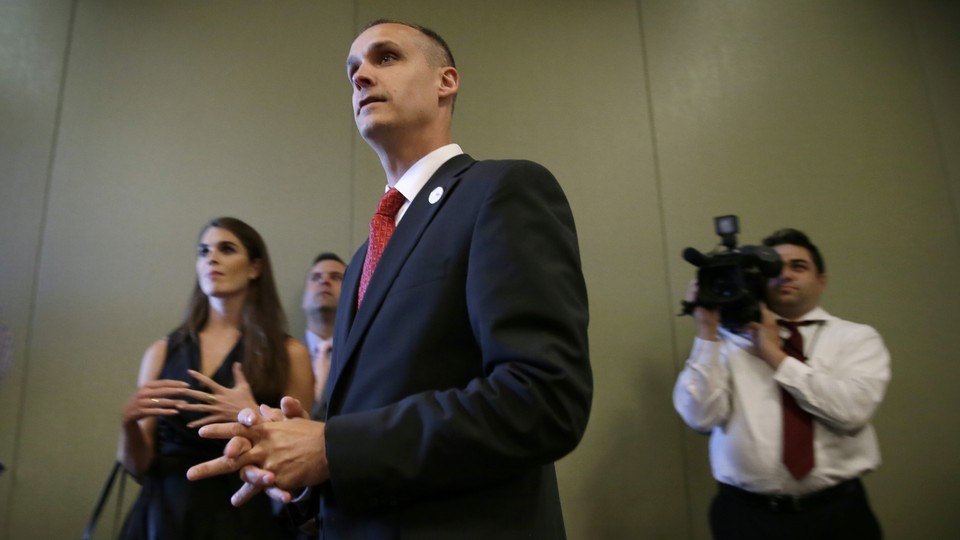 Since his campaign manager was accused of assaulting a Breitbart reporter, Donald Trump has taken his case to the court of public opinion. Now, Corey Lewandowski, the accused staffer, may have to take his case to criminal court as well. Michelle Fields has filed a police report about the incident in Jupiter, Florida, the town's police department confirmed in a statement. The news was first reported by the Independent Journal Review.
Fields says she was grabbed and yanked out of Trump's way Tuesday night as she tried to ask him a question at a post-election press conference. Washington Post reporter Ben Terris witnessed the incident. But the Trump campaign suggested Fields was lying and had fabricated in the incident. The Brietbart reporter, upset by the denials, then tweeted a picture of her bruises.
Trump again escalated his game of brinksmanship Thursday night after the Republican debate. "Perhaps she made the story up. I think that's what happened," he said. Lewandowski, meanwhile, tweeted, "You are totally delusional. I never touched you. As a matter of fact, I have never even met you."
Lewandowski's alleged rough handling of Fields is one of two disturbing incidents of violence at Trump events in the last week. On Wednesday in Fayetteville, N.C., an attendee sucker-punched a protestor who was being removed by police and later told Inside Edition, "Next time, we might have to kill him." There was near-violence outside that rally as well, as I reported.
Trump has gone to war with prominent media outlets and won before—most prominently Fox News, with which he has developed a love-hate relationship. But the Fields case is particularly bizarre because of the close relationship between Breitbart and the Trump campaign. The conservative outlet has been a cheerleader for Trump. In a recording obtained by Politico, Fields said just after the incident, "Yeah, I don't understand. That looks horrible. You're going after a Breitbart reporter, the people who are nicest to you?"
The fracas has riven Breitbart, with some staffers criticizing the Trump campaign, including its CEO. Yet on Friday, the site published a story suggesting that Fields, its own reporter, and Terris had incorrectly identified Lewandowski as the perpetrator. The Trump campaign released a somewhat nonsensical statement, written in the first person but without attribution, and a link to the Breitbart article alleging misidentification:
The accusation, which has only been made in the media and never addressed directly with the campaign, is entirely false. As one of the dozens of individuals present as Mr. Trump exited the press conference, I did not witness any encounter. In addition to our staff, which had no knowledge of said situation, not a single camera or reporter of more than 100 in attendance captured the alleged incident.
Now that's one more question for the Jupiter police to sort out.