The Rubio Campaign Ends Where It Began
The Florida senator suspended his campaign at home in the Sunshine state, after voters there swung decisively in favor of Donald Trump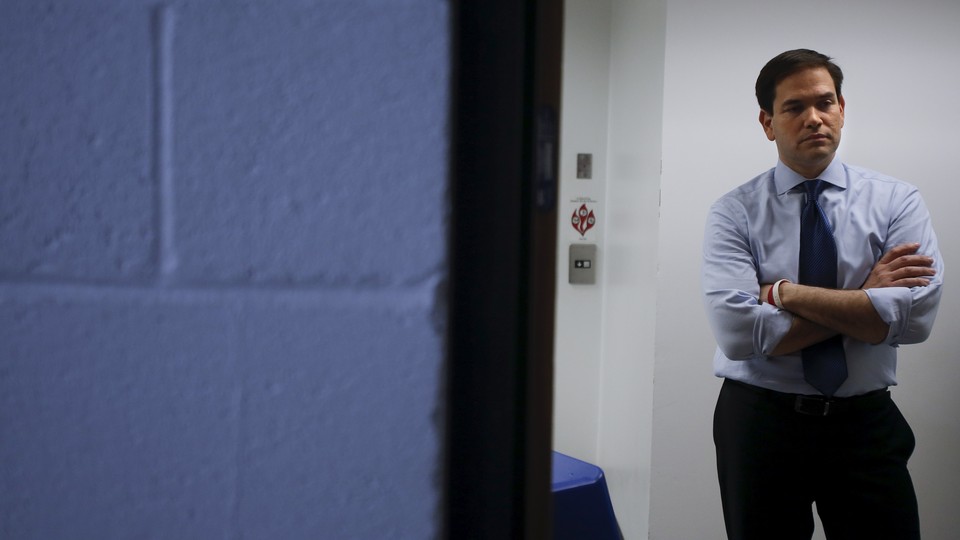 This was never how it was supposed to end for Marco Rubio, the man who once seemed ordained to save the Republican Party. Not in Florida, of all places, and certainly not at the hands of Donald Trump.
"After tonight while it is clear that we are on the right side this year, we were not on the winning side," Rubio said. He withdrew from the presidential race on Tuesday night after finishing a distant second in the state that sent him to the Senate six years ago, and where he had been camped out for the last week in a final, frenzied bid to extend his campaign. He delivered a paean to the need for a vibrant conservative movement, built on principles, and not fear, or anger, or frustration. "I chose a different path, and I'm proud of it," he said.
He became the latest Republican establishment favorite to be bullied, belittled, and ultimately dispatched by Trump, who took home 99 delegates in winner-take-all Florida.
By the time Rubio spoke on Tuesday, neither the outcome nor his exit was a surprise; pre-primary polling showed him losing to Trump by as much as a 2-to-1 margin. But much like his onetime Florida mentor, Jeb Bush, Rubio found himself baffled by a Republican primary that confounded even the most outlandish predictions.
When Rubio launched his campaign 11 months ago in Miami, he was the favorite of many Republicans, but not the frontrunner. Fans and critics alike had been labeling him the GOP's version of Barack Obama since well before Time Magazine plastered him on its cover in early 2013 under the headline, "The Republican Savior."
It was easy to see why.
A first-term senator in his 40s, Rubio was, like Obama, a gifted orator with a biography that embodied the American dream. He wowed Republicans with his speech at the party's convention in 2012, and his supporters saw a strong general-election candidate who could easily loosen the Democrats' tight grip on the Hispanic vote. Rubio frequently invoked his working-class, immigrant parents, who came to the United States a few years before Fidel Castro took power in Cuba. "My father stood behind a small portable bar in the back of a room for all those years, so that tonight I could stand behind this podium in the front of this room," Rubio said in a signature line from his announcement speech last April.
Like Obama in 2008, he sought to head off questions about his youth by calling for a generational turnover, a changing of the political guard. "Now, the time has come for our generation to lead the way toward a new American century," Rubio said in a line that he hoped would work both against Jeb Bush in the primary and Hillary Clinton in the fall.
Yet for all of the hype, Rubio faced two major hurdles even before Trump got into the race. The first was the history of the GOP: Much more so than Democrats, Republicans have tended to nominate next-in-line candidates—those with deep governing experience or long tenures on the national stage. In the last 50 years, the only non-incumbent to win the Republican nomination who had not previously run for president was George W. Bush in 2000, and he was the son of a president and a two-term governor of Texas. For many Republicans, that candidate in 2016 was Jeb Bush, who moved quickly to sign up donors and staff who might otherwise have gone to Rubio.
In that sense, the comparisons to Obama hurt Rubio as well. For six years, Republicans had been telling voters it was a mistake to elect a president who hadn't even completed a single term in the Senate. Furthermore, the conventional wisdom heading into the 2016 race was that voters disgusted with Washington politics would gravitate toward a governor, a dynamic from which Bush, Scott Walker, Chris Christie, Rick Perry, John Kasich, or Bobby Jindal stood to benefit.
The other big problem for Rubio was immigration. At a time when the Republican National Committee was formally calling for the party to embrace comprehensive reform, Rubio joined the Senate's Gang of Eight in 2013 and tried to sell conservatives on legislation that offered an eventual path to citizenship to undocumented immigrants. The bill passed the Senate but never came up in the more conservative House, where hardliners denounced it as a form of amnesty. Rubio quickly renounced the legislation, but as the 2016 campaign began, he had lost support among conservatives who criticizing his original support for the proposal as well as from Democrats and reform-minded Republicans who said he had cut and run on a critical issue.
Trump dominated both the polls and the media coverage through the summer and fall of 2015, and while he tussled with Bush, Carly Fiorina, and many of the other Republicans, Rubio flew mostly under the radar. It was a strategy that his campaign insisted was a deliberate choice, and as the Iowa caucuses rolled around, it looked like it was paying off. He fought hard with Cruz over immigration and parried attacks from Bush over his absences from the Senate, but he kept his distance—as much as possible—from the Trump circus. As other candidates fell away, Rubio surged into a strong third-place finish in Iowa, nearly eclipsing Trump. He was mocked by some for delivering a "victory speech" after coming in third, but if anyone left Iowa with a clear shot of momentum, it was Rubio.
All of that disappeared, however, on a debate stage in New Hampshire. Under fire from Chris Christie for relying on canned, 25-second soundbites, Rubio inexplicably respond with … the same canned soundbite. "This notion that Barack Obama doesn't know what he's doing is just not true. He knows exactly what he's doing," Rubio repeated over and over again, in a performance that was immediately likened to a malfunctioning robot.
Three days later, Rubio slipped to fifth place in New Hampshire, a finish that was blamed in large part on his debate debacle. He recovered in South Carolina, edging out Ted Cruz for second place in a state that seemed strong for the Texas senator. But he still could not come close to Trump, and in Nevada on February 23, the billionaire defeated Rubio by a nearly 2-to-1 margin.
With the race narrowed to five, Rubio finally went hard against Trump. Interrupting him frequently on the debate stage in Houston, Rubio unleashed months worth of opposition research and attacked Trump over his lack of policy depth, his use of immigrant labor, the lawsuit he's facing over Trump University, and more. Trump staggered, delivering his worst performance of the primary season. The next morning, Rubio took it even further. In a planned departure from his stump speech that seemed like a cross between a Trump impersonation and a stand-up comedy routine, Rubio mocked the front-runner relentlessly. He made fun of him for misspelling words in his tweets, for applying makeup to his sweaty upper lip during a commercial debate in the debate, and for possibly checking to see if he had wet his pants. Later in the weekend, Rubio made fun of Trump for having "small hands." "And you know what they say about guys with small hands," Rubio said to shocked laughter from the crowd. "You can't trust 'em!"
It was funny, sure. But many Republicans didn't seem to know whether to laugh, cheer, or cringe. It also didn't work. Trump upstaged Rubio by announcing the surprise endorsement of Chris Christie, and he proceeded to mock the Florida senator by calling him "little Marco" at rallies and debates. On Super Tuesday, Rubio was nearly shut out, winning only the Minnesota caucuses and watching as Ted Cruz eclipsed him as Trump's main challenger. Rubio struggled, too, in the states that followed. He exited the race having won only in Minnesota, Puerto Rico, and the District of Columbia.
By early March, Rubio had all but abandoned a national campaign and hunkered down in Florida, hoping that a victory in his delegate-rich home state would keep his campaign alive and deny Trump an opportunity to clinch the nomination before the Republican National Convention in Cleveland. But polls soon showed him trailing Trump badly, and the harbinger of any campaign's demise—second-guessing operatives and preliminary obituaries by the media—began appearing. Would Rubio drop out before Florida to save face for a future statewide run? Why did he rely so heavily on media coverage (that ultimately went to Trump) instead of investing in a better campaign organization on the ground?
Rubio faces a more uncertain future than many of his Republican rivals, who can fall back on governorships, retirement, or continuing careers in Congress. In running for president, he decided not to seek reelection to the Senate, and his term will end in January. There has been speculation that he will run for governor of Florida in 2018 after Rick Scott finishes his second term. His home-state loss to Trump might damage his standing, but at just 44, he may yet have a long political future in a party that rewards experience and likes a good comeback story.
Perhaps the most compelling, even poignant aspect of Rubio's campaign was how much he publicly struggled to comprehend it toward the end. Barely two weeks after subjecting Trump to schoolyard taunts, Rubio told reporters he regretted doing so, that his wife and kids were embarrassed. He called Trump a "con artist," insisted he would lose in the fall, and flirted with the #NeverTrump campaign, yet he couldn't quite bring himself to disavow the frontrunner entirely. The campaign took a toll on him, and he could be heard coughing frequently during the final debate. At a press conference over the weekend, Rubio was pale, exhausted, and hoarse. He seemed aghast at the violence that had broken out at Trump rallies, and at the general tone of the whole campaign. "I still, at this moment, continue and intend to support the Republican nominee," Rubio said. "But it's getting harder every day."
A few days later, Rubio lost to Trump again, and his bid for the presidency was over.