Why Did Jeb Bush Endorse Ted Cruz?
The former Florida governor's endorsement is the latest show of confidence that the establishment is putting its weight behind the U.S. senator from Texas.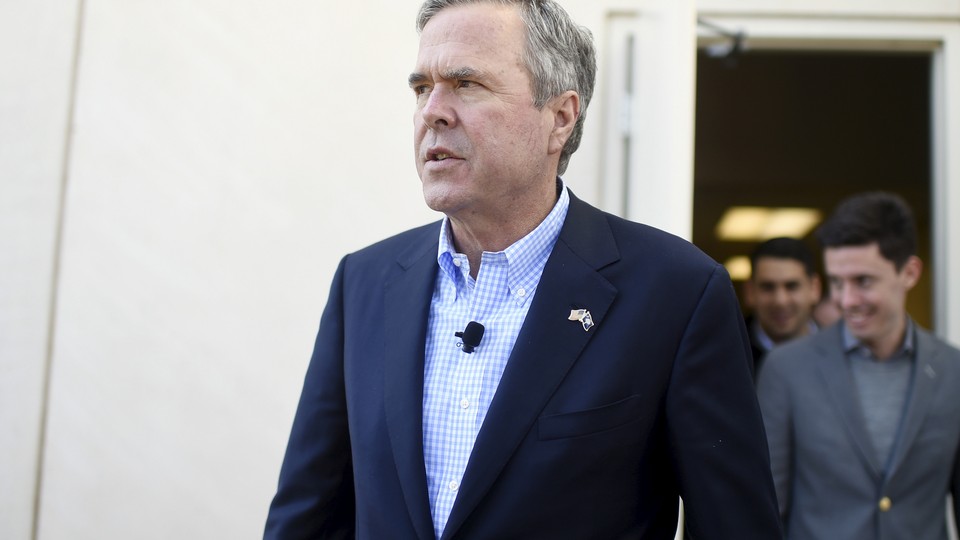 A little over a month after Jeb Bush suspended his presidential campaign, he endorsed Ted Cruz— yet another establishment figure backing the self-proclaimed outsider.
On Wednesday, Bush said in a Facebook post, "Ted is a consistent, principled conservative who has demonstrated the ability to appeal to voters and win primary contests, including yesterday's Utah caucus." He added: "Washington is broken, too many families are stuck in poverty and Western civilization is under attack from radical Islamic terrorists, as evidenced by the horrific attack in Brussels, which was preceded by attacks in Paris and California."
The endorsement reiterates a point that Cruz had made consistently on the campaign trail—that he is the only one who has won contests against Donald Trump. Bush himself struggled to do so in his pursuit for the White House, failing to win any of the first three nominating contests. In his statement Wednesday, the former Florida governor continued to express his distaste for the Republican front-runner.
"For the sake of our party and country, we must overcome the divisiveness and vulgarity Donald Trump has brought into the political arena or we will certainly lose our chance to defeat the Democratic nominee, most likely Hillary Clinton, this fall," Bush said.
The endorsement reflects a new level of confidence in Cruz from the establishment—or at least, resigned acceptance. Months ago, Trump and Cruz were paired as the outsiders in the race. But Trump's commanding lead likely played a key role in Bush's decision. Notably, John Kasich was left out of the statement. The Ohio governor, who won his home state last week, plans to stay in the race. His continued presence has become a point of contention as Cruz looks to garner support from the same mainstream conservatives Kasich is courting.
Cruz welcomed Bush's endorsement, saying it is "further evidence that Republicans are continuing to unite behind our campaign to nominate a proven conservative to defeat Hillary Clinton in November, take back the White House, and ensure a freer and more prosperous America for future generations."
Bush's decision to delay his endorsement until after Florida's primary is, in part, a blow to Marco Rubio. (Rubio has since exited the race.) But Bush's backing may still help Cruz consolidate support.
A slew of endorsements have come Cruz's way as of late, including from former rivals Lindsey Graham and Carly Fiorina. Graham originally backed Bush after his exit from the 2016 race, but conceded last week he had picked his poison and would fundraise for Cruz. Bush's brother Neil also decided to join Cruz's finance team earlier this month. Add to the list Mitt Romney, who said he planned to vote for Cruz in the Utah caucuses on Tuesday—though he's also expressed support for Kasich. But whether a list of endorsements from these figures can sway the race against Trump, who has thrived off resentment among voters with the establishment, remains to be seen.