The Edge: It's Only Rock 'N Roll (But Raul Likes It)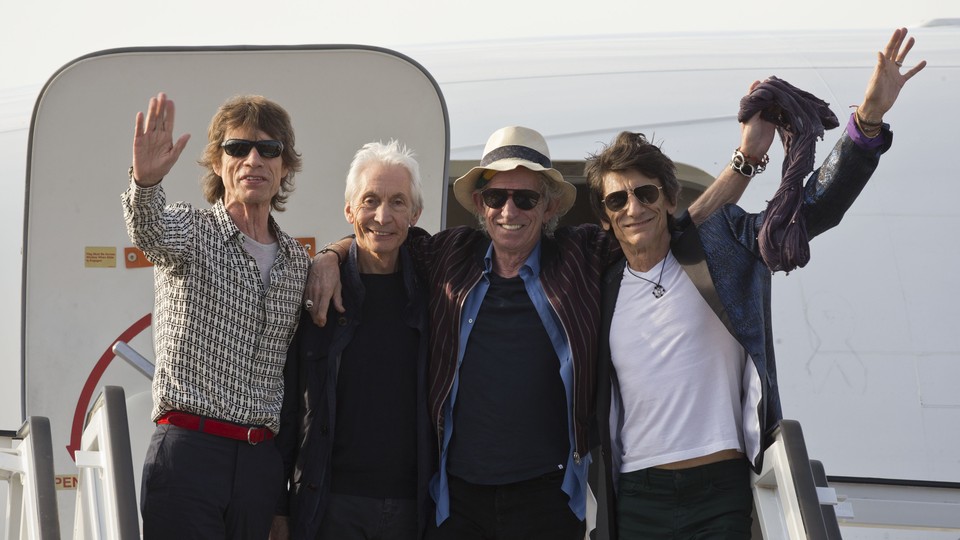 Today in One Paragraph
Secretary of Defense Ash Carter announced that the United States killed a top ISIS commander this week. Belgian authorities confirmed a connection between one of the suicide bombers at the Brussels airport and the November attacks in Paris, and U.S. Secretary of State John Kerry confirmed that Americans were among those killed in Tuesday's attacks. And the Rolling Stones perform tonight in Cuba, becoming the first major rock band to do so since the Cuban Revolution.
---
Top News
U.S. Killed ISIS Second-in-Command. The Pentagon announced the death of ISIS' finance minister Abd al-Rahman Mustafa al-Qaduli. "We are systematically eliminating ISIL's cabinet," said U.S. Secretary of Defense Ash Carter. Al-Qaduli is the second top ISIS leader killed by the United States in the past month. (Barbara Starr, Ryan Browne and Laura Koran, CNN)
Update on Belgium. Belgian authorities said that Najim Laachraoui, one of the suicide bombers at the Brussels airport, was a bomb-maker who has also been linked to the deadly attacks in Paris. One person was arrested in association with Tuesday's explosions during a police operation in the Brussels district of Schaerbeek. The U.S. State Department confirmed that two Americans are among the 31 killed in the attacks. (The New York Times; CNN; NPR)
'Satisfaction' for Cuba. The Rolling Stones will become the first internationally known rock band to perform in the country with a free concert starting tonight at 8:30 p.m. The Cuban government once denounced rock music as "ideological deviation," but, as lead vocalist Mick Jagger told reporters at the Havana airport, "Time changes everything." Our staff has a few song suggestions. (Daniel Trotta, Reuters)
The Weekend in One Paragraph. Bernie Sanders and John Kasich are campaigning in Wisconsin ahead of the state's primary on April 5. Alaska, Hawaii, and Washington will hold their Democratic caucuses. We'll be live-blogging the results as they come in here.
Follow stories throughout the day with our new Politics & Policy page. And keep on top of the campaign with our 2016 Distilled election dashboard.
---
Top Read
"From Franklin Delano Roosevelt to Barack Obama, American presidents have been internationalists who believed that America needs to build transnational structures to uphold a global capitalist order that enriches America as well as its allies. Trump belongs to a unilateralist counter-tradition that sees wealth as a zero-sum game, so that if America is paying for the security of allies, it is losing out." The New Republic's Jeet Heer on Donald Trump's revolutionary foreign policy stance.
---
Top Lines
Hello, Garland; Goodbye, Filibuster. Here's how Merrick Garland's nomination to the U.S. Supreme Court might encourage Democrats to abolish the filibuster once and for all. (Jeffrey Toobin, The New Yorker)
The Endorsement Game. Endorsing a presidential candidate is a strategic move—and, at times, a big risk.To understand the logic behind it, The Atlantic's Andrew McGill walked through a game theory experiment.
---
Top Views
Two Years of ISIS Attacks. More than 650 people have been killed in ISIS-affiliated attacks targeting Westerners around the world since March 2014. Here are the incidents described and mapped by The New York Times. (Derek Watkins, Karen Yourish, Tim Wallace, and Tom Girtikanon)
Tax Plan Primer. Check out these four charts to see how each of the presidential candidates' proposed tax plans would affect the poor, the middle class, and the wealthy. (Alvin Chang, Vox)
We want to hear from you! We're reimagining what The Edge can be, and would love to receive your complaints, compliments, and suggestions. Tell us what you'd like to find in your inbox by sending a message to newsletters@theatlantic.com.