Does Islamic Faith Strengthen American Patriotism?
A new survey calls into question a number of widely-held views about the Muslim community in the United States.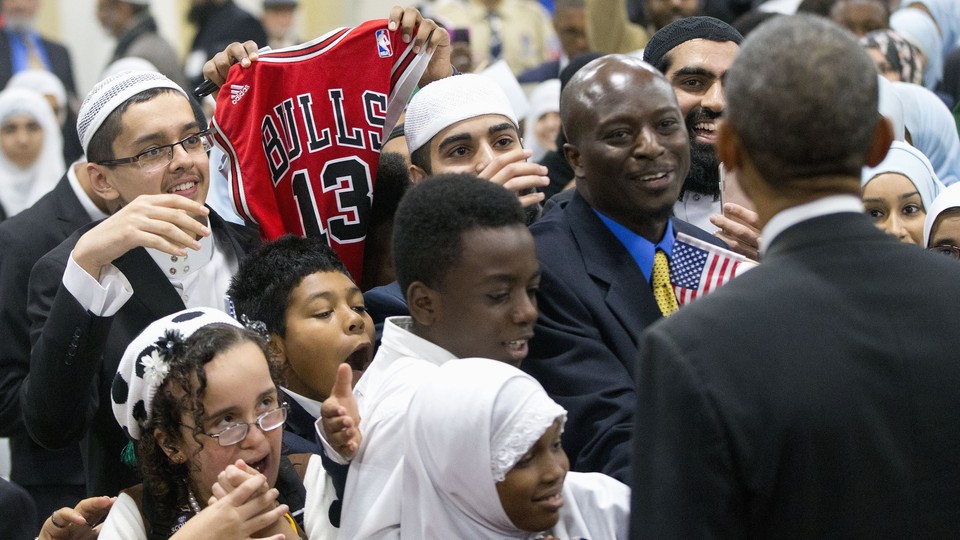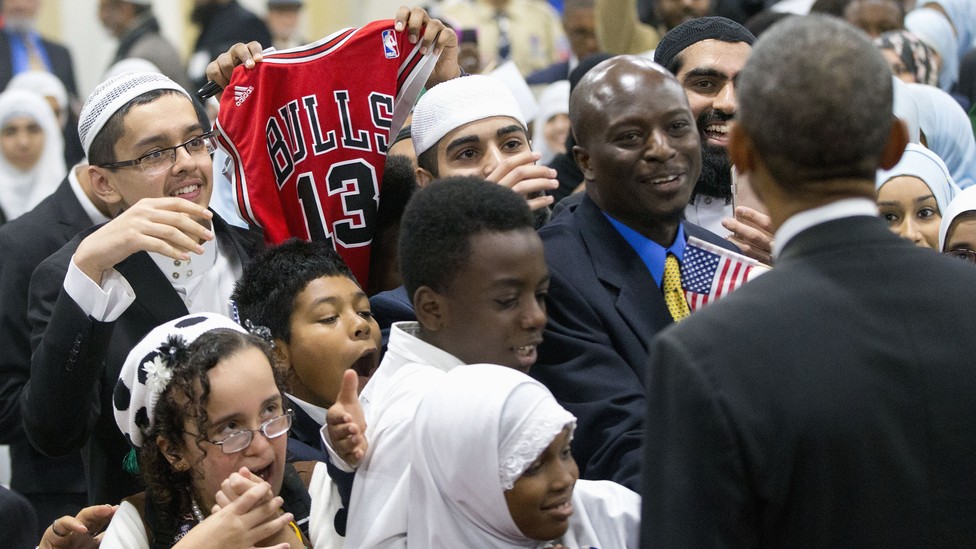 Donald Trump's calls for a ban on Muslim immigration and the closing of American mosques seem to reflect suspicion that Islam and American citizenship are incompatible. But religion and patriotism are not opposing forces for American Muslims; in fact, they're strongly correlated.
That's one of the key findings of a first-of-its kind poll conducted by the Institute for Social Policy and Understanding, a non-profit focused on studying this section of the American population. The poll compares Muslims to American Jews, Protestants, and Catholics with respect to their levels of religiosity, patriotism, activism, and general outlook on the state of the country and on their lives. "In this election cycle, specifically, Muslims have been a topic of debate but seldom participants in that discussion," said Dalia Mogahed, ISPU's research director.
"Islam doesn't weaken Muslim patriotism, it actually strengthens it. Muslims with a stronger religious identity actually have a stronger American identity than those with a weak religious identity," Mogahed said. The poll, which was conducted in January—two weeks before President Obama visited a mosque in Baltimore—found that among those respondents who said their faith is important to their identity, 91 percent affirmed that "being American is important to how they think of themselves," compared to just 68 percent of those with weaker religious ties.
"We found that there was no correlation between mosque attendance and support of violence," Mogahed said. On the contrary, she suggested, the results indicate that mosques are ideal places where community organizers might start engaging people because those who attend regularly "are more receptive to a message of civic engagement."
"The research shows that mosques are actually a force for moderation. Muslims frequent a religious service as much as Protestants, and those who do go more frequently are not in any way more likely to condone violence," Mogahed said. Muslims who said they attend services more frequently were more likely not to condone violence, with 65 percent saying "it is never justified," compared to 45 percent of similarly devout Jews, 43 percent of Catholics, and 40 percent of Protestants.
The survey also found that American Muslims were more likely than members of other faith communities to reject attacks on civilians by the military, and as likely as any other group to also reject attacks on civilians by an individual or a small group, Mogahed said. They are "at least as likely as other faith communities to reject violence unequivocally," she said.
Mogahed, who recently gave a TED talk on the subject of Muslims in the United States, said the only thing that was surprising was the high level of discrimination faced by respondents. "This poll found that the majority of Muslims report experiencing some level of discrimination in the last year," she said. About 18 percent reported regular discrimination, a figure that exceeds any other faith community's and that is more than triple the closest one—Jews, 5 percent of whom report experiencing regular discrimination in the same period.
Substantive polling data on American Muslims is difficult to pin down, with some of the most reliable efforts to date coming from the Pew Research Center and Gallup organization. Its methodology, though, should be taken into account when evaluating its merits. Its results are based on phone interviews of Muslim and Jews in the United States, conducted by a polling firm that specializes in religious communities. It pulled potential respondents from a national random sample and from cell-phone numbers provided by the credit-reporting agency Experian which "flags specific characteristics for each piece of sample." It would be useful to know the characteristics that would lead to someone being identified as Muslim. Additionally, responses from Catholics and Protestants were culled from the general public pool, given their larger numbers. In some instances the interviewer filled in an answer, like the subject's gender, instead of directly asking the person. In other instances, the question included a vague phrase, such as "the way things are going in this country," which could be interpreted in multiple ways. Still, despite these methodological issues, the new ISPU poll offers new valuable insights that contribute to the growing understanding and body of knowledge about this religious and cultural group.