The Long, Thorny Path to Calling ISIS 'Genocidal'
Secretary of State John Kerry announced ISIS is responsible for genocide in areas it controls. The move has been a long time coming.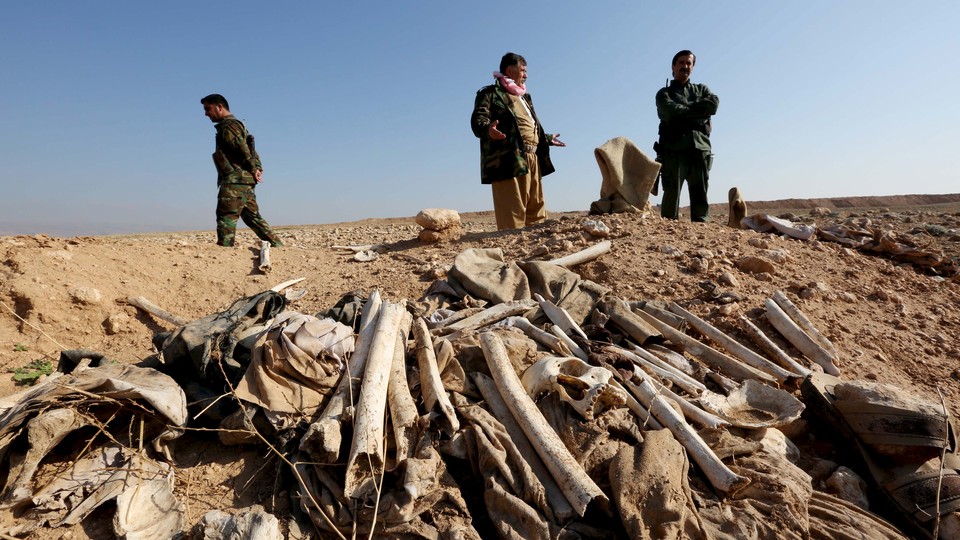 U.S. Secretary of State John Kerry announced Thursday that the State Department had found ISIS responsible for genocide in areas it controls.
"My purpose here today is to assert in my judgment, Daesh is responsible for genocide against groups in areas under its control including Yazidis, Christians and Shiite Muslims," he said at the State Department, referring to ISIS by one of the other names by which it is known.
The move has been a long time coming.
In August 2014, as the U.S. was launching its first strikes against ISIS fighters in Iraq, Kerry justified the escalation under the theory that ISIS's activities bore "all the warning signs of genocide." If American actions were meant to pre-empt such genocide, they apparently failed. In the past few months, ISIS's campaign against the region's ethnic and religious minorities, including the persecution of Assyrian Christians and Yazidis, has been formally declared "genocide" by the European Parliament and the United States National Holocaust Museum. (The former of these designations is particularly noteworthy since it was both unanimous and the first time a conflict had been categorized as a "genocide" in real time.)
Earlier this week, the U.S. House of Representatives joined the call, voting 393-0 to designate Islamic State crimes "genocide." It's the third time the House has attached the label to an ongoing crisis. As The Washington Post noted, "Roughly 30 percent of the [non-binding] resolution's 218 co-sponsors are Democrats."
So why didn't the White House and State Department immediately follow suit? It's complicated. Kerry, once wary of a potential genocide, appeared to have become wary of characterizing what's come to pass in Iraq and Syria as genocidal.
"I have asked our legal department to evaluate, to re-evaluate actually, several observations that were circulating as part of the vetting process of this issue," he told the AP earlier this week, adding that a judgment would come "very, very soon." Ultimately, the designation came Thursday, in line with a Congress-set March 17 deadline for a declaration.
Still, it's unclear what, if any, legal obligations the designation compels. That ISIS is a non-state actor is a complicating factor since the 1948 Convention on genocide, in the words of one expert, is "predicated on the notion that only states commit these crimes."
Any decisions on what steps to take against ISIS would be influenced by the ultimately disastrous U.S.-led invasion of Libya in 2011 that was also undertaken on the grounds that it would prevent a massacre. It also comes nearly a year after Congress formally neglected to take up an authorization of military force proposal that would have formally granted (and potentially constrained) President Obama's ongoing bombing campaign against Islamic State targets—a campaign that has since spread from Iraq and Syria to Libya.
Nevertheless, the House resolution not only put public pressure on the White House to act, but also advanced some political aims. Linking "genocide" with ISIS provides a broader rationale to step up the fight against the terrorist group, which a number of lawmakers and politicians have lobbied for, and, as John Hudson at Foreign Policy notes, would "also give momentum to humanitarian advocates arguing for a more welcoming refugee policy—an issue touted more often by Democrats."
Obama, given his aversion to raising what he sees as excessive alarm about the terrorist group, doesn't seem likely to bite. References to this line of thinking can be seen in April's cover story for The Atlantic, in which Jeffrey Goldberg details the president's hesitation to emphasize the dangers of ISIS, particularly in the wake of its attacks on Paris last November.
But he [Obama] has never believed that terrorism poses a threat to America commensurate with the fear it generates. Even during the period in 2014 when ISIS was executing its American captives in Syria, his emotions were in check. Valerie Jarrett, Obama's closest adviser, told him people were worried that the group would soon take its beheading campaign to the U.S. "They're not coming here to chop our heads off," he reassured her. Obama frequently reminds his staff that terrorism takes far fewer lives in America than handguns, car accidents, and falls in bathtubs do. Several years ago, he expressed to me his admiration for Israelis' "resilience" in the face of constant terrorism, and it is clear that he would like to see resilience replace panic in American society.
Thursday's announcement by Kerry indicates that the president's feelings about ISIS notwithstanding, the terrorist group will remain at the center of U.S. counterterrorism strategy for at least the immediate future.
---
Related Videos