Hillary Clinton Turns Up the Heat in North Carolina
Faced with a stiff challenge from Bernie Sanders in the Rust Belt, the Democratic front-runner works to run up her margin among black voters in the South.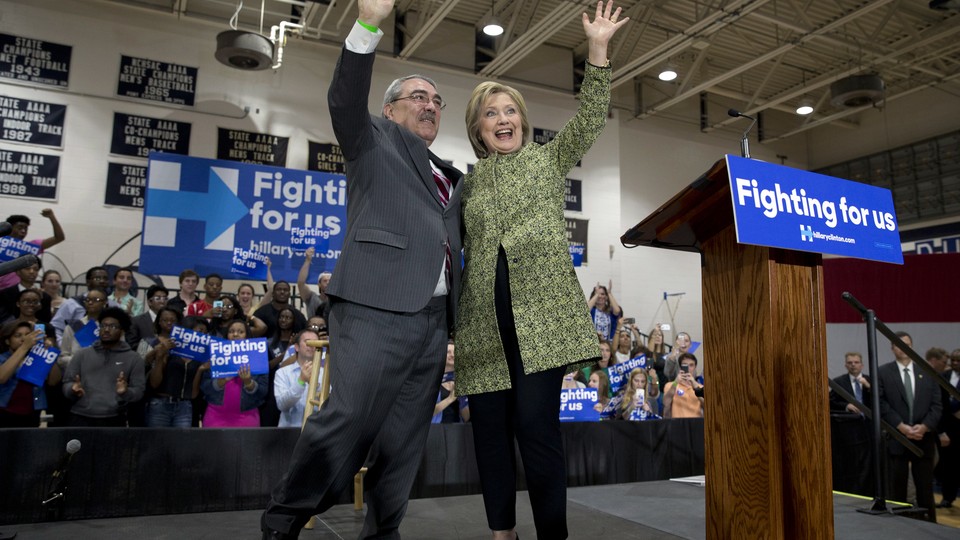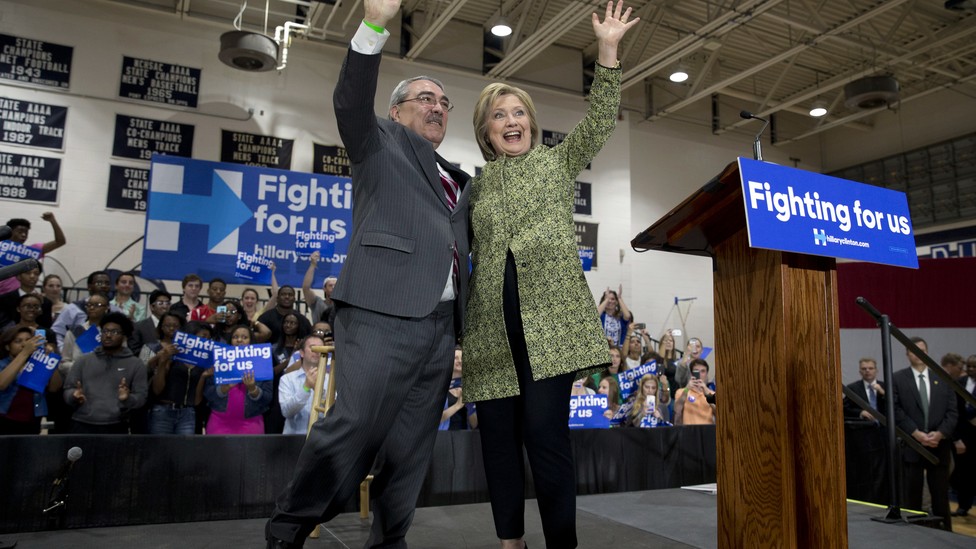 DURHAM, N.C.—The race for the Democratic presidential nomination was heating up at Hillside High School Thursday afternoon.
Not metaphorically—all indications suggest Hillary Clinton will win handily on Tuesday—but literally. With the mercury nearing 80 and thousands of Clinton fans packed into the Hillside gym, it was already warm. Then, with the candidate about to speak, someone turned off the roaring ventilation system so Clinton could be heard. Soon there began a slow but steady procession of people being helped out by EMTs after getting dizzy: an older white woman, somewhat heavyset, decked out in Hillary stickers; a man in a leather Uncle Sam hat that was an awesome fashion statement but in retrospect not ideal for the temperature.
With Florida and Ohio both voting on March 15, the North Carolina primary has taken a back seat to those larger, more decisive contests. Since its debacle of a loss in Michigan on Tuesday, the Clinton campaign has begun focusing on delegate counts rather than winning states. Her goal in North Carolina was to run up the score, securing as many delegates as she could here to offset close races, and potential losses, in Ohio and Illinois.
In 2008, the Old North State voted much later, in May, and Barack Obama's victory was one of the final blows to Clinton's bid for the nomination—brought on, in part, by black voters, who went more than 20-1 for Obama, according to exit polls. This time around, Clinton is looking for those same African American voters to buoy her against Sanders.
That's why Clinton came to this historically black high school for a rally that was much more about getting out the vote than winning it. She was also joined by a roster of prominent local black politicians—Mayor Bill Bell, North Carolina House Democratic Leader Larry Hall, and U.S. Representative G.K. Butterfield, who chairs the Congressional Black Caucus. Over and over again, speakers emphasized the importance of getting to the polls. No one in attendance could have escaped without the mantra of "March 12"—the final day of early voting in the state—being drilled into their heads.
It's another example of Clinton's ability to draw on deep and long relationships with black Democrats, a resource that proved vital to her in South Carolina and other deep South states, where African Americans make up a huge portion of the Democratic electorate.
Clinton delivered a whole platter's worth of red meat for the audience, taking aim at national Republicans, the state GOP, and Bernie Sanders.
"I am not a one-issue candidate because this is not a one-issue country," she said, a standard line against Sanders. And she won hearty cheers when she attacked Sanders for voting for a 2005 law that granted gun manufacturers immunity from lawsuits by shooting victims.
But most of Clinton's speech was spent praising public education and bashing the state's Republican leadership. Since taking control of the state legislature in 2012, the GOP has enacted a full slate of conservative policy changes.
"There should not be a public school in this country where any person would not want to send a child," she said. "Look in a mirror and say, would you send your child or grandchild to this school? And if the answer is no, do something about it!"
Clinton said that when her husband, then-Governor Bill Clinton, appointed her to lead an overhaul of Arkansas schools in the 1980s, she looked to North Carolina as an example, but said the system had been undermined.
"For the life of me I don't know why Republicans have such a problem with funding public schools," she said. "Public education remains the foundation of our democracy."
The voting talk was not just about getting people to the polls. It, too, was red meat. Following the Supreme Court's Shelby County v. Holder decision in 2013, striking down a key provision of the Voting Rights Act, Republicans passed one of the strictest voter-ID laws in the nation. That law is currently being challenged in court by the NAACP, the Justice Department, and a handful of other plaintiffs, but this primary is the first where a photo-ID requirement is in place. Democrats are concerned the law will dampen turnout among their core supporters, because African Americans are most likely to vote Democratic and most likely not to have qualifying photo ID.
Clinton received an enthusiastic welcome at Hillside—despite the heat, and despite taking the stage more than hour later than expected. Even with the fans off, she was repeatedly drowned out by the din of applause. Whether that translates to the "100 percent turnout in Durham County" that Butterfield demanded remains to be seen. When I chatted with a gaggle of students in the hallway to ask why they were at the rally, the response was mostly nervous faces. "I want to see what she talks about," one said finally.