Hillary Clinton Returns 'Home' to New York
A Harlem rally served as both reunion and reintroduction for the former senator and Democratic presidential frontrunner.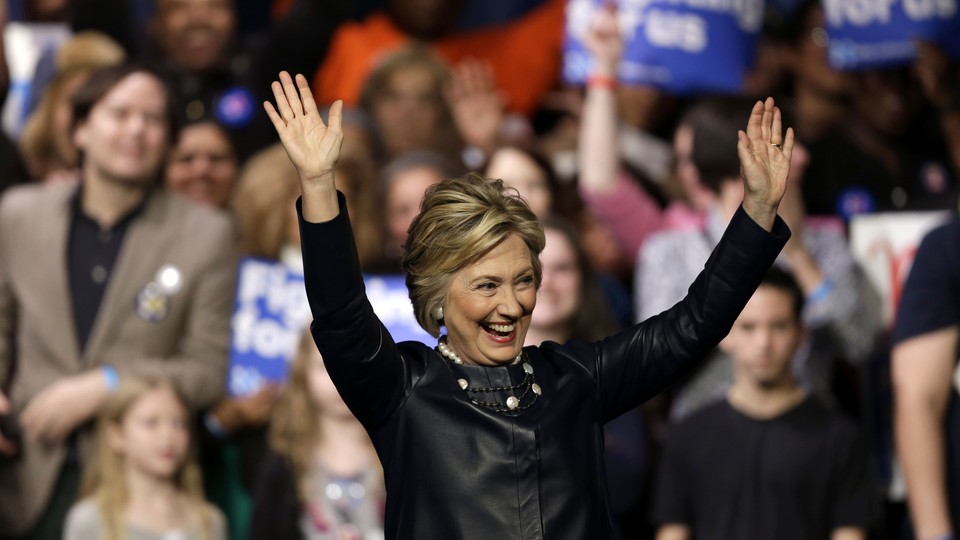 NEW YORK—Hillary Clinton returned home on Wednesday.
Well, to be more precise, she returned to one of her homes. Over the course of her 68 years, she's had a few. There was Illinois, where she was born and raised. Then there was Arkansas, where she and her husband launched their careers and raised their only child. There's also Washington, D.C., which you might call her professional home for most of the last 25 years and where she's owned a house for the last 15.
New York, however, is Hillary Clinton's political home. The distinction is an important one both for the primary election she faces on April 19 and likely for the general election campaign she'll wage in the fall. By dint of birth and unmistakable accent, her main competitors for the presidency have equal if not greater claim to favorite-son status in the Empire State. Unlike Bernie Sanders and Donald Trump, she was neither born nor raised here. But it is a place where she, and only she, has twice won statewide election.
Clinton's last victory in New York was a decade ago, and while she and Bill still reside in Westchester, her homecoming rally at the Apollo Theater in Harlem on Wednesday afternoon was a mix of reunion and reintroduction. Before she arrived, the man who in 1999 prodded her to run for Senate, Representative Charles Rangel (now 85 and about to retire) danced slowly across the stage, eliciting cheers from the older members of a crowd he's served for 45 years. Clinton's shepherd and validator was New York's senior senator, Charles Schumer, who offered up a greatest hits of her eight years in the Senate and reminded the audience that of all the places where Bill Clinton could pick to open an office after he left the White House, he chose Harlem. (It wasn't because his wife was already running for Senate there. Definitely not that.)
Schumer played an effective surrogate, hitting hard on the theme that while Clinton's unnamed opponents might talk a big game, she actually has a record of progressive victories. "She delivers," Schumer said. Then the Brooklyn-born senator deliberately exaggerated his already thick accent, in a knowing nod to that other Brooklyn-born senator who now represents Vermont. "She may not always tawk like we Brooklynites tawk," Schumer said as the crowd whooped, "but when she speaks out she changes minds, she changes hearts, she moves to action, and she changes outcomes."
Much of the Harlem rally felt like a flashback to 2008, to a time when Bill Clinton was still "the first black president" and Hillary was Senator Clinton, not Secretary Clinton. Both Schumer and Clinton spent more time bashing George W. Bush than praising Barack Obama, and there was barely a mention of the four years Clinton spent globe-trotting as secretary of state. "Trickle-down economics," Clinton said in one rhetorical blast from the past, "made life harder for people in our state." The dramatic arc of Clinton's speech centered on 9/11, which occurred just eight months after she was sworn in as senator. She recalled her efforts, working alongside Schumer, to secure recovery funds for the city and to pass the Zadroga 9/11 Health and Compensation Act. "New Yorkers took a chance on me, and I will never forget that," Clinton said. "There were some hard times, weren't there? But we pulled together."
She wove the attacks into her three-part test for a president: Can he or she deliver results that improve people's lives? Can he or she keep America safe? Can he or she bring the country together? And it was here that Clinton shifted from her New York nostalgia tour to a sharpened version of her 2016 stump speech, one in which she positioned herself against Sanders on one side and Trump and Ted Cruz on the other. She hit Sanders for siding with the NRA on gun control and for touting policies that she described as impractical. "Now some folks may have the luxury of holding out for the perfect," Clinton said. "But a lot of Americans are hurting right now, and they can't wait for that. They need the good, and they need it today."
She attacked Trump and Cruz for their policies on immigrants, especially Trump's call for banning Muslims from entering the country and Cruz's push for police to surveil Muslim neighborhoods. "It doesn't make them sound strong," Clinton said. "It makes them sound in over their head."
It'll be a winning line for Democrats nationwide, and it worked particularly well at the Apollo, where the crowd reflected the diversity not only of Harlem but of Clinton's broader coalition. If the recent polls giving Clinton a comfortable lead over Sanders are correct, she probably doesn't need to step foot in New York to win the state. But delegates in New York are awarded by congressional district, and Clinton needs to pad her margin in the city to offset rural areas where Sanders might have an advantage. Clinton's campaign packed the stage behind her with young women who carried signs that said 'Welcome Home' and who chanted, "I'm with her!" and "Madam President!" But the many young faces in the Harlem crowd also highlighted Clinton's challenge: In New York, the voters most likely to tilt to Sanders are ones who are scarcely old enough to remember Clinton's tenure as senator.
Michael Tosto, 26, has been backing Clinton from the start. But his friends aren't. "None of them. That's the sad thing," he said after the rally. "It's the brainwashing of the student loans and the revolution thing." The same was true for Sam Ackerberg, a law student from Brooklyn. "Most of my peers and most of my Facebook network are supporting Bernie," he said. "But I'm staying strong."
As she tries to keep Sanders from threatening her delegate lead, Clinton needs supporters throughout her adopted home state to stay strong for her, too. The next primary might be in Wisconsin on Tuesday, but she's rallying even closer to home in Westchester on Thursday while Bill Clinton hold events with union members in Manhattan. Sanders will be in the South Bronx on Thursday evening, and then Clinton heads upstate to Syracuse on Friday.
"We're on the right track," Clinton said as she tallied up her advantage in votes over both Sanders (2.5 million more) and Trump (1 million more) at the start of the speech. "But I don't have to tell you this is a wild election year. I'm not going to take anything, or anyone, for granted," she added. It's a line she's used before, but it carried extra meaning in the one state that all three of them have called home.