How the GMO Debate Became a National Nightmare
A Senate battle over the labeling of products with genetically modified organisms encompasses everything from states' rights and consumer rights to food politics and food science.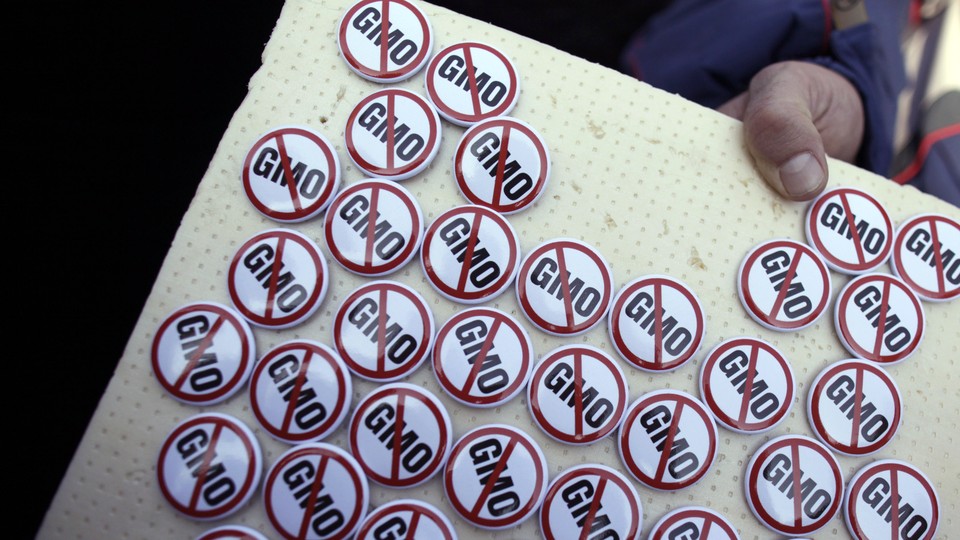 Later this year, barring some legislative maneuvering, Vermont will become the first U.S. state to require mandatory labeling of products that contain genetically-modified ingredients (GMOs).
The argument that led to the passage of the requirement is that consumers ought to "know what's in their food." As Vermont Governor Peter Shumlin put it last week, "We already require food companies to label nutritional values such as calories or sugar content and to include an ingredient list."
His message was given a boost by Bernie Sanders, his fellow Vermonter and presidential hopeful:
The simple fact is, Americans want to know what is in the food they're eating and whether that food is genetically engineered.

— Bernie Sanders (@SenSanders) March 8, 2016
The reason that Shumlin and Sanders are speaking out is because this week the Senate will likely vote on a measure that could render Vermont's mandate moot. The bill, sponsored by Pat Roberts, chairman of the Senate Agricultural Committee, would create an USDA-administered voluntary-labeling system as well as bar the labeling of goods by individual states.
You can tell a strange political moment is unfolding when Republicans are rallying against the rights of states to pass their own laws without federal interference. But such is the one of the sharpest and most hysterical national food debates.
The battle over GMOs encompasses some of our worst political instincts. The public overwhelmingly fears GMOs and supports labeling. Owing to its partisan nature, the bill to be debated has been given two names: the Safe and Accurate Food Labeling Act (SAFE), by those against mandatory labeling, and Deny Americans the Right to Know Act (DARK), by those who support labeling. (Making matters worse, there is also a competing bill that would try to split the difference between supporting state-mandated labeling and attempting to limit label confusion on the national level.)
An informal consortium of government organizations and science academies say that genetically modified foods pose no health threat to consumers and yet their interests are associated with pernicious-seeming big agricultural stalwarts like Monsanto and ConAgra. Meanwhile, the FDA isn't so sure about the environmental impact of genetically engineered crops, which is a different issue altogether that is being lumped within the conversation.
In July 2015, my colleague James Hamblin presented this sweeping rebuke of the efforts to force labeling.
People who object to genetic modification—either because of concerns about the prudence of introducing certain crops into certain ecosystems, or because of patent laws and corporate business practices, or because these people are among the majority of Americans who now believe any and all "genetically modified" foods to be inherently unhealthful to consume (despite assurances to the contrary from The World Health Organization, Food and Drug Administration, American Medical Association, National Academy of Sciences, and American Association for the Advancement of Science, among others)—can continue to pay premiums for products that are marketed as "GMO free," which implies health and safety, even while the implication is without merit.
According to those monitoring potential votes, it's looking close, particularly with at least two Republican senators, Ted Cruz of Texas and Marco Rubio of Florida, likely out on the presidential campaign trail.