Georgia's Republican Governor Rejects a Religious-Freedom Bill
Nathan Deal sides with corporations and gay-rights advocates who objected to the legislation backed by conservative evangelicals.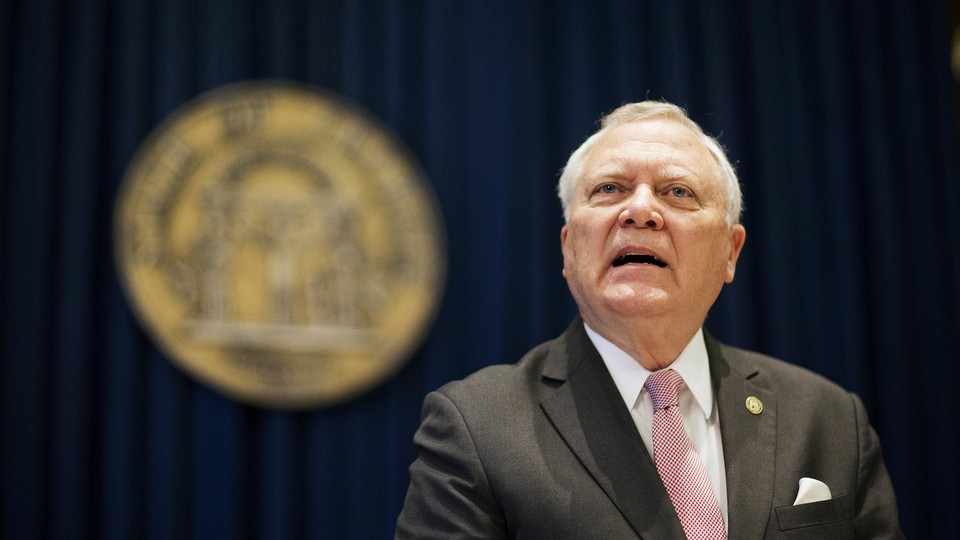 As an expansive religious-liberty bill moved through Georgia's Republican-dominated state legislature this winter, Governor Nathan Deal found himself caught in a pitched battle over gay rights, with conservative evangelicals on one side and major corporations on the other.
On Monday, he sided with big business by announcing he would veto legislation that he said could lead to state-sanctioned discrimination against gay people. "I do not think we have to discriminate against anyone to protect the faith based community in Georgia of which my family and I are a part of for all of our lives," Deal, a Republican, said at a news conference declaring his decision. "Our actions on H.B. 757 are not just about protecting the faith-based community or providing a business-friendly climate for job growth in Georgia. This is about the character of our State and the character of its people."
He added:
Our cities and countryside are populated with people who worship God in a myriad of ways and in very diverse settings. Our people work side-by-side without regard to the color of our skin, or the religion we adhere to. We are working to make life better for our families and our communities. That is the character of Georgia. I intend to do my part to keep it that way.
The governor's rejection of the bill is the latest twist in a war over religious liberty and gay rights that has played out in conservative states during the nine months since the Supreme Court legalized same-sex marriage nationwide. Public outcries followed similar efforts last year in Indiana and Arkansas to pass legislation that would allow pastors and vendors to cite religious objections in denying services to gay couples.
The Georgia version, which was itself viewed as a compromise designed to win broader support, would not only have allowed faith-based groups to deny "social, educational, and charitable services" to people based on their religious beliefs—but in some cases, would also have preserved their right to fire people for the same reason. A corporate coalition that included Disney, Time Warner, and other major employers threatened to boycott the state if Deal signed the legislation into law. The NFL hinted the law could affect its decision to hold a future Super Bowl in Atlanta.
In announcing his veto, Deal acknowledged threats by interests on both sides, but he said they were not a determining factor in his decision.
Some of those in the religious community who support this bill have resorted to insults that question my moral convictions and my character. Some within the business community who oppose this bill have resorted to threats of withdrawing jobs from our state. I do not respond well to insults or threats. The people of Georgia deserve a leader who will made sound judgments based on solid reasons that are not inflamed by emotion. That is what I intend to do.
Deal was reelected to a second term as governor in 2014 and cannot run for a third, so electoral considerations may have been less of a factor for him than for other Republican governors facing similar decisions. He had criticized earlier versions of the religious-freedom proposal, so his veto was not entirely a surprise, although he announced his decision well in advance of a May 3rd deadline. The lengthy legislative process, which followed two earlier attempts in previous years to pass similar legislation, stood in contrast to last week's much more rapid action by Republicans in North Carolina, who rushed through legislation that overturns state and local bans on discrimination against LGBT residents. Governor Pat McCrory quickly signed that bill into law.
Reaction to Deal's veto fell along predictable ideological fault lines. Ralph Reed, chairman of the Faith and Freedom Coalition, tweeted that he was "extremely disappointed" in Deal's decision but said the legislature would try again next year and "override a veto if necessary." Erick Erickson, the Georgia-based conservative activist, wrote that while Deal's veto wasn't surprising, it was "completely tone-deaf" to announce it the day after Easter. The Human Rights Campaign and business leaders like Microsoft President Brad Smith, on the other hand, cheered the move.