Gaffe Track: Trump's Tactical Nuclear Stumble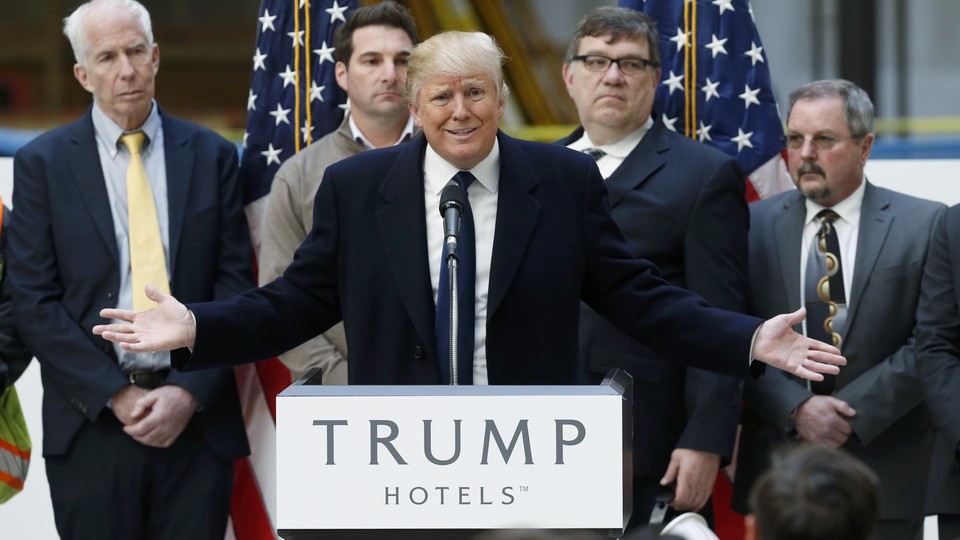 Editor's Note:
This article previously appeared in a different format as part of The Atlantic's Notes section, retired in 2021.
The candidate: Donald Trump
The gaffe: There were many strange moments in the GOP front-runner's interview with the editorial board of The Washington Post: when he hit on an editor. When he called for looser libel laws. When he discussed his glove size. But some attention has fallen on his answer to Post Publisher Fred Ryan, who asked him whether he'd use a tactical nuclear weapon against ISIS. In simple terms, that's a smaller bomb, aimed not at destroying a whole city, but for battlefield use. "I don't want to use, I don't want to start the process of nuclear," Trump replied, then veered into electoral politics. "Remember the one thing that everybody has said, I'm a counterpuncher. Rubio hit me. Bush hit me. When I said low energy, he's a low-energy individual, he hit me first. I spent, by the way he spent 18 million dollars' worth of negative ads on me." Ryan gently reminded him the question was about ISIS, not Marco or Jeb. Trump bailed: "I'll tell you one thing, this is a very good looking group of people here. Could I just go around so I know who the hell I'm talking to?"
The defense: You can't prove definitively that he doesn't know what a tactical nuclear weapon is or that he hasn't through through the issue. You can only strongly infer it.
Why it matters (or doesn't): Oh come on, this is Trump: All that matters is that he sounds "tough." He's been talking about nukes for more than 30 years and yet he seems to have learned nothing about them. But it's reasonable to expect a prospective president to have a more fully developed answer on nuclear weapons than mentioning his vanquished electoral opponents—especially when that candidate has demonstrated his ignorance about nuclear weapons in the past.
The lesson: A man who bombs an interview might be a risky bet to control the bombs.