Gaffe Track: Hillary Clinton Praises Nancy and Ronald Reagan on AIDS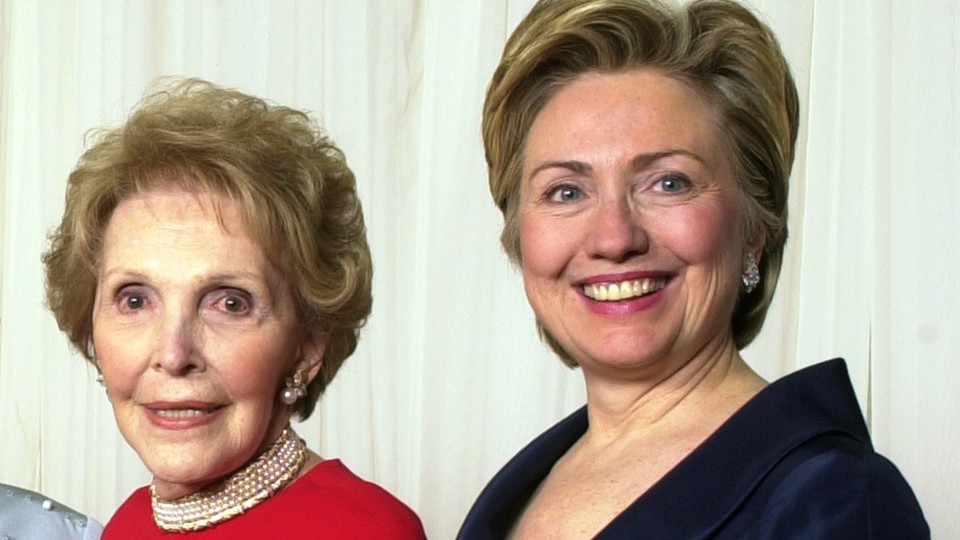 Editor's Note:
This article previously appeared in a different format as part of The Atlantic's Notes section, retired in 2021.
The candidate: Hillary Clinton
The gaffe: Friday, as Nancy Reagan was being laid to rest, the Democrat praised her predecessor: "It may be hard for your viewers to remember how difficult it was for people to talk about HIV/AIDS back in the 1980s. And because of both President and Mrs. Reagan—in particular Mrs. Reagan—we started a national conversation." Clinton is right about the difficulty, but the Reagan administration was part of what created it, not a constructive force against it. Ronald Reagan's press secretary literally laughed off questions about the disease. The couple did nothing to help their old friend Rock Hudson as he died from it. But some historians have credited Nancy Reagan with convincing her husband to open up—a little bit—about AIDS late in his tenure.
The defense: Within hours, Clinton issued a rare quick, full retraction of her comments:
Why it matters (or doesn't): The headlines are telling. "Hillary Clinton Shockingly Praises Nancy Reagan's 'AIDS Activism'" (Huffington Post). "Hillary Clinton's Reagan AIDS Revisionism Is Shocking, Insulting, and Utterly Inexplicable" (Gawker). "Hillary Clinton said something really weird about Nancy Reagan and AIDS" (Vox). Even the head of the Human Rights Campaign, which has endorsed Clinton, took issue with the comments:
While I respect her advocacy on issues like stem cell & Parkinson's research, Nancy Reagan was, sadly, no hero in the fight against HIV/AIDS

— Chad Griffin (@ChadHGriffin) March 11, 2016
It's a weird unforced error.
The lesson: Don't speak ill of the dead, but don't make things up about them, either.