Will Anyone Accept Responsibility for Flint?
House legislators grilled Michigan Governor Rick Snyder and EPA Administrator Gina McCarthy over the ongoing water crisis.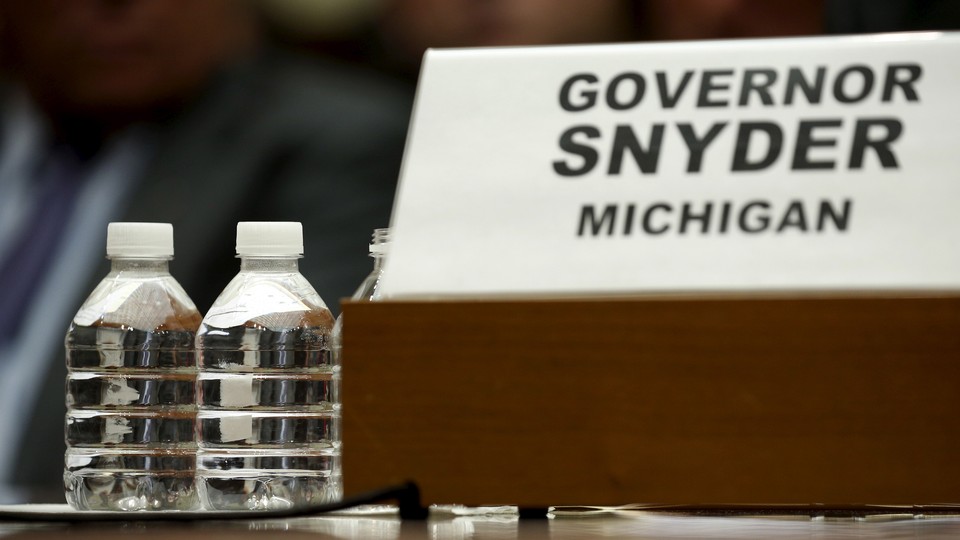 Lawmakers on the House Oversight Committee agree that multiple layers of government failed the people of Flint, Michigan, whose children were tragically poisoned by lead and who, to this day, can't trust the water coursing through their community. On Thursday, at the third Flint hearing they've held this year, legislators excoriated Michigan Governor Rick Snyder and Environmental Protection Administrator Gina McCarthy on the roles they played in the crisis.
But beyond that consensus, lawmakers' opinions of who bears primary responsibility largely broke down along partisan lines. They're lines that fundamentally divide Republicans, who emphasize state and local government control, from Democrats, who tend to place their faith in federal oversight. But instead of blaming the government breakdown on the entities whose primacy they generally emphasize, both sides instead targeted the institutions they think should have even less authority or control.
"Republicans are desperately trying to blame everything on the EPA," thundered Elijah Cummings, the committee's ranking member from Maryland. "So let me say this: I agree that the EPA should have done more. They should've rushed in sooner to rescue the people of Michigan from Governor Snyder's vindictive administration and his utter incompetence at every level."
Cummings's rhetoric was characteristic of lawmakers' tone at Thursday's hearing. Snyder and McCarthy were both asked, strongly and repeatedly, to resign. The two officials, for their part, blamed each other: The governor faulted the EPA for its slow and "ineffective" response, while McCarthy took aim at state officials for obfuscating the poor water quality. Both also suggested they weren't fully aware of the problem's scope until far too late.
Lawmakers pushed back on the notion that McCarthy and Snyder weren't aware earlier on. The timeline of their public actions, though, is more clear. The crisis in Flint began back in April 2014, when the city's water source switched from Detroit's water system to the local Flint River. My colleague David Graham explained in February that the "Flint River's water, which has a higher chloride content than the water from Lake Huron that Detroit uses, corroded Flint's aging lead pipes, bringing the metal into the water supply—a problem that continues even after Flint went back to the Detroit system." For much of that time, Flint's residents continued to use and drink the water, and children exhibited high levels of lead in their blood. State officials repeatedly downplayed suspicions that the water was unsafe.
Residents were ordered to stop drinking Flint's water shortly before the supply switched back to the Detroit water system, in October. That same month, the state's Department of Environmental Quality said the water hadn't been treated with anti-corrosive phosphates; McCarthy said the DEQ had previously told her agency the water was being treated.
In January, nearly a year after an EPA scientist first flagged the lead problem, Snyder declared a state of emergency, and the EPA issued an emergency order "to make sure that the necessary actions to protect public health happen immediately." The agency had the authority to do so under the Safe Drinking Water Act, which says the EPA can move in when people are in imminent danger and state and local government officials haven't adequately acted.
Snyder's testimony was widely anticipated. Not only did Democratic lawmakers insist on his resignation, but he's faced similar requests from Democratic presidential candidates Bernie Sanders and Hillary Clinton, who attended a debate in Flint earlier this month focused on the city's crisis. His appearance wasn't always on the committee's agenda. Chairman Jason Chaffetz was criticized for not inviting Snyder to an earlier hearing, but Snyder soon volunteered himself to appear. Republican lawmakers repeatedly praised that decision on Thursday.
Ahead of the hearing, Cummings told reporters that "the person I think might have the most responsibility is certainly the governor," and many of his fellow Democrats on the panel clearly agreed. Gerald Connolly, a Virginia Democrat, said Snyder's government has placed a "stain" on the country, and he accused the committee—presumably its Republicans—for protecting Snyder.
Asked about reports of various health problems among Flint's residents—including hair loss, Legionnaires' disease, and E. coli contamination in the water—Snyder blamed "career bureaucrats" for wrongly stating the water was safe. "Governor Snyder, plausible deniability only works when it's plausible," said Pennsylvania Democrat Matt Cartwright, "and I'm not buying that you didn't know about any of this until October 2015. You were not in a medically induced coma for a year and I've had about enough of your false contrition and your phony apologies." Cartwright chastised the governor for trying to "spread accountability" to other people.
In response to one aggressive Democrat, Snyder said the experts he relied on failed, and he's responsible for that: "I kick myself" for not demanding more answers or asking more questions, and "I'm making a commitment to solve this problem because people deserve better." In his written testimony, he called out local and state officials for hurting Flint, and specifically blamed state environmental experts for inaccurately assessing the water's safety.
Republican lawmakers took issue Thursday with how state and EPA personnel have been disciplined. (It's worth noting some in the GOP, including two of its presidential candidates, Ted Cruz and Donald Trump, believe the agency should be done away with altogether.) Chaffetz seemed gratified that some Michigan officials involved in handling Flint, including the state Department of Environmental Quality head, have been fired or have otherwise left their posts.
But as he insisted the EPA should've done more to help Flint, Chaffetz criticized McCarthy for firing no one; one official who has left her post, the regional EPA administrator with jurisdiction over Flint, voluntarily resigned. In his view, McCarthy wasn't accepting culpability. "I will take responsibility for not pushing hard enough, but I will not take responsibility for causing this problem," she said. "It was not EPA at the helm when this happened."
McCarthy suggested a series of obfuscations from the state delayed the EPA's response, and that it didn't know local officials weren't acting quickly enough until earlier this year. "From Day 1, the state provided our regional office with confusing, incomplete, and absolutely incorrect information," McCarthy said in her testimony. The result? "EPA staff had insufficient information to understand the potential scope of the lead problem until more than a year after that water supply was switched. … In hindsight, we should not have been so trusting of the state for so long." The agency was also hamstrung, she said, by the Safe Drinking Water Act, which she and other Democratic lawmakers said gives the state primary authority to act.
But that explanation wasn't enough for some on the panel, including Illinois Democrat Tammy Duckworth, who explicitly said she wasn't taking sides. "Would you not rather have jumped in too soon, despite the law, to protect the children of Flint? And be hauled into Congress to testify about why you stepped in too quickly to safeguard health, as opposed to why you didn't act soon enough?"