Bernie Sanders's Global Victory Over Hillary Clinton
In the Democrats Abroad primary, the Vermont senator beat his rival by a wide margin and picked up nine delegates.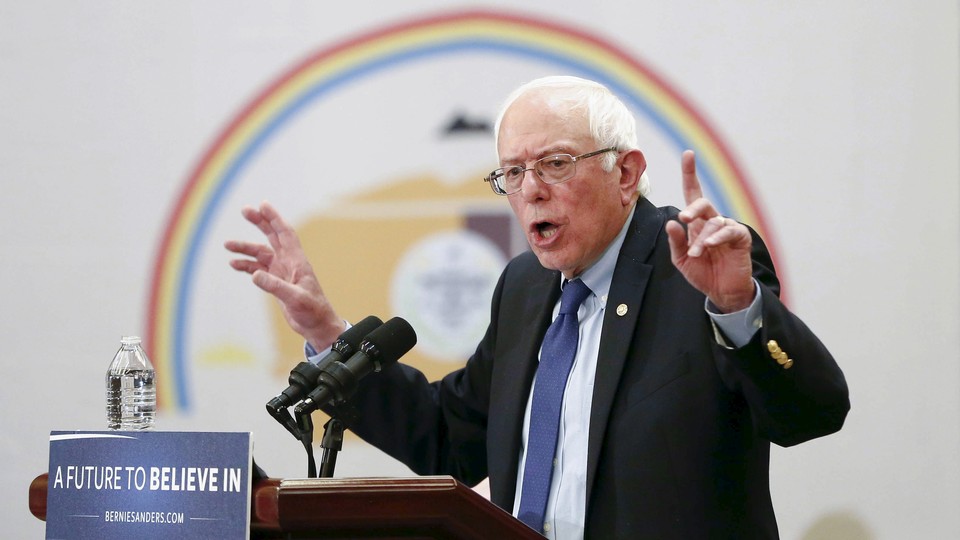 Bernie Sanders keeps arguing that the United States should look abroad for policies that would make the nation more equitable—and it seems that Americans who live there agree with him.
Results from the Democrats Abroad primary show the Vermont senator cruising to a big win over Hillary Clinton among ex-pats, taking 69 percent of the vote to her 31. That's good to net Sanders nine delegates and Clinton four. Nearly 35,000 Americans overseas cast ballots, a 50 percent increase over the 2008 total.
Clinton has pushed back against Sanders's praise for Scandinavian countries. "We are not Denmark," she said in October, hastening to add: "I love Denmark." It turns out that affection wasn't reciprocated by the  American Democrats there. Sanders whomped her in Denmark, 358-89. In Sweden, Sanders won 513-202. In Norway, he won 328-102.
Clinton won in only three sub-areas: Nigeria, where she took four of the five votes cast; Singapore; and the Dominican Republic. (The Asian city-state is of course a model of neoliberal authoritarianism, so make your own jokes, Berniebros. Clinton and her husband have a long history of involvement in Haiti, which shares Hispaniola with the D.R.)
As I wrote back in February—or March on the other side of the international dateline—the first balloting occurred in Wellington, New Zealand, where Sanders beat Clinton 21-6 in a midnight meet-up at a pub. The final total in the country was 476-63.
Republicans don't hold an equivalent contest for ex-pats, making the Democrats Abroad tally the only real guess at how Americans overseas are thinking about the election. The largest totals come from exactly the countries one might expect: Canada, Australia, and Western Europe. An openly unscientific poll conducted by Military Times found that members of the armed forces back Trump and Sanders most, but those numbers are not statistically sound nor broken out by those living at home or abroad.
Democrats Abroad also get four superdelegates—or rather, eight superdelegates, each worth half a delegate. Clinton has secured commitments from three and Sanders one.
The results provide an interesting snapshot of opinion abroad, but its meaning is less than clear. It seems likely that Americans who live abroad are a more liberal group, which would explain their tilt toward Sanders. But he's been criticized for his foreign-policy stances, which critics call vague, especially on the Middle East. Nonetheless, he handily won each Middle Eastern country, including Egypt, Lebanon, Turkey, the UAE, and Israel. He also won five of the seven votes cast in Afghanistan. As for Clinton, her term as secretary of state doesn't appear to have won her much favor with the ex-pats.
Sanders vows to fight Clinton all the way to the convention, despite his steep delegate disadvantage. The nine delegates he picks up from overseas should help him some, though he still trails significantly.