Why Trump's Campaign Manager Was Arrested for Battery
Corey Lewandowski was booked on misdemeanor charges Tuesday morning, stemming from an incident with Breitbart reporter Michelle Fields on March 8.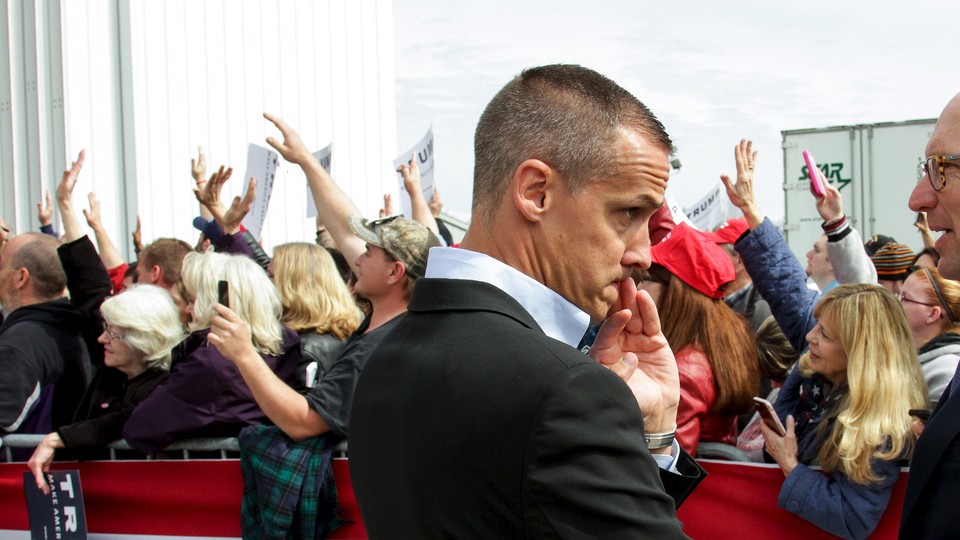 Donald Trump's been having a rough few days, and they just got worse. Just after 8 a.m. on Tuesday, police in Jupiter, Florida, charged Trump campaign manager Corey Lewandowski with assaulting a reporter on March 8.
Breitbart reporter Michelle Fields said that Lewandowski grabbed her and nearly pulled her to the ground as she tried to ask the candidate a question. After Lewandowski and even other Breitbart staffers questioned Fields's account, she filed a police report. And on Tuesday, police booked Lewandowski on misdemeanor battery charges. "He was arrested and released with a Notice to Appear," said Officer Adam Brown, a spokesman for the Jupiter police. Images of the police report are circulating on Twitter:
Lewandowski, the Trump campaign, and other Trump backers have continued to insist that he did not grab Fields, even in the face of increasingly strong evidence to the contrary. Washington Post reporter Ben Terris witnessed the whole thing and wrote about it. Fields tweeted a picture of bruises she said she received when Lewandowski grabbed her. Several videos offered strong (if not absolutely conclusive) corroboration for Fields's account.
But new overhead surveillance footage released by Jupiter police seems to put any questions to rest. The tape shows Lewandowski grabbing Fields and yanking her away. (Fields wears a cream-colored sweater; Terris is in plaid.)
The arrest is the latest in a string of difficulties for Trump. There's been a large amount of criticism—even by the elevated standards of Trump outrage—for his taking potshots at Heidi Cruz, wife of his primary rival for the Republican nomination, Ted Cruz. Polls show he may be losing ground ahead of the Wisconsin primary. And with the GOP race looking more and more like a delegate fight, he lashed out at Cruz's machinations to win over delegates, threatening to sue.
Lewandowski's arrest is the latest chapter in a bizarre story. Breitbart has been exceedingly friendly to Trump, making his rough handling of Fields an odd decision. It appears that if Lewandowski had owned up immediately, the story would have gone away. Instead, his steadfast public refusal—and decision to call Fields "delusional"—simply fueled interest. (Fields subsequently resigned from Breitbart after editors refused to back her.) Lewandowski was also caught handling a protestor at a rally roughly, and accused of harassing reporters, especially women. He denied those charges, and the campaign issued a statement Tuesday asserting his innocence in the Fields case as well.