Changing Their Minds On Cuba
Traditionally hard-line Cuban Americans are slowly shifting their views on the embargo and on engaging with the communist government.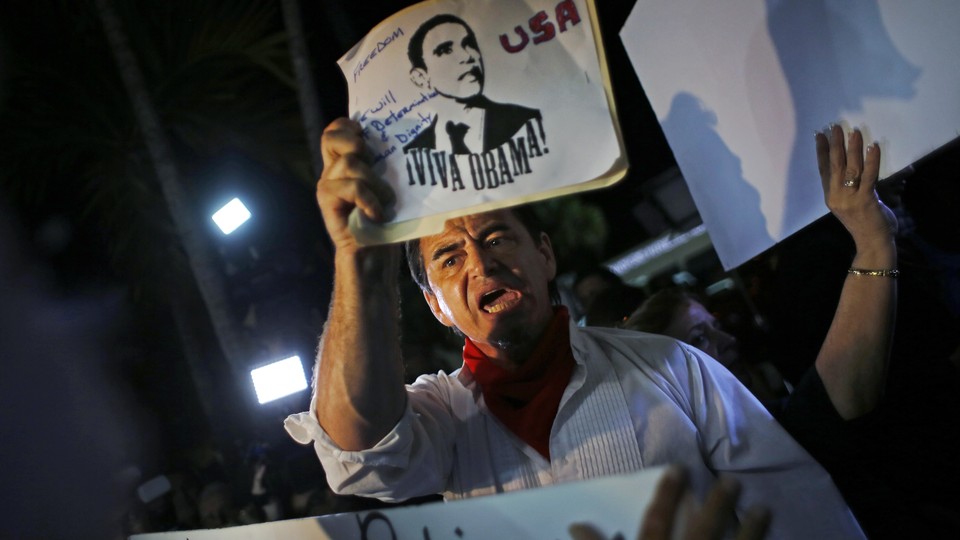 MIAMI—José Azel left Cuba in 1961 on a cargo ship with a group of children and Catholic seminarians when he was 13. His father, in sending his son away alone, thought it would be for just a few months. Azel had been active in the underground movement against Fidel Castro, delivering messages, being a lookout, and performing "economic sabotage," which at times just meant pouring sugar into the gas tanks of government vehicles so they would never run again. The American government, his father thought, would never let the communist regime last that much longer. Azel, along with the 14,000 other so-called "Pedro Pan" children who were granted United States visa waivers through the Catholic Church between 1960 and 1962, would return when the situation was safer, they thought. But, Azel says, "I never saw him again." Castro's government wasn't toppled, Azel wasn't able to return, and his father was never able to leave. Over 50 years later, Azel looks back with longing and pain, both because he had to leave his family and for the prosperity he says his home country lost. "What a shame," he laments.
Like many political exiles who left Cuba in those first waves to South Florida, Azel takes a more hard-lined approach to the communist regime, opposing new political engagement from the Obama administration, especially the president's trip to Cuba this week. "I don't want to shake the hand of a dictator," says Azel, a senior scholar at the Institute of Cuban and Cuban-American Studies at the University of Miami. "The morally correct position is to stand with the Cuban people with freedom and not with the oppressor." Azel won't even visit Cuba, for "a political exile does not return to the country of origin until the conditions that caused his exile change."
A slight majority of Cuban Americans living in Miami-Dade County who also left the island between 1959 and 1964 agree with Azel and oppose reestablishing diplomatic relations with Cuba, according to Florida International University's Cuba Poll, which since 1991 has been gauging the political opinions of Cuban Americans both in Miami-Dade County and across the country. Similarly, 60 percent of Cuban Americans who left between 1965 and 1973 and 51 percent of those who left between 1974 and 1980 also oppose engaging the Cuban government.
But when it comes to Cuban Americans who left in later years, that opposition flips, as 65 percent of those who came between 1981 and 1994 and 80 percent who came between 1995 and 2014 favor diplomatic relations with Cuba. The difference, according to Sebastián Arcos, the associate director of FIU's Cuban Research Institute, is rooted in why those Cuban Americans fled their home country in the first place. Historically, the divide among Cuban Americans has been between those who came as political exiles in the aftermath of Castro's revolution and those who came in recent decades for economic reasons, many of whom do not share "the political or civic education" of exiles, says Arcos.
The political difference is also rooted in age. Felice Gorordo, like the overwhelming majority of those under 64 years old polled by FIU, supports increased diplomatic relations between the two nations. When he told his parents a decade ago he wanted to go to Cuba, they thought he "was either a communist or was crazy," he says. "For them, as exiles, having left everything in search for freedom, opportunity, and their version of the American dream, they said they wouldn't go back until things changed." But he still wanted to see Cuba for himself—a country that shouldn't be seen as black and white but, as he puts it, "10,000 shades of gray." His trip was transformative and inspired him to create the nonprofit Roots of Hope, which connects young people in Cuba with other young people around the world through cultural and academic exchanges. In 2009, he helped organize a concert in Cuba with Latin singer Juanes attended by 1.2 million people.
Gorordo sees his work as in the same vein as the Obama administration's new policy. "If what we really want to do is help empower the Cuban people to become the authors of their own futures," he says, "then we have to promote a strategy and policy that's more proactive, that is focused on helping the people on the island become more self-reliant and independent of the state." Cuba is not Raúl and Fidel Castro for many Cuban Americans, he says; Cuba is the brother, the sister, the mother, or father that were left behind on the island. Before his mother passed away, Gorodo was able to take her back to Cuba. "To have her walk down the streets where she grew up, I always dreamt of the day I could do that with her," he says.
It's that same emotional connection that has a growing number of Cuban Americans, despite their age or when and why they came to the United States, changing their position on engagement with Cuba. Indeed, now a majority of the Cuban American community would tend to side with President Obama's policy. According to the FIU poll, 68 percent of Miami-Dade Cuban Americans favor engaging with the Cuban government. Even those who arrived in the United States in the early waves, who tend to be more hard-lined, are starting to change their opinions.
The week before we met in his Coral Gables mansion last month, Mike Fernandez was in Washington lobbying members of Congress to end the Cuban embargo. The billionaire, who made his fortune in health-care companies, has become one of the leading voices supporting the Obama administration's Cuba policy, arguing that it will improve economic empowerment for everyday Cubans. He now frequently travels to the island that his family was forced from in 1964. On those trips, he brings along other Cuban Americans and representatives of major U.S. corporations to show the country's economic potential. He knows how to build businesses from scratch, he says, and wants to use those skills to build up the economic infrastructure of Cuba and give people there the ability to earn more money and provide for their families—a "human right," he says.
His desire to reengage Cuba came to him on one of his first trips back to his home country. Walking to the Plaza de la Revolución in Havana, Fernandez noticed a government official in the back of a nice car. "The good guys feel the pain, and the guys we accuse of being the bad guys are eating lobster, filet mignon, and have a driver and a gardener at their house," he says. "Then I realized I had to change my focus from hurting two 80-year-old guys to helping 11 million people. That's the choice that I made, and it wasn't easy." But there was another challenge: explaining this to his parents, who were there on the airplane with him, holding his hand, as they were being kicked out their country when he was 12.
Fernandez's father owned a small sandwich shop in a town near the Sierra Maestra mountains in southeast Cuba, which had been a staging point for Fidel Castro's assault on the Batista government to start the revolution. His father requested a visa to leave the country soon after Castro's forces seized his business, putting their family in the crosshairs of the Communist Party. Neighbors called them "worms," something that was less than human, and his parents felt compelled to take him out of school for his own safety for the next three years. On Christmas Eve 1964, the military showed up at the door and forced the family to leave at gunpoint. They couldn't take anything with them and soon thereafter boarded a flight to Mexico City—with no wallet, no identification, and no money. They were dumped in a foreign country, only able to survive initially through the generosity of a Cuban man at the airport who gave them 50 pesos for food and a place to stay. After six months, his family was able to get a visa to the United States.
Despite this trauma, similar to many thousands of other Cuban Americans who were forced from their homes, Fernandez has found a way to forgive the Castros and look to a future without the embargo. By going to Cuba and establishing a relationship with government officials, it lowers fear on both sides, he says. "I just think it's the right thing to do," says Fernandez, who traveled back to Cuba the day after we met. "I have no rancor. I have no anger. If I have to shake Raúl's hand, fine. We in business are pragmatic. What is pragmatic about the embargo when nothing has been gained? If you're a photographer and you spend 10 years taking pictures and every photo comes out with a cracked lens through the middle of the picture, isn't it time to change the lens?"
Other Cuban Americans who came to the United States in the 1960s are starting to come around to his thinking, sometimes through Fernandez's personal lobbying. Tony Argiz, who runs one of the top 40 accounting firms in the country, is one of them. He, like Azel at the University of Miami, is a Pedro Pan child. In 1962, when he was 9 years old, his parents sent him to Tampa for what they thought would only be 30 days. It would be a short vacation, they said, where he could learn a little English and keep distance from the military, which had already torn through their home four times during the political volatility. But it ended up being five years before they would reunite. He's not ready to forgive the Castros, as Fernandez has been able to do. Cuba to him represents his lost childhood and the separation of his family. Still today, it brings him to tears even talking about the island. "Cuba is still so much of my heart," he tells me as he starts to cry. "It's such a beautiful country. I loved the place, and I've never seen it again."
It's this pain and regret that drives so many Cuban Americans to not want to engage with the Cuban government. Their homes and their country were taken from them. It's reasonable not to forgive. But will that pain continue to drive U.S. policy? No, it seems. When the FIU poll was first conducted in the early 1990s, only 20 percent of Cuban Americans believed in starting negotiations between the U.S. and Cuban governments over the embargo. Now, the traditionally hard-lined Cuban American community is evolving on the issue. While it's hard for him to move on, Argiz knows that isolating the Cuban government is not sustainable. "I'm torn with the whole idea," he says. "They took our money, our businesses, my parents, separated our family. How long do you keep that in your system? The embargo hasn't worked. I think what Obama is doing is what's best to the U.S. Do I hate the Castros are still in power? It kills me. It kills everybody. But I think it's right for Obama to go."
Argiz will often go to Google Earth to look for his house and where he went to school. "I remember it all vividly," he says. "If you drop me anywhere in Havana, I could probably find my home still today." When he goes to his favorite Cuban restaurant in Miami, La Rosa, he'll quickly devour the complimentary fried plantain chips, called mariquitas, fondly looking back on the times he would eat them at baseball games with his dad when he was a child in Havana. He says he'll go back to Cuba one day "in order to complete my life," but he has backed out of two trips just before he was supposed to leave. Cuba is still a ghost that haunts him. But he knows, as it seems other Cuban Americans of his generation know, that it may be time to move on from the hard line he drew more than 50 years ago.