Can House Republicans Pass Their Budget?
Speaker Paul Ryan and GOP leaders try out a compromise on conservatives, but the hard-liners aren't impressed.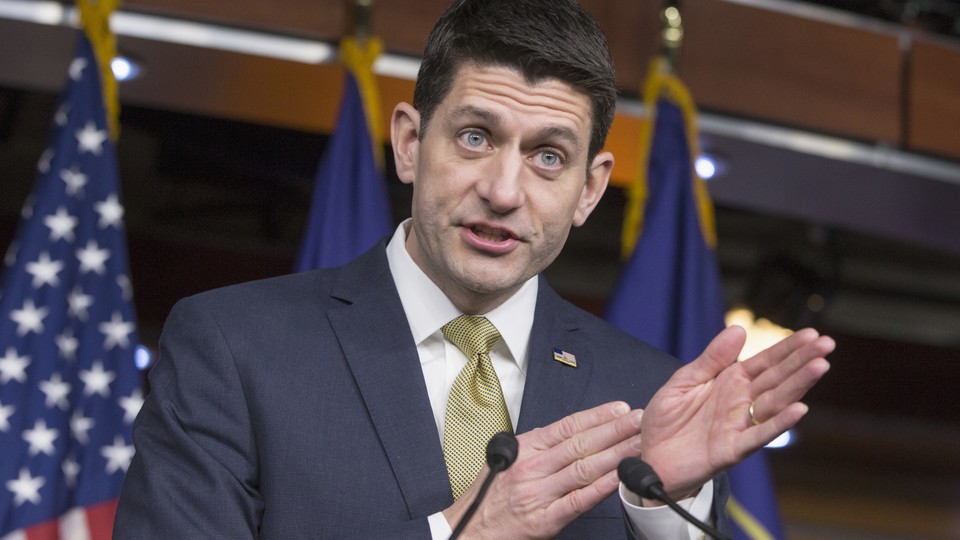 If there's one thing that got Paul Ryan to where he is today, it is the budget.
Before Mitt Romney picked him as his vice presidential running mate in 2012, before Republicans beseeched him to succeed John Boehner as House speaker last year, Ryan wrote—and helped to pass—the party's annual budget resolution. These were the documents that laid out the GOP's governing philosophy, that established the wonky Wisconsinite as the nation's leading conservative thinker and one who was unafraid to risk the political blowback of proposing deep cuts to federal spending and far-reaching changes to entitlement programs.
So it would be no small embarrassment for Ryan's first year as speaker to also be the first time in the GOP's six years in the majority that the House failed to pass a budget. Yet that remains a distinct possibility, as party leaders try to wrangle conservatives into supporting a proposal that adheres to the deal that Ryan's predecessor struck with President Obama and congressional Democrats. Those conservatives—most vocally the members of the hard-line House Freedom Caucus—didn't support Boehner's agreement in the first place. And they want the budget to reflect Republican priorities, not a bipartisan compromise, by calling for billions less in federal spending.
In consultation with Ryan and other top Republicans, House Budget Committee Chairman Tom Price of Georgia has spent the last few weeks trying to draft a proposal that keeps everyone happy—or at least the 218 Republicans needed to pass it. During a private meeting Thursday, Price briefed the party on a reported proposal that would adhere to the agreed-upon spending level of $1.07 trillion for fiscal 2017 but that would also give lawmakers an opportunity to hold a separate vote on $30 billion in cuts to mandatory spending programs like Medicare, Medicaid, and Social Security. The budget would seek to eliminate the deficit in 10 years and would lay the groundwork for repealing Obamacare under a Republican president next year.
Conservatives, for the most part, weren't impressed. Representative Jim Jordan of Ohio, chairman of the Freedom Caucus, told Roll Call he was not inclined to support it, and Representative Mark Meadows of North Carolina, a chief Boehner critic, said he wouldn't either. "Adopting a budget resolution that embraces funding levels established by President Obama in exchange for promises of future action will not unite the party; in fact, it could exacerbate the anti-Washington sentiment so many members hear from their constituents," said Dan Holler, the spokesman for Heritage Action, an activist group influential with House conservatives. "Conservatives should reject any budget deal that hinges on unenforceable promises or the promise to finally make good on previously promised legislative action." Adam Brandon, the president of FreedomWorks made a similar argument on Wednesday.
Officially, the Budget Committee noted that the proposal hasn't been introduced and the numbers weren't final. A spokesman said Price would continue talking to members in the next several days, and party leaders haven't said exactly when a vote might be scheduled.
Given the party's large majority, Republicans have some room to spare and can pass the budget even if a couple dozen conservatives defect. And as Ryan has noted, none of the previous budgets have passed without some opposition, and in a couple of cases, some drama. He started the process earlier this year to accommodate the long summer recess due to the presidential conventions, and the House remains ahead of schedule by a few weeks. Ryan has also highlighted the collaborative nature of the discussions and emphasized that it will be a team decision—and not his alone—whether Republicans go forward with a budget. Still, he is far from neutral in the debate. "I fundamentally believe that we need to pass a budget and that we need to have a full, functioning appropriations process," Ryan said. "And I laid that out to the members why I think that." Failure to pass the budget would likely doom the leadership's dreams of returning to "regular order" and considering appropriations bill individually rather than as a single, too-big-to-fail package later in the year.
Unlike past fiscal fights that have divided Republicans, this one doesn't come with super high stakes. Ryan won't be overthrown if the budget doesn't pass, and the government won't shut down; even with a budget in place, the chances that because of the looming election, Congress would need to pass a stopgap spending measure instead of full appropriations bills in September is high. And with attention focused on the raucous 2016 race and the Senate's fight over filling a Supreme Court vacancy, the tussles among House Republicans are no longer the biggest story in politics. Yet the budget battle is important personally for a speaker who made his name on writing them and for a party that spent years castigating Democrats for not passing them. Regardless of the outcome, Ryan will live to fight again with conservatives, but this is one he'd really like to have.