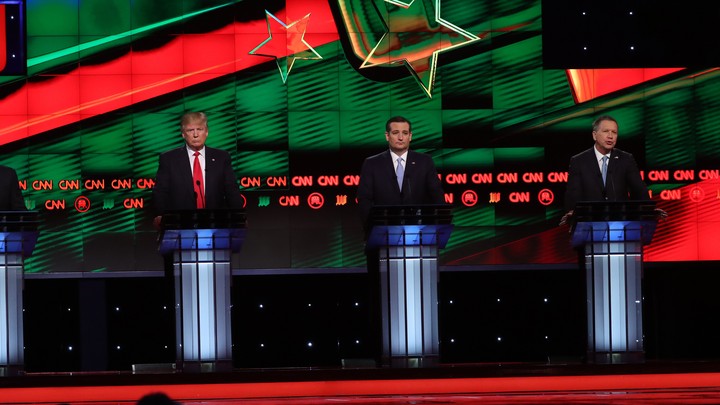 Updated on March 22 at 11:41 a.m.
As Belgian officials scrambled to respond to attacks in Brussels Tuesday, American politicians scrambled to react to the attacks.
Republican candidates quickly delivered strong statements, promising a tough response to terror if elected. Though not as large as the November attacks in Paris, the carnage in Brussels could shake up the presidential race just as the killing spree in France did, and candidates jockeyed for position, just as voters in several states cast votes or caucus to select a nominee. Two Democrats in the race, meanwhile, were slower to respond.
Even before Belgian officials had publicly stated that Islamists were to blame for the attacks, Senator Ted Cruz pinned the deaths on jihadists and argued that the U.S. must more forcefully label such violence.
Our hearts break for the men and women of Brussels this morning. Make no mistake -- these terror attacks are no isolated...

Posted by Ted Cruz on Tuesday, March 22, 2016
Governor John Kasich delivered a longer if less pointed statement.
Gov. John Kasich's statement on the terrorist attacks in #Brussels. pic.twitter.com/6gwCCMwJcy

— John Kasich (@JohnKasich) March 22, 2016
Donald Trump, who leads the Republican race, appeared via phone on Fox and Friends, where he reprised his call for tighter controls on who is allowed into the country. Trump's comments were characteristically both the most expansive and also hardest to pin down.
"I think it's absolutely horrible," Trump said. "Look at Brussels, Brussels was a beautiful city, a beautiful place with zero crime, and now it's a disaster." He said the Belgian capital "is an armed camp" and added that "Paris is no longer the beautiful City of Lights." (Residents of those two cities might object.)
Just as he did after the Paris attacks, Trump said the U.S. had to be far more discriminating about who it let into the country, though he didn't make any designation about whether he meant refugees, immigrants, or Muslims in general, speaking in innuendo and generality. He blamed lack of assimilation for violence.
"We have to be very careful in the United States, we have to be very vigilant about who we allow into the country," he said. "I would close up our borders to people until we figure out what is going on." He added that "there is a certain group of people that is making life impossible."
Trump had little optimism to offer: "This is going to get worse and worse." On Today, meanwhile, he called on Belgian officials to use torture to extract information.
The November attacks in Paris reshuffled the Republican race. At the time, Ben Carson was gaining or passing Trump in polls. After the bloody evening, security took precedence in the race, and Trump regained his position as Carson fell. Trump's suggestions at the time drew widespread condemnation, including his call for a ban on Muslims entering the U.S. and his apparent endorsement of a registry for Muslims in the U.S. But the backlash from Democrats and some Republicans did nothing to blunt Trump's popular appeal. That poses a challenge for someone like Cruz, who projects a tough image on terror but is hard-pressed to outflank Trump.
Hillary Clinton and Bernie Sanders, meanwhile, were slower to issue statements.
Clinton struck a similar tone to Kasich, mourning the dead and offering solidarity with European allies:
Terrorists have once again struck at the heart of Europe, but their campaign of hate and fear will not succeed. The people of Brussels, of Europe, and of the world will not be intimidated by these vicious killers. Today Americans stand in solidarity with our European allies. Our thoughts and prayers are with  the families of those killed and wounded, and all the people of Belgium. These terrorists seek to undermine the democratic values that are the foundation of our alliance and our way of life, but they will never succeed. Today's attacks will only strengthen our resolve to stand together as allies and defeat terrorism and radical jihadism around the world."
Late Tuesday morning, Sanders issued a statement as well, taking a similar approach:
We offer our deepest condolences to the families who lost loved ones in this barbaric attack and to the people of Brussels who were the target of another cowardly attempt to terrorize innocent civilians. We stand with our European allies to offer any necessary assistance in these difficult times. Today's attack is a brutal reminder that the international community must come together to destroy ISIS. This type of barbarism cannot be allowed to continue.
Terror attacks offer a ready-made response for conservatives like Cruz, who insist that the biggest problem the U.S. has is President Obama's alleged reluctance to label the attacks as the work of Islamic extremists. Democrats face a different sort of quandary: They tend to oppose wide-scale profiling of Muslims and aggressive security measures, but still wish to be seen as responsive and engaged on terrorism.
We want to hear what you think about this article. Submit a letter to the editor or write to letters@theatlantic.com.