Bernie Sanders Upends Clinton, and Expectations, in Michigan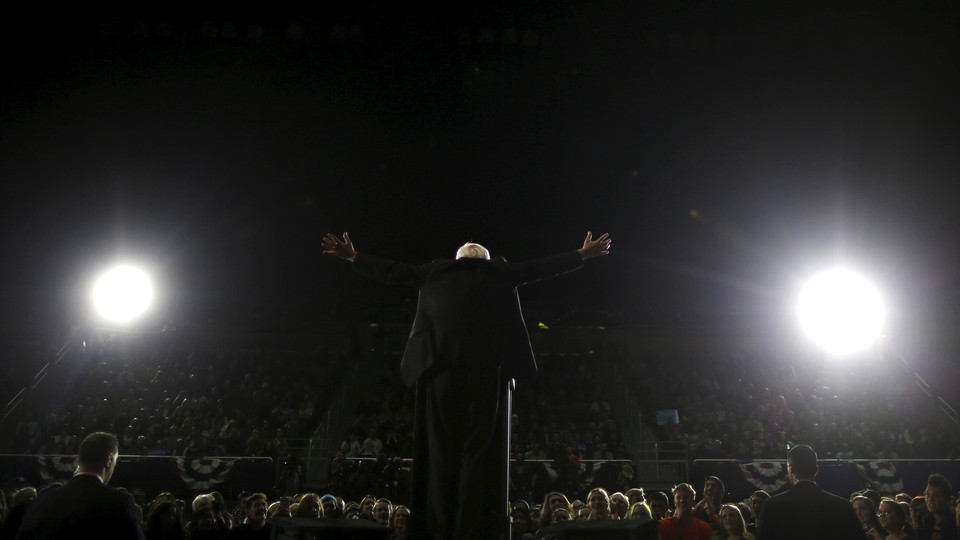 Editor's Note:
This article previously appeared in a different format as part of The Atlantic's Notes section, retired in 2021.
From Saginaw to Sault Ste. Marie, Bernie Sanders shocked the nation, pollsters, and Hillary Clinton in Michigan's Democratic primary Tuesday, narrowly winning a race where surveys showed him 20 points behind as late as this week. On the Republican side, Donald Trump had a strong day. The politics team covered the race in Michigan as well as Mississippi, Idaho, and Hawaii all day. Here's my first reaction:
Bernie Sanders promises a political revolution, and on Tuesday he dramatically upended expectations, beating Hillary Clinton in Michigan.

Sanders's tight victory surprised nearly everyone—including the Sanders campaign. The candidate spoke early in the night, then reemerged for a hastily arranged statement as the late returns suggested he was headed to victory. By the time the race was called, after 11 p.m., he had gone to bed. Nate Silver described the win as "among the greatest polling errors in primary history." In practice, the win won't provide a huge cache of delegates to Sanders, who trails Clinton, thanks to proportional representation rules.

But the win offers Sanders new momentum, along with two promising indicators. First, he was able to cut into Clinton's consistent edge with black voters. Exit polls suggested Sanders won three in 10 African Americans in Michigan, his best showing so far. Second, it offers evidence that his message of fighting for blue-collar workers and opposing free-trade deals can resonate—and with Ohio and Illinois coming up on the primary calendar on March 15, he'll soon have the opportunity to employ that message again.

It's too early to tell why expectations were so far off in Michigan, and why the polls missed by so much. As polling places closed, the Clinton campaign hastened to depress expectations. One potential culprit is Clinton's late attack on Sanders, in which she alleged that he had opposed the rescue of the car industry, because he had voted against bank-bailout bills that included funds for automakers. The attack seemed implausible on its face, much like Clinton's earlier attempt to convince voters that Sanders wanted to eliminate Obamacare. But that attack might have been as much a symptom of Sanders's gains—a last-ditch hit launched by the Clinton campaign as her edge dwindled in internal polls—as it was their cause.
Read the whole thing—including a bizarre Donald Trump press conference—and lots of in-depth detail from the day here.