Bernie Sanders's Big Money
The Democratic presidential candidate's populist rallying cry has helped him rake in cash, and infused massive amounts of money into the political process.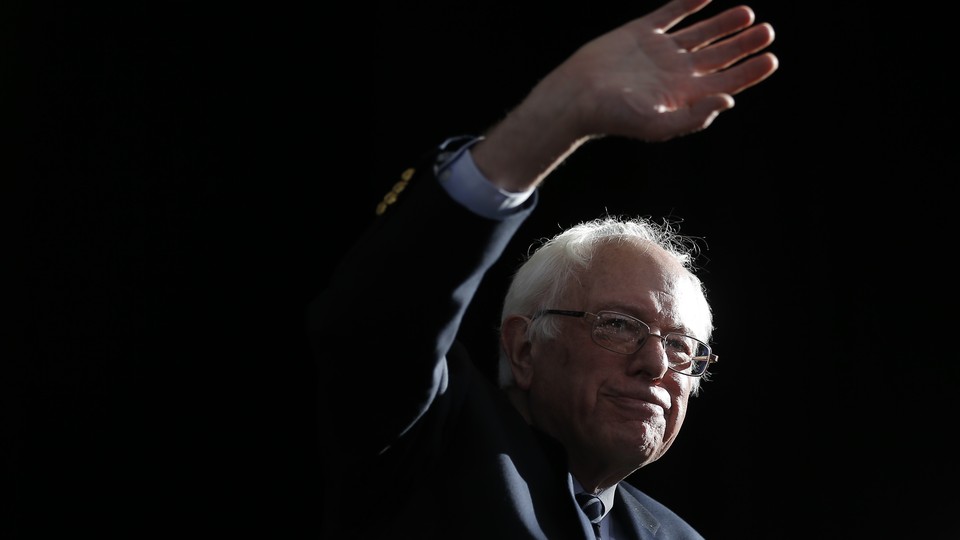 When Bernie Sanders makes a demand for money, he gets it. After winning the New Hampshire primary, the Democratic presidential candidate broadcast a plea. "I'm going to hold a fundraiser right here, right now, across America," Sanders declared, urging anyone who would listen to visit his website and make a donation—"whether it's 10 bucks, or 20 bucks, or 50 bucks." Money poured in at a rapid clip. By the end of the next day, the campaign had collected a staggering $8 million.
As it takes in massive sums, the insurgent presidential campaign has upended conventional wisdom about money in politics. Most presidential candidates consider super PACs, the reviled political-spending operations capable of accepting unlimited amounts of corporate money, a central part of their strategy to win the White House. Even candidates who suggest super PACs should be done away with, like Hillary Clinton and Barack Obama, have embraced them in their presidential bids, effectively arguing that you have to play the game if you want to one day change the rules. Sanders has taken a different path. The Vermont senator is the first high-profile Democratic presidential candidate to loudly insist he doesn't have or want a super PAC in the aftermath of Citizens United, the 2010 Supreme Court ruling that opened the door to a flood of money into politics. Instead, Sanders has relied on average Americans to donate whatever they can, a strategy that has proved remarkably successful.
In the process, Sanders has effectively outlined a political purity test for future candidates. The campaign claims the moral high ground by emphasizing that Sanders is not beholden to special interests since he shuns super PACs and sidesteps the influence of mega donors. Of course, the extent to which future White House hopefuls follow suit may hinge on the ultimate result of Sanders's 2016 bid. If the campaign runs aground, there will be less incentive for next-in-line candidates to follow the example Sanders has set. Right or wrong, defeat might even be interpreted by future campaigners as evidence that super PACs are a necessity to win the White House.
So far, however, Sanders's strategy has worked well. The senator promises to fight a broken political system commandeered by wealthy elites. Asking for small-dollar sums and renouncing super PACs is a way to telegraph sincerity. It has also been extremely effective. The campaign has set fundraising records and fostered a grassroots network of individuals now literally invested in the candidate's success. On the trail, Sanders is quick to note that the average donation is a mere $27 and that the campaign has taken in more than 4 million individual contributions. "Sanders's ability to attract small donors has truly been remarkable," said Anthony Corrado, a professor at Colby College who tracks campaign finance and presidential elections. "Small-dollar donations have become the bedrock of his campaign, and he has been able to motivate more donors more quickly to raise more money from small amounts than was the case for [Barack] Obama or [Howard] Dean."
Sanders's campaign proves that it is possible to mount a competitive presidential bid without relying on super PACs. That alone could encourage candidates without deep ties to the political establishment to run for office. The success of the campaign's fundraising strategy shows that it is possible to challenge the status quo simply by refusing to give in to it.  Still, it is ironic that a campaign built around the idea of getting big money out of politics has infused so much money into the political process. To some extent, the political establishment is taking Sanders seriously precisely because he has raised so much money, a metric that risks reinforcing conventional wisdom that only candidates capable of marshaling significant sums deserve mainstream attention. The campaign's towering fundraising benchmarks could also inadvertently set the bar higher for future insurgent campaigns looking to compete in presidential elections.
It might not be easy for just anyone to replicate what Sanders has so far achieved. Few candidates can make appeals for money so perfectly tailored to their overall message. The campaign has worked hard to translate voter enthusiasm and anger into donations, and Sanders has seized on opportune moments to make appeals. In addition to his solicitations after his New Hampshire victory, Sanders asked for donations during the first Democratic debate. Both times, the campaign saw a spike in contributions. When Sanders makes a fundraising pitch, it's a way to forge a connection with supporters. The requests themselves are typically framed as an invitation to take part in his populist crusade.
A digitally savvy fundraising operation helps the campaign hit fundraising targets. Sanders doesn't have a traditional, stand-alone fundraising team. Instead, Team Sanders raises most of its money online, an effort managed by the campaign's digital team. Emails asking for money emphasize that Sanders is running a different kind of campaign powered by everyday Americans. Somewhat surprisingly, campaign aides say that lengthy, in-depth emails that run anywhere from 1,000 to 2,000 words prove particularly popular, suggesting that supporters hang on the candidate's every word. "We find that people develop a deeper investment and appreciation for the campaign when they're being counted as part of something bigger than themselves," said Robin Curran, the campaign's digital-production director.
The campaign has also worked to pioneer fundraising technology not previously deployed in presidential campaigns. During a Republican primary debate, it rolled out a text-to-donate tool asking supporters to text the word "NOW" each time they felt outraged, a command that triggered a $20 dollar campaign donation.
Cultivating a pool of small-dollar donors creates several advantages for the campaign. Since most are giving small increments of money, the campaign can return to supporters again and again to ask for additional sums without running the risk of hitting the legal limit. It can also help with field organizing and voter turnout. "If you can build a broad base of support, it's not just a financial payoff. It builds a network of support that you can turn to for volunteers and organizing," said Joe Rospars, former chief digital strategist for Barack Obama's presidential campaigns and founder and CEO of Blue State Digital, a digital-strategy firm that has worked with both the Sanders and Clinton campaigns.
While Sanders touts the idea that he's not beholden to mega-donors, he is still reliant on his grassroots funders. That support is not without limits. It's difficult to motivate donors when they believe there's little their money can do to help. If the presidential race begins to seem incredibly lopsided in Clinton's favor, the cash flow to the Sanders campaign may start to dry up.
At times, well-meaning fans even unwittingly put the campaign in an awkward spot. Sanders can't stop super PACs from supporting him, and a handful of super PACs have decided to do just that. The campaign has insisted that super PACs "spend their money somewhere else," but that hasn't stopped enthusiastic supporters. National Nurses United for Patient Protection, a nurses' union super PAC, has already spent hundreds of thousands of dollars backing Sanders. "We're not going to unilaterally disarm as long as the other side and the Koch brothers and their ilk are running amok," said Joshua Grossman, the president of Progressive Kick, a super PAC that has endorsed Sanders.
Of course, not all super PACs are the same. When Sanders says he doesn't have or want a super PAC, he's effectively using the term as a shorthand to denounce what he believes is the corrupting influence of wealthy elites buying elections. A nurses' union super PAC doesn't quite match the description of the big-money political machines Sanders claims to despise. Still, the fact that it shares the same "super PAC" label muddies the waters and makes Sanders vulnerable to attack from critics.
For all his success, Sanders has a steep climb ahead. After a victory in New Hampshire, Sanders lost primary contests in Nevada and South Carolina, and he faces challenging political terrain on Super Tuesday, when voters from states across the country pick winners in the Democratic primary. Ahead of the event, the campaign blew past a goal of raising $40 million. If his campaign falters without enough votes, however, Sanders may soon be forced to confront a reality that could be cold comfort: Money alone won't be enough to win the election.
Whatever happens next, Sanders has pioneered a model that future candidates are sure to look to, if not attempt to emulate outright, as they strive to convince voters of their own political purity.
---
Related Videos