The House and Senate Hopefuls Betting on Bernie
How Sanders's economic message has trickled down to congressional races across the country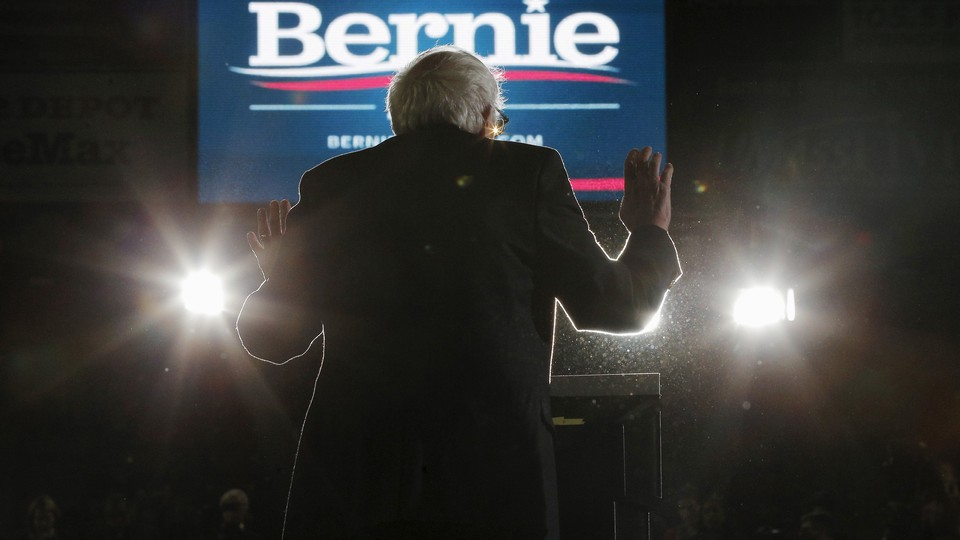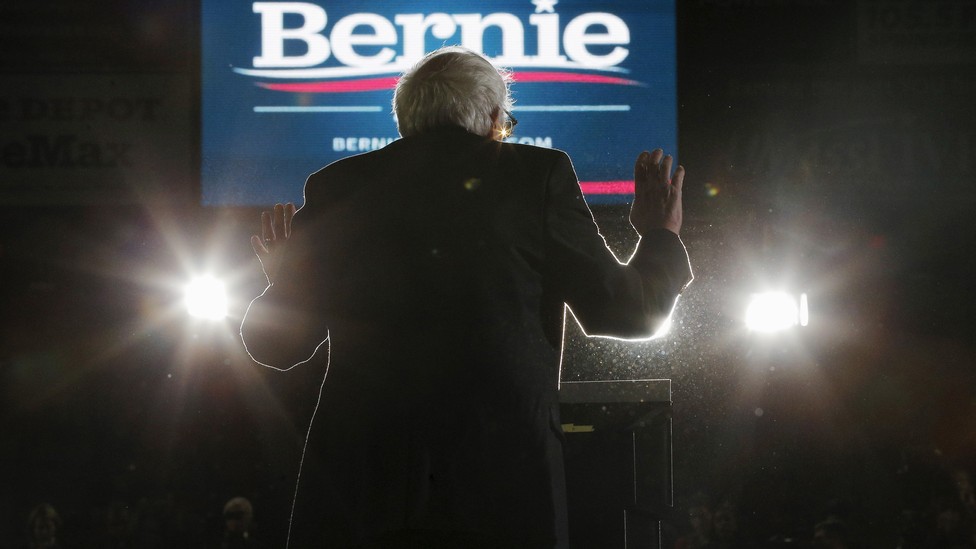 Endorsements are typically viewed as a boon to candidates running for office: They can lend gravitas to a campaign or bolster a contender's platform. But for many House and Senate candidates backing Bernie Sanders, endorsing the longtime senator could be more helpful to them than it is to the candidate himself.
Some of the down-ballot candidates who have endorsed Sanders say they weren't looking for an electoral edge in deciding to back him, citing principle—not politics—as their prime motivator. But even if Sanders falters in his presidential bid, it's possible voters will see in these candidates what they love about Bernie—and perhaps see a few through to victories in their primaries.
"I hope to be a member of a class of Sanders Democrats that gets elected in the fall," said New Hampshire's Shawn O'Connor, who's running against a former congresswoman and Hillary Clinton supporter looking to reclaim her seat. And "hopefully," he adds, "it'll be a large class."
Between this cycle's focus on anti-establishment appeals and candidates' heavy direct outreach to voters through social media, PBS NewsHour argued late last year, "the 2016 race is demonstrating that endorsements from elected officials do not carry the weight they once did." That's positive news for Sanders, at least when it comes to Congress: Compared with the roughly 200 members backing Clinton, Sanders has just four endorsements in the House and none in the Senate.
But there are dozens of down-ballot candidates who can be counted among Sanders's supporters. For those with a decent shot at winning—a number the Washington Post reports is small—making an endorsement is a way of saying they aim to promote a Sanders-esque agenda if elected. And even for those whose campaigns will be short, an endorsement could raise the profile of their platform. "If candidates won't tell you who they stand with, how can we trust them to stand for 'we, the people?'" wrote long-shot Iowa House candidate Gary Kroeger, a former Saturday Night Live cast member, in a statement endorsing Sanders last fall.
In many ways, the candidates who support Sanders sound just like the average voter at one of his giant rallies: They fundamentally believe in his message that the economy is stacked in favor of those at the top, and they sincerely think a Sanders presidency could rearrange it. Some suggest his candidacy has primed voters to hear similar policies from down-ballot candidates. O'Connor, a businessman who studied at Harvard Law School under now-Senator Elizabeth Warren, said Sanders' candidacy has "created some space" for him to talk about Wall Street, student loans, campaign finance—the very issues that motivated O'Connor to run in the first place. While Sanders's campaign speaks to "problems and challenges that folks were already facing"—voters didn't need to be introduced to them, in other words—the two candidates offer similar solutions. It helps O'Connor that New Hampshirites have had "almost a year to hear Senator Sanders speak about these issues."
Lucy Flores, a former state assemblywoman who's running for the House in Nevada's Fourth District, said the issues she and other progressives champion—like raising the minimum wage—routinely win at the polls in the form of ballot initiatives. But "the really wonderful thing" Sanders has done is "connect those dots," she said. "He's managed to connect progressive issues with candidates, and really gotten people to believe that they can make a difference by electing people who are running on these progressive agendas."
Some candidates make Sanders an integral part of their message. Tom Fiegen, a former Iowa state senator running for U.S. Senate, made his endorsement of Sanders central to his "why I'm running" reasoning: "To restore and protect working Iowans from billionaire special interests, overturn Citizens United and stand with Bernie Sanders, before and after the election." O'Connor says he won't take super PAC money, as Sanders insists publically he doesn't. Supporters are "flocking" to his campaign "because I stood with Sen. Sanders and made that principled decision," O'Connor told a local news station last month. And Tim Canova, who's challenging Democratic National Committee chairwoman Debbie Wasserman Schultz in Florida, notes in his campaign bio that he's advised Sanders on economic policy.
For these down-ballot candidates, endorsing Sanders has everything to do with their core beliefs and—they say—little to do with political calculation. John Fetterman, the mayor of tiny Braddock, Pennsylvania, is running for Senate against two so-called establishment candidates—a former congressman and former chief of staff to Pennsylvania Governor Tom Wolf. In a recent interview, he said Sanders' message of economic inequality and a rigged economy is something "I've … dedicated myself to professionally for the last 20 years." (If Fetterman's name sounds familiar, that may be because you've seen his unconventional approach to governing highlighted on The Colbert Report, in The New York Times Magazine, and in The Atlantic—not to mention a Levi's ad.) Explaining his support for Sanders, Fetterman describes how he prizes innovative ideas—an unintentional nod to his own public persona—and Sanders is someone who's "leading, and not evolving." Like circa-2008 Barack Obama (whom Fetterman endorsed) Sanders represents the future of the Democratic party, he said.
Candidates' reasoning can also have an emotional bent. Bao Nguyen, the young mayor of Garden Grove, California, who's running in California's 46th District, was born in a refugee camp after his parents fled Vietnam. In Sanders, he sees someone who's exposing government corruption in America similar to the kind his parents escaped. "I want to honor their sacrifices by fighting to make sure that as Americans we have a government that serves the interest of the people," said Nguyen, one of two progressives in the district's Democratic primary. "And the person leading that fight right now is Senator Bernie Sanders."
Flores said she was "really afraid" of what would happen if she publicly endorsed Sanders. She'd been torn between him and Clinton; she worried how supporters and party leaders would react; and, on top of that, Sanders was down in the Nevada polls when she announced. Though the aftereffects were "overwhelmingly positive," she says, Flores initially took 1300 words to explain her thinking. Citing flat wages, student debt, and too much political influence from the rich, Flores wrote that she believes Sanders "wakes up every day with these things on his mind. That the unfairness of it all weighs on his heart, just like it does mine." For Flores and candidates like her, their shared goals with Sanders helped him win endorsements. In the coming months the candidates might be hoping those similarities will win elections, too.