A Reckoning in Philadelphia
The city is in the midst of undoing decades of damage caused by its justice system.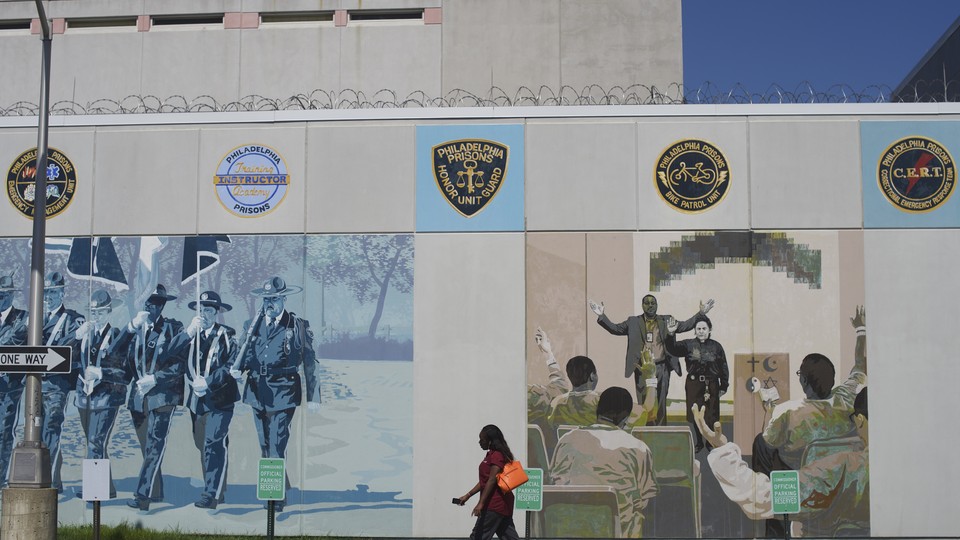 Jamira Burley knew both perpetrators and victims of violence in her family and in her Philadelphia community. Now 27, she was raised largely by older brothers because her parents were in and out of jail. "My brothers had to become adults before they could fully experience their childhood," she said. They took care of the family by whatever means available, which often resulted in run-ins with the law. "Whether that was selling drugs, getting into fights to protect the younger siblings, it wasn't done selfishly, it was done in order to ensure that me and my younger brothers and sisters were taken care of," she said. Every one of her 10 older brothers is either currently or formerly incarcerated, which does not make her family an anomaly: 36,000 black men are "missing" from Philadelphia primarily because of incarceration or early death, according to a 2015 New York Times analysis. This is the third highest of the cities analyzed, trailing behind New York and Chicago—both with much larger populations.
But Philadelphia may have reached a tipping point. The city is in the midst of what could be a pivotal phase of reform, now helmed by newly-minted mayor Jim Kenney. The magazine Philadelphia has called Kenney, "Mr. Criminal Justice Reform," citing his record as councilman, which included championing the decriminalization of marijuana in Philadelphia, which he called a civil-rights issue, and campaign promises to eliminate cash bail for some low-level defendants and to give convicted felons a second chance. Kenney's candidacy was compared to that of New York City Mayor Bill de Blasio: Both are white, but ran on a populist platform preaching racial, economic, and criminal justice reform. On his first night as mayor in January, rather than celebrate with an inaugural ball, Kenney took the festivities to the streets with a block party. He aims to be a mayor of the people, addressing issues that have plagued the city for decades, including overcrowded jails and tense relations between police and residents.
In the post-Ferguson era, where tensions between police and residents have risen in cities across the country, Philadelphia is no exception. Amid a rise of officer-involved shootings in 2013—before Michael Brown was killed in Ferguson, Missouri—then-Philadelphia Police Commissioner Charles Ramsey requested that the Department of Justice conduct an investigation into his own department. The DOJ report, released last March, found that there were at least 394 officer-involved shootings between 2007 and 2013 in Philadelphia. In 2013, the Philadelphia Police Department fatally shot 11 civilians. The median age of victims was 20, and over 80 percent were black. The most recent high-profile case was that of  26-year-old Brandon Tate-Brown, who, on December 14, 2014, was fatally shot by police officers after being pulled over, allegedly for driving with his headlights off. The story that followed is all too familiar in cities across the country: The community erupted in protest, demanding justice for his death; the officers involved were not charged.
In December of 2015, the DOJ announced that Philadelphia had made a turnaround, citing progress on 90 percent of the 91 recommendations it had made months earlier. Improvements included the banning of chokeholds, placing limitations on the use of stun guns, and creating an award for using "exceptional tactical or verbal skills to avoid a deadly-force situation." An independent oversight board, led by JoAnne Epps, dean of Temple University's School of Law, has not yet adopted a position on the police department's progress, Epps said in an email.
The department is accused of being overzealous with other practices that target African Americans, too. Civil-asset forfeiture, a practice originally designed to deal with high-volume drug dealers, was found to be used often against citizens in Philadelphia who were never convicted, or even formally accused of a crime. The law was created at the height of the war on drugs to take down high-rolling drug dealers who were difficult to convict in court. It allows law enforcement to seize any property that is suspected to be connected with criminal activity, such as cash, cars, or houses. If police can't send them to prison, at least they can take away their money, the philosophy went. Federal regulations require that the value of property seized be at least $5,000, going with the philosophy that this practice is used on kingpins. In Los Angeles, the average seizure is $25,000. In Philadelphia, an ACLU report found that the median seizure was a mere $192, mostly from ordinary citizens who hadn't been accused, much less convicted of a crime. Of the over $6 million that the Philadelphia police seize each year, about $2.2 million goes directly to the cashbox of the prosecutors who oversee the forfeiture process. Eighty percent of the cases do not result in a criminal charge. A bipartisan bill has been in consideration by Philadelphia lawmakers which would require that a person be convicted before property is seized.
Stop-and-frisk, too, plagues the city. An ACLU report found that the Philadelphia Police Department engaged in over 200,000 stop-and-frisk encounters in 2014, 37 percent of which it alleged lacked reasonable suspicion. Already, Kenney is being accused of abandoning campaign promises to abolish the practice. With almost seven out of every thousand citizens behind bars, Philadelphia has the highest per capita incarceration rate of the 10 largest U.S. cities. Three-quarters of the jail population, over 7,000 detainees at last count, waits six months before trial.
Before even being sworn into office, Kenney promised to reduce the city's jail population by one third in the next three years. The jails have been at over-capacity for decades, causing many inmates to be housed three to a two-person cell, a practice known as triple-celling, "which means there are two bunkbeds, and at night they put down a piece of foam on the floor for the third person, whose head is about a foot from the toilet," said David Rudovsky, a civil-rights attorney.
As of mid-January, there were approximately 1,380 people in triple cells, according to Rudovsky. He has been a head litigator for four out of the five class-action lawsuits brought against the city for jail overcrowding. The suits date back to 1969. The lead plaintiff in a 2006–2007 class action suit, Lee Bowers, gave vivid testimony about the crowded conditions he endured in a holding cell during his relatively brief but, by his own account, traumatic detainment. He was arrested on a court non-appearance warrant related to payment for his children's health insurance. For three days he was held in a series of 9-by-13–foot cells—about the size of a small single bedroom—packed with 30 men. Those who got a spot on a bench were lucky, Bowers said.
"People were sitting on the floor, standing up, standing over by the toilets, sitting up on the wall that separated the toilets," Bowers told the court. The heat, he said, was unbearable. He estimated 90 to 100 degrees. One fellow inmate passed out; he was dragged away by guards to be revived. After three days of this he saw a judge and was sent home, his bench warrant lifted. Several days after he was released from jail, Bowers entered the local hospital for treatment of his leg which was still swollen after he spent a night without drinking anything and curled under a jail bench, cramped by other inmates. He was treated for a severe blood clot.
The most recent overcrowding class-action case, Williams et. al. v. City of Philadelphia, was temporarily resolved in 2008 with a settlement which allowed lawyers for the plaintiffs to monitor the jail-system conditions. But conditions worsened and the jail population again grew; the case was reopened in 2012 at the request of Rudovsky and his colleagues. One response from the city has been to simply build more cells. "When I started this litigation, in '69, there was a capacity in the prison system of about 2,700," Rudovsky says. Today the capacity is 6,500. "So they've added a lot of beds, but that is both expensive and I say it just invites more people to be in the prison system." (The city-jail system—where people are held pretrial or for short sentences—is officially called the Philadelphia Prison System.) The problem is, he said, "over-reliance on pretrial incarceration for a lot of people who are not a danger to the community, but are locked up anyway."
The situation has gotten better over the past few years. The jail system's inmate population reached a peak in 2009 with 9,800 inmates, nearly 3,000 of whom were triple-celled—more than twice as many as there are today. Since then, the jail population has decreased due to a series of factors including several pretrial reforms, such as an increase of diversion programs, more use of home monitoring rather than keeping people in on a low bail, and a "Video Crash Course" program through which probation and parole hearings for minor offenses can be held in local precinct stations, accelerating the disposition of these cases.
Still, the number of people held in the Philadelphia jail system today is far from acceptable, Rudovsky said. But if this administration is as serious about reform as it claims, he said, he's hopeful that the problem will be alleviated without litigation. The city already received $150,000 from the MacArthur Foundation to study reducing its jail population. "We are positioned to have some short term goals and gains," said Council President Darrell Clarke, who has been leading reform efforts alongside Kenney. "I don't understand why it has taken so long," he said. A city council Special Committee on Criminal Justice Reform, which Clarke proposed, was formally launched in February.
The city has a grant application for up to $4 million pending with the MacArthur Foundation. Elected officials have been tight lipped about the proposal's specifics, but have indicated that it generally focuses on decreasing reliance on cash bail, bolstering diversion programs to decrease pretrial detainment, and enhancing mental-health services for defendants awaiting trial. The grant recipients are expected to be announced mid-March. Regardless of whether the money is granted, both Kenney and Clarke agree that the reforms are necessary and will continue—though perhaps on a slower timeline. "It's all about priorities," Clarke said. "If these are the things that we need to change, we're going to change them."