A Near-Epiphany at the Supreme Court
The justices come close to recognizing the perilous state of the American public-defense system.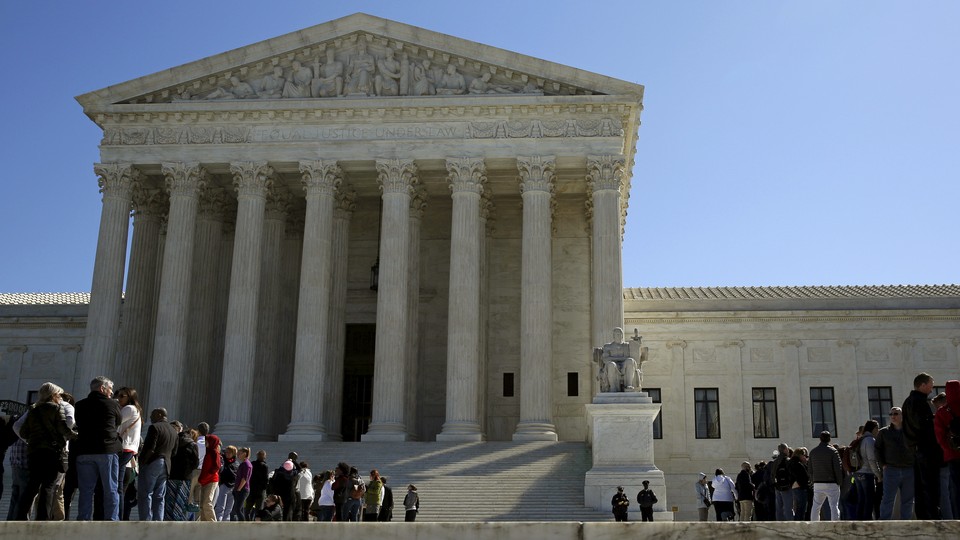 In a 5-3 decision in Luis v. United States on Wednesday, the U.S. Supreme Court forbade the government from seizing legitimate funds defendants could use to hire a lawyer of their choice. Along the way, the justices came close to asking a more troubling question: Does America's underfunded public-defender system meet the Sixth Amendment's standards for adequate legal counsel?
The case itself had nothing to do with public defenders, at least on the surface. Sila Luis, who brought the appeal before the Court, was indicted for federal health-care fraud to the tune of $45 million in 2012. Luis had $2 million in assets when a federal grand jury indicted her; she said she hoped to use the funds to pay for her legal defense.
But prosecutors sought a court order barring her from using any of her funds—even those wholly unconnected to the crime—in hopes of acquiring them after conviction for restitution and possible criminal penalties. Luis argued that seizing those untainted funds would violate her Sixth Amendment right to seek assistance of counsel of her choice. Lower courts disagreed, so she appealed the order to the Supreme Court, which agreed to hear the case last year.
Five justices agreed on the ruling itself: The Sixth Amendment forbids the government from seizing untainted assets before trial when defendants need those assets to hire lawyers of their choice. Four of them, led by Justice Stephen Breyer, ruled the right to counsel of choice outweighed the government's interest in restitution and fines. Justice Clarence Thomas supported the result but saw a clear command from the Sixth Amendment instead of a balancing act.
In his plurality opinion, Breyer expressed alarm at the right-to-counsel implications in the government's position. "How are defendants whose innocent assets are frozen in cases like these supposed to pay for a lawyer—particularly if they lack 'tainted assets' because they are innocent, a class of defendants whom the right to counsel certainly seeks to protect?" Then he made an interesting divergence. Indeed, what would happen if Luis and others like her could no longer afford to pay for a lawyer?
"These defendants, rendered indigent, would fall back upon publicly paid counsel, including overworked and underpaid public defenders," he continued. "As the Department of Justice explains, only 27 percent of county-based public defender offices have sufficient attorneys to meet nationally recommended caseload standards. And as one amicus points out, '[m]any federal public defender organizations and lawyers appointed under the Criminal Justice Act serve numerous clients and have only limited resources.'"
"The upshot," Breyer concluded, "is a substantial risk that accepting the Government's views would—by increasing the government-paid-defender workload—render less effective the basic right the Sixth Amendment seeks to protect."
Breyer's logic is worth following to its endpoint. He acknowledges that throwing Luis and others like her to the public-defender system would weaken her Sixth Amendment rights to effective counsel. But what does that say about the constitutional rights of poor defendants who have no other choice?
The question has national implications. Underfunding and understaffing in state public-defender systems weakens the quality of legal representation they can provide to clients. Virtually all of Kentucky's public defenders exceeded the American Bar Association's recommended caseload in 2015. Minnesota's public defenders took on almost double the ABA standard in 2010—170,000 cases for fewer than 400 lawyers—and spent only an average of 12 minutes on each case outside the courtroom.
Some states face even greater crises. In cash-strapped Louisiana, where 8 out of 10 defendants cannot afford a lawyer, the system is on the verge of collapse. The state's 2017 budget includes a 62 percent cut in state funding for the public-defender system, with 11 of the Louisiana's 42 offices in danger of shutting down by October. In one office, a waiting list for legal representation had more than 2,300 names on it in March. Defendants often languish behind bars, separated from employment and family, while they wait.
Justice Anthony Kennedy, in a dissent joined by Justice Samuel Alito, said the question of adequate representation was beyond this case's scope. He also appeared to recognize the logical conclusion of Breyer's point. "Given the large volume of defendants in the criminal justice system who rely on public representation," he wrote, "it would be troubling to suggest that a defendant who might be represented by a public defender will receive inadequate representation." A troubling suggestion, indeed.