What the Federal Government Is Saying About the Zika Virus
The World Health Organization declared its spread an international emergency. But American officials have taken a calmer tone.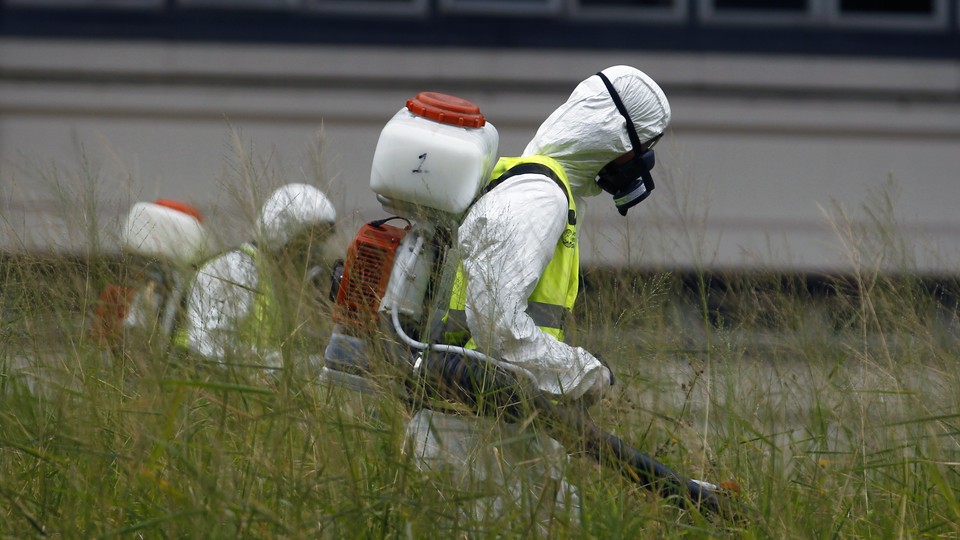 The World Health Organization on Monday declared the Zika virus an international emergency. But so far, as the world has watched the virus spread in the Americas, the Obama administration and federal health agencies have argued that this is no time to panic. Though Zika virus—a West Nile relative that's "spreading explosively" in the Western Hemisphere—will likely cause outbreaks in the continental United States, officials so far expect them to be limited. And while a large-scale outbreak in Brazil may be linked to rising cases of a birth defects, the anticipated risks of Zika for nonpregnant women, men, and children aren't even close to dire: Many people who contract the virus don't have symptoms, and even if they do, those symptoms are easily weathered.
Unfortunately, any soothing guidance the White House or public-health officials give is tempered by a significant caveat: We just don't know enough about Zika to quell many Americans' concerns. And public-health officials outside the United States, particularly the WHO, are sounding a much louder alarm. The WHO on Monday declared the Zika virus a "public health emergency of international concern" that needs a global, coordinated response. In a reflection of the public's worries, members of Congress have started calling for more information about how federal agencies plan to respond to the virus. In the case of one senator, New Yorker Chuck Schumer, the federal government must do much more—and fast.
"We all remember when people reacted too late to Ebola," Schumer said at a press conference Sunday, where he also pushed for the WHO to designate Zika as a public-health emergency. "And there was a lot of fear. They caught up with it finally, and it didn't spread. But we don't even want to have to go through that with Zika. We want to stop it before it gets here."
Zika doesn't have nearly the same effects as Ebola, a deadly virus that sparked a West African outbreak in 2014. Perhaps in an effort to head off criticism similar to the kind it got during the Ebola outbreak, the White House and federal health officials have been transparent about their predictions regarding the virus's spread and their plans so far to combat it. Officials have issued very specific guidance to Americans regarding Zika: Pregnant women should reconsider traveling to affected regions, which include the U.S. territories of Puerto Rico and the U.S. Virgin Islands. At a press briefing Thursday, White House Press Secretary Josh Earnest called the government's "real concern" about the virus its "correlation [with] a particular birth defect." A day earlier, he'd emphasized that unless you're pregnant or soon-to-be pregnant, the risks of the virus aren't so serious.
In a CNN op-ed published Monday, the director of the Centers for Disease Control and Prevention, Tom Frieden, summed up the virus's estimated reach this way:
[W]e do expect, unfortunately, that Puerto Rico and the U.S. Virgin Islands could have many infections with the Zika virus, and we will certainly see U.S. travelers returning with Zika infections, just as we saw travelers returning with dengue and chikungunya infections. We could see isolated cases and small clusters of infections in other parts of the country where the mosquito is present. But from the information we know now, widespread transmission in the contiguous United States appears to be unlikely.
The nuance of the threat Zika currently poses to Americans—which officials are saying is, in essence, a very small one—can be lost as people scroll through their social-media feeds and see the numbers of cases climbing. And it doesn't help that one of the most concerning potential consequences of the virus can be communicated to the world in such a visual way: in the form of dozens of photos of sweet-faced babies possibly infected by the virus. As my colleague Julie Beck noted earlier this month, Zika's typical symptoms are mild: headaches, fever, rashes, red eye, and joint pain, among others. They typically manifest for less than a week, if at all, and researchers say the virus probably doesn't stick around in the body for very long. But what is alarming is its as-yet-unofficial connection with an "explosive" uptick in a rare birth defect called microcephaly in infants in Brazil, which causes abnormal head formation. (Though, adding to the confusion around the disease, the number of microcephaly cases, as well as the number related to Zika, may be inflated.) The virus also could be linked to an uptick in cases of an immune disorder called Guillain-Barré.
Researchers and public-health officials don't know enough about Zika because the virus is new to the Western Hemisphere, and they readily acknowledge the gaps in their understanding. It's part of a family of viruses, called flaviviruses, that infect mosquitos, ticks, and their ilk. Some have familiar names: the aforementioned West Nile, dengue, yellow fever, and chikungunya. The Zika virus is transmitted by Aedes mosquitoes, which are found in roughly 30 states, including all of the American South. (The New York Times has a handy explainer on the virus and its history here.) Researchers at federal agencies are ramping up their investigations into the virus now, following a directive from President Obama. As it stands, there aren't any diagnostic tests available commercially, nor are there vaccines or antiviral drugs available. Anthony Fauci, director of the National Institute for Allergy and Infectious Diseases, told reporters during a press call last week that a vaccine "probably" won't be available "in the next few years." Researchers in the Americas didn't have any real motivation to develop these tools until recently, after an outbreak began in Brazil last year, infecting an estimated 1 million people, and then spread to 20-odd other countries, Puerto Rico, and the U.S. Virgin Islands.
The continental United States has seen cases in roughly a dozen states and Washington, D.C., but there's a "big difference" between those cases and those seen in the Latin American outbreaks, Fauci said. The difference is that the U.S. cases are all associated with people who have traveled to affected regions; the United States hasn't seen any locally transmitted cases, when "a mosquito bites a person infected with Zika and that mosquito passes that infection on to another person through a mosquito bite," described Anne Schuchat, the CDC's principal deputy director, on the same call.
That's not to say local transmission won't happen. But officials are saying—based on their encounters with other, similar viruses spread by mosquitoes—that it would be limited, as the United States is typically well-suited to containing mosquito-spread viruses. Common use of air conditioning and window screens help, and the United States doesn't have the same kind of super-dense urban areas that have facilitated transmission in Latin America. For your average American not planning to travel to affected countries, Schuchat said, this shouldn't be a worry. That said, a recent report in The Washington Post questions how limited the spread could be:
The South is seen as especially vulnerable because of its warm, humid climate and pockets of poverty where more people live without air conditioning or proper window screens. Plus, the region is already home to mosquitoes that can transmit the virus.

Some models estimate as many as 200 million people live in areas that might be conducive to the spread of Zika during summer months—including the East and West coasts and much of the Midwest. That makes for a huge target as researchers scramble to determine how the virus manifests itself in the human body, who is particularly at risk, and why.
The World Health Organization, which held an emergency meeting Monday on the virus, released preliminary estimates last week, based on the previous spread of dengue in Brazil, that 3 to 4 million people could be affected in the Western Hemisphere. Margaret Chan, the WHO's director-general, said Monday that her organization can't wait to move on a global response: "Can you imagine if we do not do all this work now and wait until all these scientific evidence to come out? People will say, Why didn't you take action?"
Members of Congress are calling on U.S. agencies to be transparent about what they know. Senate Homeland Security Committee Chairman Ron Johnson and his Democratic counterpart Tom Carper issued letters Thursday to the CDC and the Department of Homeland Security asking for specifics about their next steps to combat the virus's spread. "The Zika virus has left tragedy in its wake, and while I appreciate that federal agencies are beginning to focus on the emerging threat of the virus, more must be done," Johnson said in a press release about the letters. "My committee will keep a close watch on how federal agencies are responding to the threat of this virus." The Senate HELP Committee plans to hold a hearing "very soon" about the virus.
Senator Jeanne Shaheen of New Hampshire was among the first members of Congress to articulate expectations for the federal government's research, homeland-security, and public-information response to the virus. She said she discussed Zika with a constituent last week who was planning a trip with her daughter and new son-in-law to the U.S. Virgin Islands. Shaheen's constituent didn't know if they should still be planning to go. Shaheen told me that the government needs to make sure people have the relevant facts about the virus "without being overly alarmist" so that people can make decisions like these.
Shaheen urged federal agencies to come to Congress if they need more resources, including more funds, to combat the virus. "There is precedent there," she said, citing allocations Congress made to fight Ebola last year and swine flu in 2009. "The important thing is understanding the extent of the threat and understanding what needs to be done to respond to that."
Schuchat and Fauci emphasized to reporters that U.S. agencies are on the case to learn more about the virus as quickly as possible, including its possible links to microcephaly and Guillain-Barré. The NIH in particular is amping up research into possible vaccines (NIAID is "building on" strategies used to develop vaccines for West Nile and dengue), diagnostic tools, and ways to treat infected people. Fauci said they're also asking the scientific research community to contribute to their fact-finding. The NIH has spent millions on research into flaviviruses, Fauci said last week, but hadn't spent any on Zika specifically.
Fauci said Zika must be examined as just the latest mosquito-spread virus that's "expanded [its] reach" in the last two decades. Scientists have to consider developing vaccines and other drugs with uses not just for Zika but for other mosquito-spread viruses still to come. Because, as Fauci said, "There will be others."