The White House's Plans for Zika
The Obama administration wants Congress to quickly approve more $1.8 billion in funding to fight the virus, as crucial research into vaccines is already under way.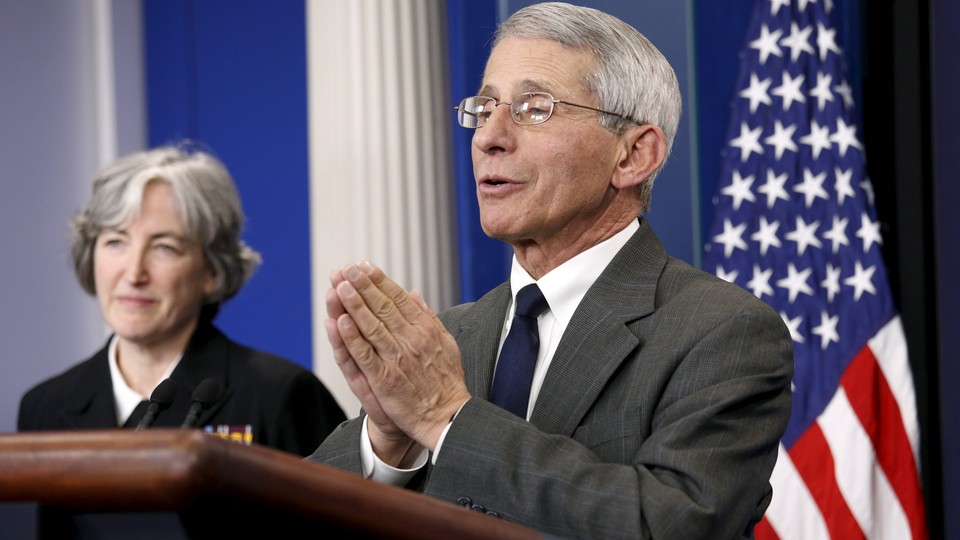 In the Obama administration's estimation, the Zika virus has a nearly $2 billion price tag.
The White House announced Monday that it would like Congress to allocate more than $1.8 billion in emergency funding to fight the virus, which emerged in Brazil in 2015 and has spread throughout the Americas ever since. The proposal wasn't unexpected, as members of Congress in recent days had been asking the administration to lay out its next steps and keep Congress updated on the anti-Zika effort. Now, the White House is telling members not to delay in approving the funding.
"We are hopeful that Congress will recognize the urgency of this request and act quickly on it," Earnest said at his press briefing Monday, where he was accompanied by federal public-health officials Anthony Fauci and Anne Schuchat. He said the virus "falls into the category of things" that shouldn't be partisan.
But the funding could get caught up in anticipated disagreement over the president's proposed budget for 2017, which will be released Tuesday. According to a report in USA Today, Senate Majority Leader Mitch McConnell's deputy chief of staff said the Senate will take a look at the request with the larger budget in mind. "And given limited federal resources," he said, "we expect the administration will brief Congress on their funding priorities" at an upcoming Senate leadership briefing on the virus, suggesting that perhaps not every element will be funded. This request, too, might not be the end of it: Fauci, who is the director of the National Institute of Allergy and Infectious Diseases, said at Monday's briefing that $1.8 billion is what officials now estimate is needed. If they discover more resources are necessary to fight the virus, there could be another funding request down the line.
A little less than half of the $1.8 billion is slated to fund the Centers for Disease Control and Prevention's efforts to combat Zika. Those initiatives include creating "rapid response teams" to curb possible Zika "clusters" in the United States, investigating the connection between Zika and a birth defect called microcephaly, and improving diagnostic capabilities, according to an administration fact sheet. Funding would also go to the National Institutes of Health, for vaccine research; to the Centers for Medicare and Medicaid Services, for pregnant women and babies with microcephaly in Puerto Rico; and to the State Department and the U.S. Agency for International Development, whose efforts largely focus on affected countries in Latin America and the Caribbean.
Earnest said Monday that President Obama doesn't currently plan to appoint a so-called "czar" to coordinate U.S. agency efforts, as he did during the Ebola crisis. Fewer agencies are involved in combating Zika, and those that are already had their coordination "muscles … exercised" when they worked together on Ebola in the last couple years, he said.
The virus's potential link with microcephaly, a condition in which a child's head is abnormally small, is the officials' chief concern, Schuchat emphasized Monday. It will likely take "many months" to establish definitive information on the connection, and officials have repeatedly suggested that pregnant women should reconsider traveling to affected countries. "We know that this is a really scary time for pregnant women," she said, adding that officials want to share the best information they have with pregnant women as quickly as possible. Officials seem less concerned with a proposed connection between Zika and Guillain-Barré syndrome, an immune disorder that can lead to paralysis; though Schuchat said they are keeping their "eyes open."
Officials aren't able to offer definitive conclusions on Zika because the virus is new to the Americas, and it caught public-health officials in the United States and elsewhere off-guard when it emerged in 2015. The World Health Organization last week deemed the virus an international emergency. The virus is spread by the Aedes mosquito, which is found in approximately 30 states. So far, nearly all of the Zika infections in the continental United States have been found in travelers who had visited affected countries. (There is also one confirmed case, in Texas, of the virus being sexually transmitted.) But the lower 48 hasn't yet seen what's called local transmission: when a mosquito bites an infected person and then spreads it to others through subsequent bites. Local transmission is what's needed for a Zika outbreak, like the one that started it all, in Brazil in 2015. As it stands, more than 20 countries and U.S. territories, including the U.S. Virgin Islands, Puerto Rico, and American Samoa, have seen local transmissions.
American public-health officials last week tried to soothe Americans' worries over Zika, even as they admitted there was much they didn't know about the virus. Then and now, officials emphasized that for the average American who's not pregnant or whose sexual partner isn't pregnant, the virus shouldn't be an immediate concern. Most infected people show no symptoms, and for those who do, symptoms are mild—fever, red eye, joint pain, and the like. Officials have also predicted that any outbreaks in the continental United States would be limited. U.S. cities aren't as dense as those in Latin America, which sped up transmission there, and Americans' widespread use of window screens and air-conditioning helps, too.
No vaccines or ideal diagnostic tests yet exist for Zika. But officials are on the hunt to fix that. Fauci said Monday that a vaccine is in the works right now, and officials are hoping they could start an early trial by the end of the summer, to determine its safety. Down the line, researchers might be able to get accelerated vaccine approval from the Food and Drug Administration as well. Officials also need to scale up their efforts to distribute and improve diagnostic tools, as the coming warmer months bring more risk of the virus spreading through these "aggressive daytime biters," Schuchat said.
Like Earnest, she emphasized the importance of acting quickly to combat the virus's spread, though neither she nor Fauci called on Congress specifically to move fast. "Time is really precious with this kind of emerging infection," Schuchat said.