Marco Rubio's Recovery
The Florida senator bounces back to finish second in South Carolina. Meanwhile, Cruz is in trouble, Bush is out—and Trump is still on top.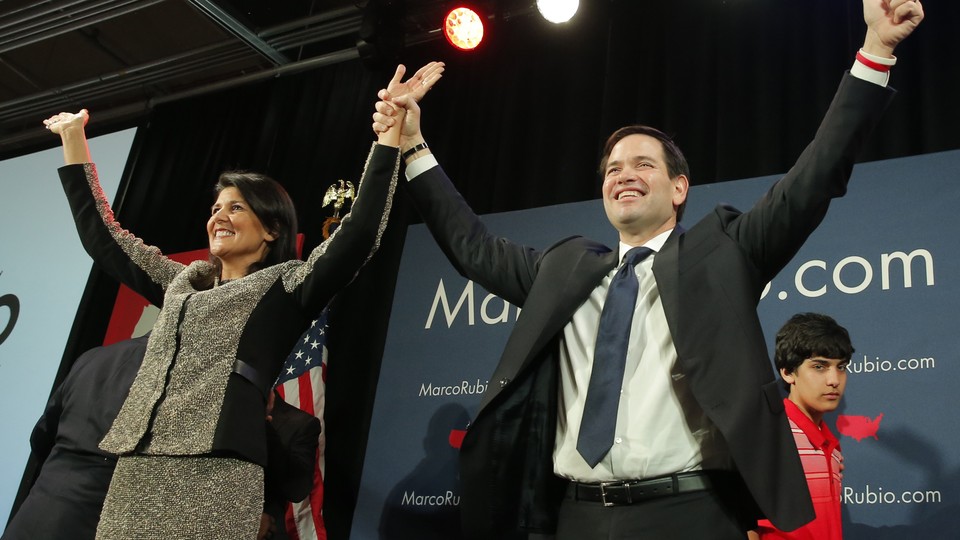 COLUMBIA, S.C.—Donald Trump had just easily won the South Carolina primary, and it wasn't yet clear who would come in second. But the mood at Marco Rubio's post-primary celebration in a converted warehouse here was jubilant nonetheless.
It was, said Senator Tim Scott, "an amazing finish." The state's governor, Nikki Haley, said, "We just woke the country up. We changed this race. It is on the move." Rubio proclaimed, "This has become a three-person race, and we will win the nomination."
All that for a second-place finish, with just 22.5 percent of the vote—less than a quarter. Rubio may not win many, or even any, convention delegates for his showing here, and critics—such as the other candidates—will continue to point out that he still hasn't won a single state. But Rubio has clearly recovered from his New Hampshire setback and begun to acquire some momentum among the majority of the Republican party that isn't voting for Trump.
"Rubio will be the nominee," Milton Moore, an older man with a syrupy accent, told me confidently. "When you drop the others out, that brings him up. He'll face off with Trump, and then people will understand that he's more stable, diplomatic, charismatic individual." Moore, who described his profession as "a rich M-F," was a fundraiser for George W. Bush, and his wife Jean was a state office manager for the 43rd president. But they said they never felt inspired by Jeb Bush, who dropped out of the race on Saturday after coming in fourth.
Rubio ended up finishing less than a percentage point ahead of Ted Cruz, whose third-place finish will be seen as a devastating blow. He faced a presumably friendly electorate in South Carolina, a state heavy with conservative and religious voters. But he couldn't translate his support from the hard-core activists in both the conservative and evangelical ranks to the votes of the broader universe of casual conservatives and churchgoers. That raises major doubts going forward for his campaign, which has laid extensive groundwork in the many Southern states that will vote on March 1.
The candidates now head to Nevada, a state whose Tuesday caucuses are traditionally a low-turnout and highly unpredictable affair. Mitt Romney won them in 2008 and 2012 through vigorous grassroots organizing, particularly in the state's Mormon community. Rubio, who was briefly Mormon as a child, has tried to activate that network, while Cruz is also active in the state. But Nevada is a state where momentum counts. In 2012, coming off his win in South Carolina, Newt Gingrich came in second in Nevada despite having essentially no operation in the state. And what polling there is in Nevada has shown Trump with a big lead.
Much speculation in the coming days will focus on where Bush's former supporters go. "I think they will probably go for Rubio—he's the most similar," Rhonda Cortes, a 54-year-old retired accountant, told me. She had actually voted for Bush, out of a sense of obligation, but decided to spend the evening at Rubio's party rather than Bush's funereal final event. Rubio, she said, was "someone who's not too far out there, like Cruz and Trump."
Cortes admitted she was baffled by Trump's victory in her state. "I know one person who voted for him, that's it," she said. "The beauty parlor, the grocery store—where are all these people? He feeds on people's paranoia. I think it's sad."
That Trump has now won two of the three states to vote, and appears to have an edge in the states to come, has some declaring him the odds-on favorite for the nomination. On the other hand, he has yet to show he can get more than about a third of the Republican vote—he got 35 percent in New Hampshire—suggesting he could be defeated if the other two-thirds of Republicans weren't so fractured.
The problem Rubio faces going forward is Cruz, and the problem Cruz faces is Rubio. (There's also the issue of Ben Carson, who announced he would stay in the race despite coming in last, and John Kasich, who has vowed to stay in until Ohio votes in a few weeks.) That is likely to intensify the bickering between the two Cuban-American Tea Party senators. If they keep at it long enough, Trump could indeed, as he implored his supporters here, "put it away."