Trump on the Brink
Trumpism is an ideology—not just a catharsis.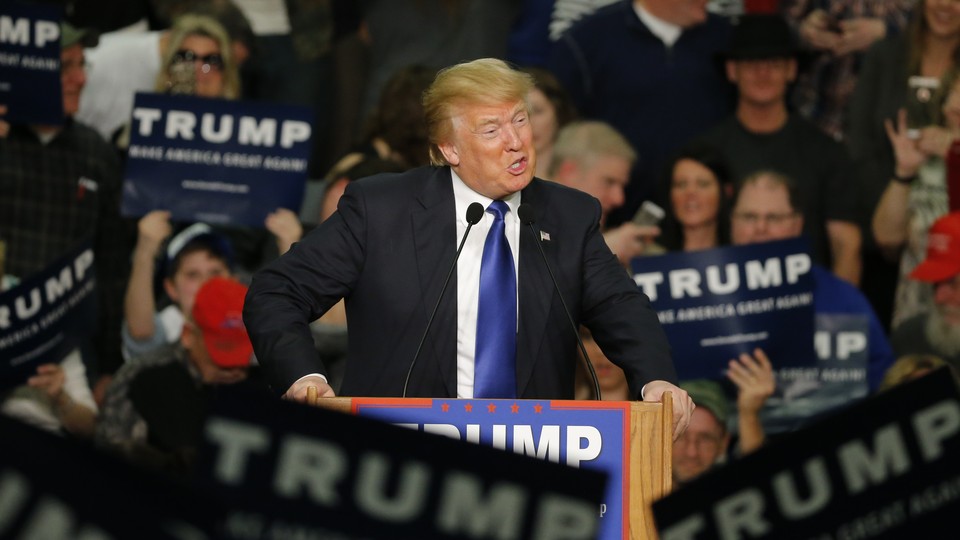 CLINTON, Iowa—This was not a hallucination: Here stood Donald J.Trump, on the brink of beginning his unstoppable run on the Republican nomination, raised above a worshipful crowd of humble, everyday Iowans who were bound and determined to make him the next president of the United States.
Also not a hallucination: A couple of hours prior, in Dubuque, Trump had walked down the steps from his airplane as the theme from the movie Air Force One blared from loudspeakers. Exiting the hangar to ride to his next stop, he directed that the children in the audience be given the run of the plane, but not their parents, who might "damage it."
Also not a hallucination: A couple of hours hence, the final Des Moines Register poll before the Iowa caucuses would put Trump in the lead by 5 points. Shortly thereafter, Trump would appear in Davenport with Jerry Falwell Jr., president of the evangelical Liberty University, who would urge Iowa Christians to support a man Falwell touted as humble and generous.
Here in Clinton, a shrinking, industrial town on the Mississippi River, Trump was feeling reflective. He seemed uncharacteristically awed by his own success, his normal swagger replaced by a sense of naked wonder.
"It's a journey—we did it together," Trump said from his platform in the middle of a well-appointed middle-school gymnasium's basketball court, surrounded by people on bleachers, in chairs, and standing. "And it's been an amazing experience for me. I had no idea—nobody thought it was going to turn out this way for me!" It was too late to worry about polls, Trump said, but he had a suspicion he might do even better than the polls.
If even Trump cannot believe this is happening, he is not alone. A beat reporter who went to Harvard told me he's lately been thinking about the poststructuralist philosopher Jean Baudrillard's theory of hyperreality. (According to Baudrillard, when we think we fully understand reality, we have merely created a falsehood—a simulacrum.) Wishful pundits continue to concoct scenarios in which the Trump bubble suddenly pops, or never existed in the first place, or is outhustled by a rival candidate's superior organization. This phenomenon can't possibly be real—it will vanish at the moment we try to measure it.
Trump seemed pensive and subdued—was he trying to seem more presidential? Or has he just increased our tolerance for outrage by constantly increasing the dosage? "They say, 'You can't build a wall,' he said. "Really? Two thousand years ago, China built a wall!"
What no one wants to believe is that this is the truth: that on Monday night, the thousands of people who have flocked to Trump in person and in polls will really, truly leave their houses and cast their ballots, and he will win. "Oh yes, I'll be there," Terry Hill, a 66-year-old retired maintenance supervisor at the local Archer Daniels Midland agricultural processing plant, told me. He had never been to a caucus before—had never even registered Republican before, which is required to participate in the caucuses—but Trump compelled him to commit this year. "He's not a politician, and he's not politically correct," Hill said.
I met many, many people like Hill at Trump's events in Eastern Iowa on Saturday. But there were also reasons to be skeptical: The crowds at the hangar, the middle school, and the theater were all below capacity. (A sheriff's deputy in Clinton told me the event drew 1,200 to a facility that could hold 2,000.) In Davenport, many attendees were curiosity-seeking Democrats or Illinoisians who'd come over the river to see a candidate they considered more ridiculous than appealing.
There was reason to doubt the magnitude of Trump's support, but not its existence. Again and again, I met Trump supporters who'd never been involved in politics but were now totally committed to the cause. "We've never caucused before, but the four of us will go this year," Dennis Woods, a blond-bearded construction worker in a bright green Pabst Blue Ribbon sweatshirt, told me, indicating his friend Larry Otwell, a chemical-plant inspector, and their wives. "This is the first year I've realized we need a change," Woods added. "I always thought my vote didn't count, but I heard Trump talk and he woke me up."
Trump closed his speech with a plea, so there could be no mistaking what he was asking from his troops. "Here's the thing: On February 1st, you've got to get out and caucus," he said. "You've got to do it. We've got to do it. The bigger we can win by, the bigger we can win by, the bigger the mandate, the more we can do. And I promise you, you will be so proud and you will be so happy that you went out and you did it."
One final promise: "We're going to make our country sane. We're going to bring sanity."
In the words of another great philosopher, Freddie Mercury: Is this the real life? Is this just fantasy?
Or are we caught in a landslide?
If Trump does win Iowa, the fear—of the other candidates, of the Republican establishment that sees him as a potential destroyer of the party—is that he will then become impossible to stop. Trump's campaign may appear to be a wing-and-a-prayer affair, but it is actually quite calculated, with a strategy and an infrastructure whose depth might surprise the casual observer who thinks of him as a mere bloviator.
As the caucuses neared this past week, Trump was engaged in a wide variety of conventional campaign activities. His family had been drafted to stump for him; his two sons took reporters on a pheasant-hunting trip. Trump deployed Falwell to validate him with this state's well-known evangelical bloc at campaign events and in a radio ad recorded for the campaign.
Trump supporters across the country have joined phone banks in local campaign offices to get out the vote in Iowa. At each pre-caucus event, his staff has been handing out photocopied forms with all the information Iowans would need to attend the caucus: a website to look up their caucus site, a voter-registration form they could fill out on the back. "Every caucus begins at 7:00 pm on Monday, February 1st but plan to arrive by 6:30 pm," it advised in big, bold letters. "Most caucuses take less than 1 hour!"
In Des Moines, I met a Trump volunteer named Larry Hughes, a 79-year-old real-estate broker who'd been spending two hours a day phone banking each night, along with his wife. Hughes had volunteered for other Republican candidates before, and he acknowledged that Trump's wasn't the best organized effort he'd seen. Nonetheless, he said, the 25 or 30 phone-bank stations were full every night. "If he wins in Iowa, he will run the table," Hughes predicted.
The Register poll, which showed Trump up by 5 points over Ted Cruz, 28-23, has rarely been wrong in the past. But the idea that Trump's unconventional ground game will fall short is an article of faith with rival campaigns who have built sophisticated, data-driven field operations. The Cruz campaign in particular is counting on its robust organization to exceed its polling margin. Passels of Cruz volunteers from Texas and elsewhere have packed a dorm in Des Moines and pursued potential caucus-goers by phone and door-knock.
Trump's camp believes it does not need this kind of thing. In South Carolina, I spoke to Jim Merrill, a state representative who directs Trump's campaign in the state. "We have events that tens of thousands of people come to, and we gather all their information—emails, contacts, data," Merrill told me. "What do you think is more effective: bringing in 10 people from another state to bang on 50 doors? Or getting 10,000 people in a room, all of whom have taken the time to sign up online, travel to your venue, and listen for two hours? Who exactly is more motivated?" The Trump campaign, Merrill said, is "an event-driven campaign, and proud of it."
The other candidates have complicated rationales involving winning certain states and losing others. Trump's strategy is comparatively simple: to win and keep winning.
In Iowa, Trump believes he's stifled Cruz's hopes with a double-barrelled attack, accusing him of not being eligible by virtue of his Canadian birth, and of being in bed with Wall Street because he failed to properly disclose two loans from Goldman Sachs. In Clinton, Trump was curious about which of these attacks had resonated more broadly. He'd read a poll, he said, that found more Republican caucus-goers responded to the Wall Street issue than the birthplace one, but he didn't believe it.
Trump decided to survey the audience. "Let me ask you something. Which is a bigger problem, the Wall Street or the anchor baby?" he asked. "Just out of curiosity. Ready? Which is a bigger problem? Wall Street?" A solid ovation ensued. "Canada?" Loud, vociferous whoops and cheers. Trump's instinct was validated. "I'm telling you, the poll has it wrong!" he said. "And you want Trump anyway, so what the hell."
If Trump wins Iowa, it's hard to imagine he doesn't proceed to win New Hampshire, where he currently leads by 20 points. Then perhaps the establishment will try to rally around the topmost of its palatable options—Marco Rubio, John Kasich, Jeb Bush, Chris Christie. But the next contest is South Carolina, where Republican primary voters love the Tea Party and don't much care for immigrants and Muslims. Then come the Nevada caucuses, and then we are on to the deep South for the so-called SEC primary in March.
Where, exactly, is Trump going to be beat?
If Trump weren't running, Shane Casey doubted he'd make the effort to go to his local caucus, something he'd never done before. A 42-year-old forklift operator in a suede jacket, Casey had to stop working when papilloma blurred his vision. He recently had surgery—a bright-pink scar near his right eyebrow attested to it—and was cleared to work again, but the plant closed down while he was gone. "So I've got to look for a new job," Casey told me. His sweatshirt said, "This is what the greatest grandpa looks like."
Casey agreed with everything he'd just heard Trump say, though he found him "a little scripted." He wanted a wall on the border; he believed Trump when he said he was a Christian. "Nobody can buy him, nobody owns him. I like that," Casey said.
Now that Trump has been in first place for many months—now that it is becoming shockingly plausible that he might even win—it has finally occurred to the political professionals to try to understand his appeal. It has started to dawn on people that Trumpism is not just an attitude but a philosophy: protectionist, anti-immigration, anti-war. Trump put it succinctly: "We're going to have a country with strong borders. We're going to have a country with great trade agreements. We're going to have a great military that hopefully we never have to use."
These are popular views, but they are barely represented in think tanks and boardrooms, where the elites who control the political discourse generally see them as uncouth. The financier Steven Rattner, in an op-ed in the Times, recounted being given the turd-in-the-punch-bowl treatment when he endeavored to mention, on a D.C. think-tank panel, that globalization and the North American Free Trade Agreement had hollowed out many American factory towns (while enriching Mexico). Economists can argue that the net effect on jobs was positive, but that's little comfort to laid-off manufacturing workers in places like Clinton, Iowa.
Bill Ebensberger, a 66-year-old Army veteran, watched the steel plant where he spent his working years get sold to a foreign company, which shut it down. He last caucused for Obama; he's for Trump now.
Jim Luette, 69, lives on six acres outside Clinton with his wife, two horses, and two dogs. Since he retired just before the financial crash, his nest egg has shrunk and his cost of living has grown. "I think Trump is conservative because he believes in getting the jobs back, even if he's short on details," he told me. "If anybody could do it, he's the man." Luette would also consider voting for Bernie Sanders.
Chad Peppers, a 42-year-old construction worker, is president of his local labor union over the border in Illinois. The union is for Clinton, but he's for Trump, whom he believes to be "pro-worker" and strong on trade.
Dennis Heggen, a 58-year-old construction worker in Davenport, cited Trump's positions on trade and the border as reasons he planned to caucus for the first time. "So many people are out of work," he told me. "The country is going fine for the top 1 percent, but everybody else needs a change."
Pat Buchanan himself—"Pitchfork Pat," the 1990s voice of nationalist resentment—recently told the Washington Post he's never seen Americans as alienated as they are now. Trump, he said approvingly, was carrying his old message forward. "Not to put too fine a point on it, the revolution is at hand," Buchanan said.
Trumpism is an ideology, not just a catharsis. An American working class desperate to get back what it once had, and anguished at the culture slipping away, has found an unlikely messenger for its decades of pent-up frustration. When Trump rants about Mexico and China and Syria and television sets made in South Korea, he is speaking to a large group of people who've felt disenfranchised for a long time.
What if it were possible to win again, like they once did? To be safe and secure, without fear of dislocation? One candidate is selling that dream, and in Iowa and elsewhere, people are listening.
Last week, Trump declined to participate in the last Republican debate, a ploy his rivals ridiculed as cowardice. But these days, Trump has turned the episode into a metaphor for dignity. "You know, you have to take a stand at some point," he told the crowd in Clinton. "They can't be mocking you and taunting you." Whether Iowa ends up being the beginning or end of this exceedingly weird campaign, Trump is no illusion. He is the fearsome roar of an America tired of being kicked around.