Trump Is Redefining the Republican Party
And his rivals are poorly positioned to stop him.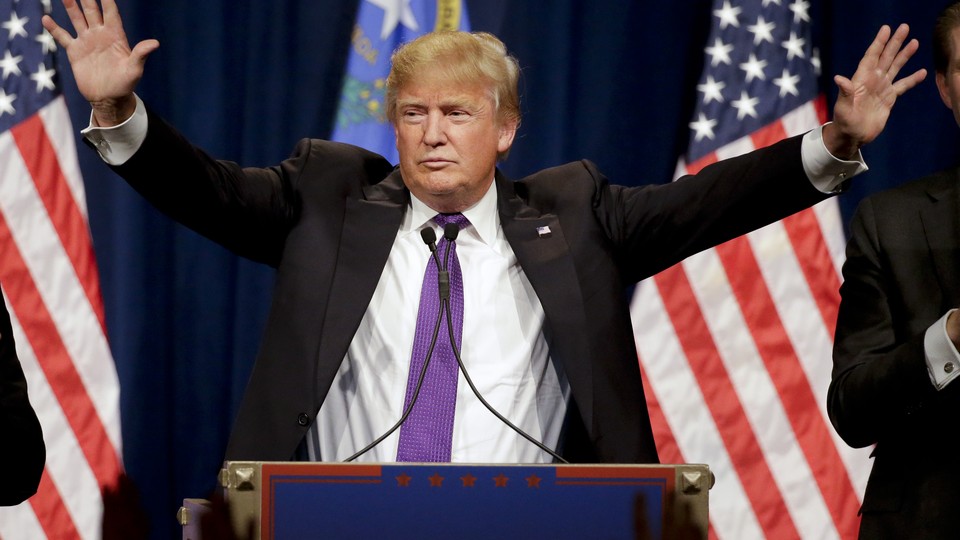 For Republicans, the distance is collapsing between the unthinkable and the inevitable.
The runway lights are lit for Donald Trump to land the Republican presidential nomination after his commanding victories in New Hampshire, South Carolina, and Nevada. That trifecta has provided the front-runner a big tailwind heading into the crucial stretch when 28 more states will vote through March 15. As important, Trump's winning streak has shown that none of his rivals yet has a plausible plan for stopping him. That means the GOP is poised for a leap into the electoral unknown behind a fundamental redefinition of the party from Trump that could shape its fortunes for years.
The Nevada caucus was modestly attended (even with record turnout) and chaotically administered. But those clouds could not obscure Trump's success. In Nevada, as in New Hampshire and South Carolina, he demonstrated that his support transcends the fissures that have previously defined Republican nomination contests. In all three states, he carried men and women; Republicans and independents; and both those who identified as evangelical Christians and those who did not. Spanning ideological boundaries, Trump carried voters who identified as very conservative, somewhat conservative, and moderate in all three states as well, except in South Carolina where Ted Cruz edged him among the most conservative.
The one divide that has consistently characterized Trump's candidacy is education. Trump has posted dominant numbers among white Republicans without a college degree in his three victories; he attracted an identical 42 percent of those blue-collar whites in his first two wins and 52 percent in Nevada. In those three states, as well as Iowa, Trump has notched less support among Republican voters with at least a four-year college degree. That pattern held in Nevada, but Trump's strong 40 percent showing with college-educated whites there not only comfortably led the field but also significantly topped his previous high (30 percent in New Hampshire). Nevada is a small quirky state, but the evidence suggests that as Trump advances his coalition is growing not shrinking.
His rivals can't say the same, particularly Cruz. Building on a base among evangelical Christians, the Texan sold himself as the candidate who could unite cultural and economic conservatives—succeeding where Mike Huckabee in 2008 and Rick Santorum in 2012, the last two evangelical favorites, had failed. But Cruz has not carried more than 18 percent of voters who are not evangelicals in any of the first four states. That's no better than Huckabee or Santorum.
And after winning evangelical Christians in Iowa, Cruz has now lost them to Trump in three consecutive contests. Cruz has been squeezed between Rubio's appeal to evangelicals with a four-year college degree and Trump's much larger inroads among those without. If Cruz can't reverse that pattern, he will fail in such heavily evangelical March 1 states as Alabama, Arkansas, Oklahoma, and Tennessee. That would effectively undermine his candidacy, even if he holds Texas.
Ohio Governor John Kasich is the mirror image of Cruz. He's run well among moderates, but shown too little appeal beyond them to truly compete. Yet efforts to pressure Kasich from the race may falter because Rubio has left the Ohio governor such a clear lane by tilting his own agenda well to the right of the primarily white-collar, mainstream-conservative voters most resistant to Trump.
The Rubio paradox is that he wants to sell Republicans on a profound change in image without meaningfully rethinking many of the party's core positions—or even directly resisting Trump's radical redefinition of them. In South Carolina, Rubio assembled a Republican rainbow coalition of supporters led by Asian American Governor Nikki Haley, African American Senator Tim Scott, and white male Representative Trey Gowdy, all 51 or younger. Against that backdrop, the 44-year-old Cuban American senator delivered a compelling message (and visual representation) of generational and demographic change. "The children of the Reagan revolution are ready to assume the mantle of leadership," Rubio buoyantly declared.
But Rubio has wrapped that dynamic message around an agenda that, with only a few innovative exceptions, mostly embraces conventional conservative positions. These include big tax cuts that primarily benefit top earners; skepticism about climate change; and some of the field's most unbending social views, including opposition to abortion even in cases of rape and incest and clear suggestions he wants to reverse the Supreme Court decision legalizing gay marriage nationwide. And rather than confront Trump's nativist and protectionist agenda, Rubio has mostly bent to it, tacking right on both immigration and trade.
While Rubio offers the GOP a different face, it's Trump who actually presents a different direction. He would steer the party toward a confrontational European-style racial nationalism revolving around hostility to foreign influences (from Mexican immigrants to Chinese manufacturers) and domestic elites. That represents not only a fundamental assault on the party's existing leadership, but a huge gamble with its electoral future. Even if Trump, as the nominee, could squeeze out a narrow victory in November by mobilizing more working-class whites he might still disastrously stamp the GOP as a party of racial backlash to the minorities and Millennials irreversibly growing in the electorate. As Trump steamrolls toward the nomination, it's difficult to overstate how much the GOP has at stake—or how poorly positioned his rivals are to stop him.