How 'Values Voters' Became 'Nostalgia Voters'
White evangelicals are culturally and economically disaffected—anxious to protect the conservative Christian culture rapidly disappearing in America.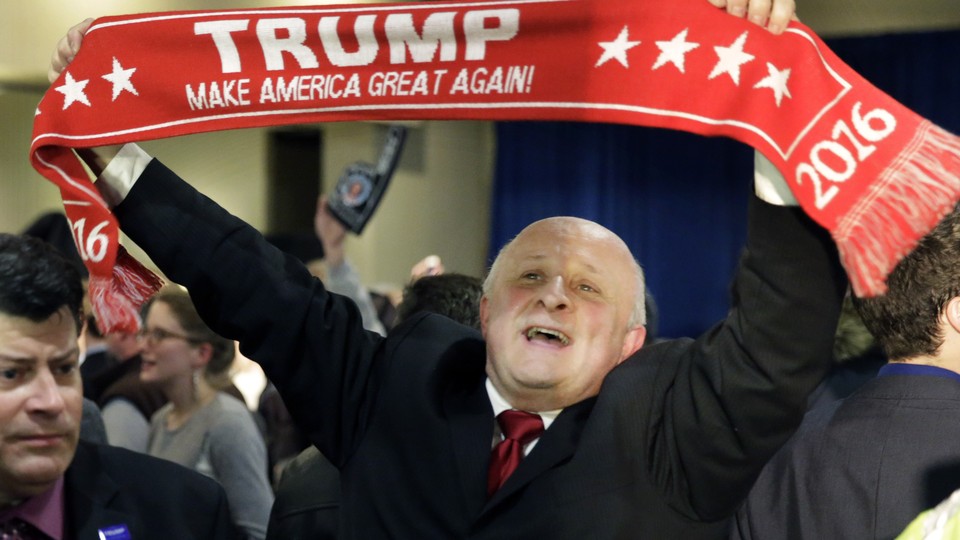 The South Carolina Republican primary results present long-time observers of white evangelical Protestants' political behavior with a conundrum. How did Donald Trump—a twice-divorced, casino-owning New Yorker who curses during campaign speeches and is prone to church-related gaffes such as accidentally putting cash into the communion plate—win in this southern state where approximately seven in 10 GOP primary voters are white evangelicals?
Trump's success has demonstrated that the conventional mode of thinking about white evangelical voters as "values voters" is no longer helpful, if it ever was. The Trump revelation is that white evangelicals have become "nostalgia voters:" a culturally and economically disaffected group that is anxious to hold onto a white, conservative Christian culture that is passing from the scene.
Trump's success among white evangelical Protestants is particularly puzzling, given the presence of other candidates who have polished values-voters résumés. If evangelicals were motivated primarily by a desire to have a candidate who shared their religious values, someone like Mike Huckabee, a white ordained pastor and former governor of Arkansas, would have been the most natural choice. But white evangelicals did not rally around him, and he turned out to be one of the first casualties of the GOP contest. With Huckabee out, Senator Ted Cruz—the son of a Southern Baptist minister who has the chops to deliver a sermon-like stump speech, a network of local pastors, and a platform designed to appeal to Christian right voters—looked to be evangelicals' next most logical choice. And he won the Iowa caucuses, including beating out Trump by 12 points among the roughly two-thirds of GOP caucus-goers who identified as white evangelical Protestants.
But even before Iowa, there were indicators that Trump's stock was on the rise among white evangelicals. In PRRI polling in November 2015, a majority (56 percent) of white evangelical Protestant voters nationwide held an unfavorable view of Trump. But by January 2016, a majority (53 percent) said they now held a favorable view of him. Most importantly, in the first primary contest in a southern state, Trump bested Cruz among South Carolina white evangelicals by eight percentage points (34 percent vs. 26 percent, respectively).
The best explanation for this unlikely consolidation of white evangelical Protestant support behind Trump is that his appeal to "Make America Great Again" resonates more deeply and powerfully with the group's anxieties than a checklist of culture war issues or an appeal to shared religious identity. A look at the South Carolina exit polls and some recent national polling indeed paints a portrait of a worried and wistful group. In South Carolina, Trump's biggest margins were among voters who said the top quality they wanted in a candidate was someone who "tells it like it is" (+70 points) and "can bring change" (+26 points).  And Trump won by double digits among voters who said illegal immigrants should be deported (+23 points), who were angry with the government (+20 points), who believed that Muslims should be banned from entering the country (+18 points), and who were very worried about the economy (+13 points).
The American Values Survey from the Public Religion Research Institute, where I'm the CEO, found that heightened anxieties about cultural change and economic worries are strikingly prevalent among white evangelicals today. Two-thirds of white evangelicals say that immigrants are a burden to the country because they take American jobs, housing, and health care; and nearly six in 10 say it bothers them when they come into contact with immigrants who speak little or no English. Nearly three-quarters of white evangelicals say that the values of Islam are incompatible with American values and way of life. More than six in 10 believe that discrimination against whites has become as big a problem as discrimination against blacks and other minorities. On the economic front, eight in 10 white evangelicals believe the country is still in an economic recession today. And most notably—in a question that demonstrates the importance of the last word in Trump's campaign slogan—more than seven in 10 white evangelical Protestants say that American society and way of life has changed for the worse since the 1950s.
These findings are measures of perceptions, but there is also empirical evidence that the cultural world of conservative white Christians has been losing its central place in the country. For example, it is hard to overstate the symbolic power of the national shift to majority support for same-sex marriage in recent years, punctuated by the landmark Obergefell v. Hodges Supreme Court ruling that legalized same-sex marriage in all 50 states. White evangelical Protestants are the group most opposed to same-sex marriage, and they clearly lost this battle, both legally and culturally. Beyond that, white Christians have in fact been steadily shrinking as a proportion of the population over the past few decades. Today white Christians make up just 45 percent of the country, and religiously unaffiliated Americans have become the largest group in the religious landscape. Even in places like Iowa and South Carolina, the proportion of white Christians has shrunk significantly since the beginning of the Obama era. These shifting cultural and demographic realities are certainly fueling the anxieties of white evangelical Protestants.
Many pundits have suggested that Trump's support may hit a ceiling among Republican primary voters as the race narrows. But national polling averages still show Trump leading Cruz by nearly 20 points. More importantly, across the March 1 primaries and caucuses, Cruz is leading only in his home state of Texas and neighboring Arkansas, while Trump is up in eight other states.
There'll begin to be some solid answers over the next few weeks, as the campaign heads into the so-called SEC primaries on March 1, with its heavy slate of Southern States. According to analysis by Sabato's Crystal Ball, about two-thirds of the Republican delegates that will be awarded on or before the March 8 contests come from states where the Republican participants will be at least 50 percent white evangelical. Even if Trump doesn't completely run the board on Super Tuesday, if he bests Cruz in most southern states and keeps Rubio from claiming victory in a single state, no amount of GOP establishment coordination may be able to stop him.
Trump's unlikely success can in part be attributed to his consolidation of a new coalition and the creation of new page in the Republican playbook. His appeal to nostalgia voters has brought together important groups that have historically been overlapping but distinct: the voters of the southern strategy, the Christian right, and the Tea Party. And it has also given him deeper inroads into white working-class voters who aren't as ideologically oriented as Cruz and who may find Rubio's new conservatism too polished and too multicultural. This consolidation may confine Cruz to a narrow, ultra-conservative lane without the white evangelicals he counted on to widen it, while containing Rubio in an establishment lane that doesn't broaden quickly enough with Kasich staying in the race, even if the lion's share of Jeb Bush supporters move his way.
One revealing difference between the candidates was on display during their speeches following the South Carolina primaries. The crowd enthusiastically chanted "Marco! Marco!" as Rubio took the stage, flanked by South Carolina's popular Governor Nikki Haley, who is of Indian descent, and Senator Tim Scott. The energy at Ted Cruz's post-primary speech was a bit muted, but his supporters too found a few moments to cheer "Ted! Ted!"
By contrast, the entourage accompanying Trump at his victory speech was all white. And as he took the stage under the "Make America Great Again" banner, the crowd chanted not his name, but "USA! USA! USA!"