The Edge: Who Will Take Gold in the Silver State?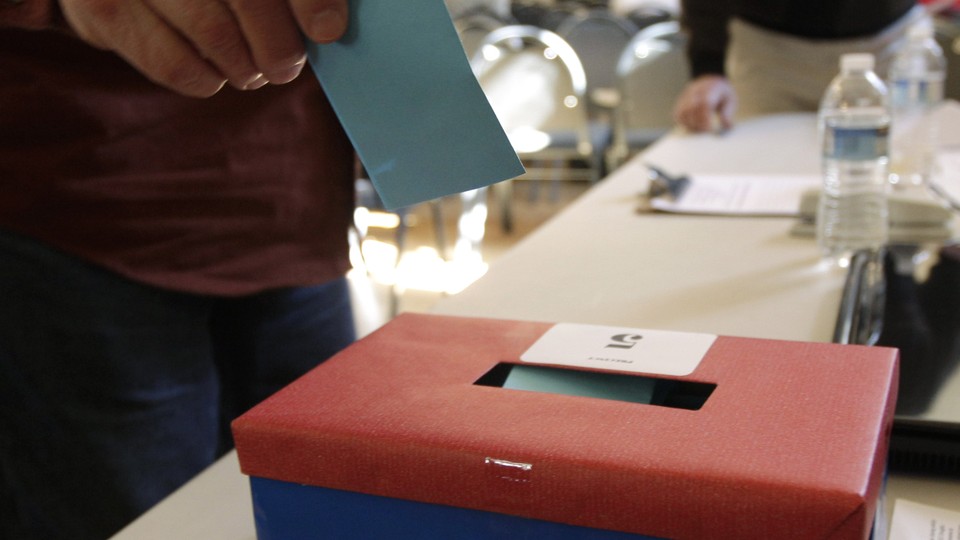 Today in One Paragraph
The Nevada Republican caucuses will kick off. President Obama sent his plan to close the prison at Guantanamo Bay to Congress. Majority Leader Mitch McConnell announced that the Senate will not hold hearings on any Supreme Court nominee put forth by the president. And Microsoft founder Bill Gates weighed in on Apple's decision not to help the FBI unlock the iPhone of one of the San Bernardino attackers.
---
Top News
All Bets Are Off. The Nevada Republican caucuses will soon be underway—and Donald Trump, Marco Rubio, and Ted Cruz all have a shot. Join the Politics & Policy team for live coverage of the results here. (The Atlantic)
A Final Attempt to Close Gitmo. President Obama outlined a plan to reduce the number of detainees at the detention facility in the coming months. "For many years, it's been clear that the detention facility at Guantanamo Bay does not advance our national security," the president said. "It undermines it." (Bill Chappell, NPR)
You Shall Not Pass. Following a meeting with Senate Judiciary Committee members, Majority Leader Mitch McConnell said the chamber will not hold hearings on a Supreme Court nominee from President Obama. (Burgess Everett and John Bresnahan, Politico)
Bill Gates on Apple. When asked about Apple CEO Tim Cook's decision not to assist the FBI with unlocking the iPhone belonging to one of the San Bernardino attackers, the Microsoft founder said, "I do believe that with the right safeguards, there are cases where the government on our behalf — like stopping terrorism, which could get worse in the future — that that is valuable." But ultimately, Gates said, it gets a conversation going. (Brett Molina, USA Today)
Tomorrow in One Paragraph. Hillary Clinton will be rallying voters in South Carolina ahead of the state's Democratic primary on Saturday, while rival Bernie Sanders is campaigning in Oklahoma. Marco Rubio will be in Texas, John Kasich is traveling between Mississippi and Louisiana, and Donald Trump will be speaking at Regent University in Virginia.
---
Follow stories throughout the day with our new Politics & Policy page. And keep on top of the campaign with our 2016 Distilled election dashboard.
---
Top Read:
"He has been hitting the road for Clinton, stumping for her in Nevada and Iowa. He can keep plugging away at HUD projects like bringing Internet to public housing. But getting to be VP is so often about style over substance. So mostly he can wait—a challenge for someone who has been climbing the ladder since college." The Washington Post's Ben Terris on Julian Castro, the secretary of housing and urban development.
---
Top Lines
A 'Love-Hate Relationship.' Donald Trump might offer a much-needed disruption of establishment politics, but, The Atlantic's Ron Fournier argues, he's doing so by exploiting people's fear.
No Longer Clinton Country. Arkansas's changing political landscape might make it "unrecognizable from the days when Hillary and Bill Clinton began their political journey." (Matthew Teague, The Guardian)
Top Views
Tick-Tock. President Obama has less than a year to close the prison in Guantanamo Bay. Here are some options on how that might be done. (Hanna Fairfield, Sarah Almukhtar, and Jeremy White, The New York Times)
We want to hear from you! We're reimagining what The Edge can be, and would love to receive your complaints, compliments, and suggestions. Tell us what you'd like to find in your inbox by sending a message to newsletters@theatlantic.com.