The Edge: Trump Really Into Samsung Right Now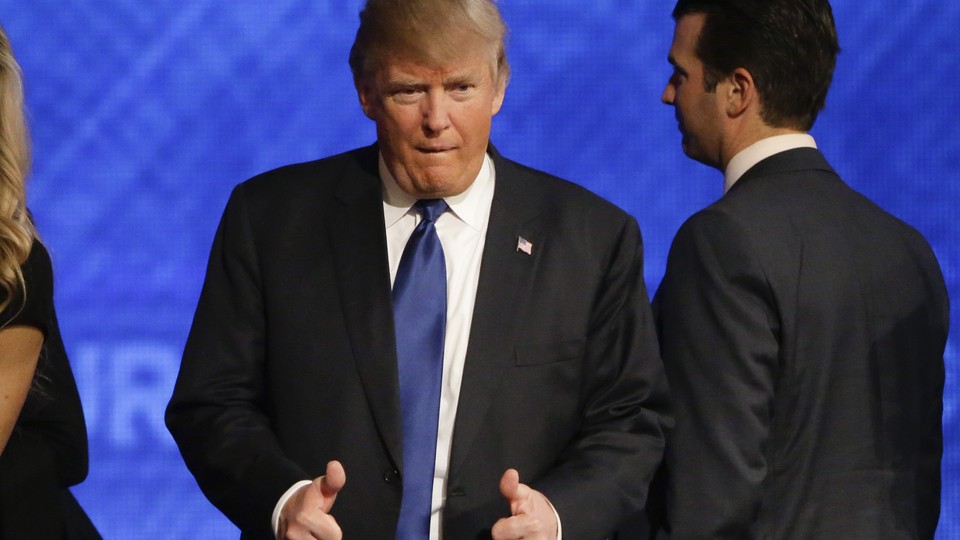 Today in One Paragraph
The U.S. Justice Department said Apple's refusal to unlock an iPhone belonging to one of the San Bernardino shooters is a "public brand marketing strategy," and Donald Trump weighed in, calling for a boycott of the company's products. The body of Justice Antonin Scalia lay in repose at the U.S. Supreme Court for the public to pay their respects. Harper Lee, the author of To Kill a Mockingbird, died at age 89. Abroad, a Kurdish militant group took credit for Thursday's car bombing in the Turkish capital. American warplanes hit an ISIS training camp in Libya and, according to a U.S. official, likely killed an extremist operative. And a spokesman for the pope said his remarks about Trump were not personal.
---
Top News
Justice Department vs. Apple vs. Trump. The U.S. Justice Department said that Apple's refusal to help the FBI unlock an iPhone that belonged to one of the San Bernardino shooters is part of the company's "public brand marketing strategy." Apple is expected to formally respond to the court order by next Friday. Meanwhile, Donald Trump has suggested people boycott Apple "until such time as they give that security number." (The New York Times, The Verge)
Remembering Harper Lee. The author of To Kill a Mockingbird died in her hometown of Monroeville, Alabama. She was 89. (Connor Sheets, AL.com)
Observances for Scalia. The body of late Justice Antonin Scalia lay in repose in the Great Hall of the Supreme Court building. President Obama and the first lady, along with members of the public, stopped by to pay their respects. (Bill Chappell, NPR)
U.S. Strikes ISIS. The Pentagon announced that U.S. warplanes struck an ISIS training camp in Libya, and local officials estimated that more than 40 people were killed. The strike reportedly targeted Noureddine Chouchane, a Tunisian operative linked to two attacks in the country last year. (Robert Burns and Maggie Michael, Associated Press)
It's Not Personal. A spokesman for the pope said the pontiff's comments Thursday that Donald Trump "is not Christian" were taken the wrong way. "In no way was this a personal attack, nor an indication of how to vote," said Father Federico Lombardi, adding that the pope simply thinks people "should build bridges, not walls." (Crispian Balmer, Reuters)
Kurdish Militant Group Takes Credit for Car Bomb. The Kurdistan Freedom Hawks (TAK) claimed responsibility for Thursday's car bombing in Ankara, Turkey that killed 28 people, according to statement on its website. The group said the attack was in response to the president's policies. (Constanze Letsch, The Guardian)
The Weekend in One Paragraph. The South Carolina Republican primary takes place, with polls opening at 7 a.m. ET on Saturday. Meanwhile, in Nevada, the Democratic caucuses kick off at 11 a.m. PT. Also, on Saturday, the funeral service for the late Supreme Court Justice Antonin Scalia will be held at the Basilica of the National Shrine of the Immaculate Conception in Washington, D.C., where Vice President Joe Biden will be in attendance.
---
Follow stories throughout the day with our new Politics & Policy page. And keep on top of the campaign with our 2016 Distilled election dashboard.
---
Top Read:
"Welcome to the great Republican stalemate. No candidate commands anything approaching a majority of the primary electorate. Trump, in first place, pulls about one-third of the vote. All the candidates are locked in their narrow, mutually exclusive "lanes" of different kinds of voters. And rather than back down or seek accommodation, they keep upping the ante." The Atlantic's Molly Ball on the paralyzed state of the Republican presidential field.
---
Top Lines
'Much Ado About MOX.' Why are Republican presidential candidates showing such a keen interest in a little-known South Carolina nuclear power plant? (Gwynn Guilford, Quartz)
Not a Lame Duck Budget. While President Obama's proposed 2017 budget includes some controversial spending increases, The New Republic's Roy T. Meyers argues that there is plenty of room for compromise between Republicans and Democrats.
---
Top Views
Why South Carolina Matters. Palmetto State voters have a strong record of predicting the eventual Republican nominee for president. Check out this graphic to see the state's voting history—and a preview of what Super Tuesday might look like. (The Washington Post staff)
We want to hear from you! We're reimagining what The Edge can be, and would love to receive your complaints, compliments, and suggestions. Tell us what you'd like to find in your inbox by sending a message to newsletters@theatlantic.com.