The Edge: The Long Road After Iowa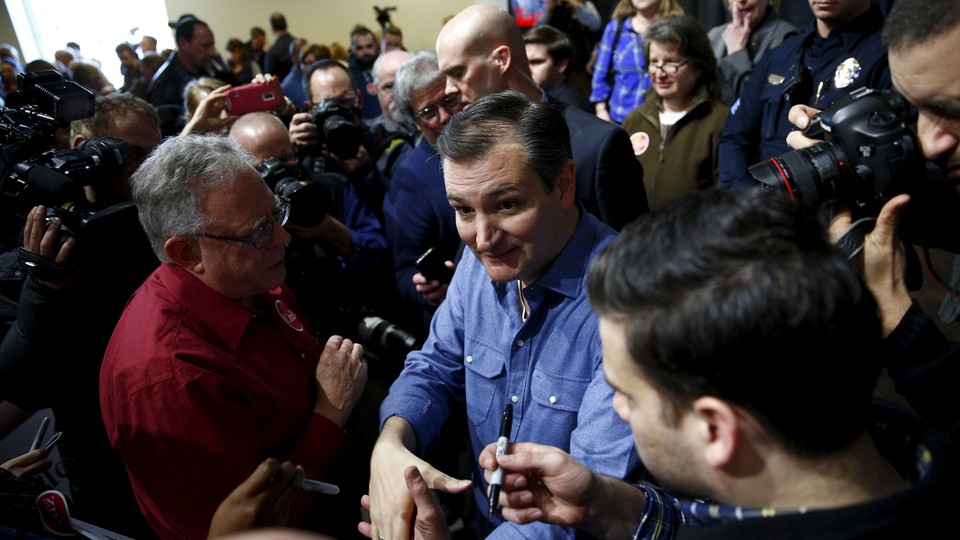 Today in One Paragraph
The Iowa caucuses kicked off the 2016 presidential election on Monday night, delivering a win to Ted Cruz and Hillary Clinton and leaving the presidential candidates to refocus their efforts to the upcoming nominating contests. Trump, who came in second in Iowa, is looking for a boost from Scott Brown who will endorse the real-estate mogul tonight. In other news, the first case of Zika-virus transmission in the U.S. was reported in Texas. The FBI is joining the investigation into the water-contamination crisis in Flint. Paul Ryan met with President Obama. And, overseas, Secretary of State John Kerry called for more military support in Libya to fight the Islamic State.
---
Top News
Iowa: Check. The candidates are now shifting their attention to New Hampshire, where the country's first presidential primary takes place next week. Ted Cruz took home a decisive victory over Donald Trump in the GOP field, while Hillary Clinton barely edged out a victory over Bernie Sanders for the Democrats. Martin O'Malley and Mike Huckabee each suspended their campaigns. (The Atlantic staff)
Zika in Texas. The Centers for Disease Control and Prevention confirmed that a case of the virus was transmitted to a patient through sexual contact this year, according to Dallas County Health and Human Services. The county said the patient "was infected with the virus after having sexual contact with an ill individual who returned from a country where Zika virus is present." (Sandee LaMotte, CNN)
The FBI in Flint. The agency is investigating lead contamination of the Michigan city's water supply, along with other U.S. government organizations, according to the U.S. Attorney's Office in Detroit. Darnell Earley, Detroit Public School's emergency manager who had come under fire for his role in the crisis, announced today that he's stepping down. (Paul Egan and Ann Zaniewski, Detroit Free Press)
Scott Brown Backs Trump. The former Massachusetts senator, who also ran for Senate in New Hampshire, will put his support behind Donald Trump at a rally in New Hampshire tonight—a week before the state's presidential primary. The endorsement may serve as a boost for the real-estate mogul, who on Monday night came second in the Iowa caucuses. (Daniel Strauss, Politico)
Growing Concern in Libya. Secretary of State John Kerry said "the last thing in the world you want is a false caliphate with access to billions of dollars of oil revenue" at a conference of global leaders who were meeting about the Islamic State's presence in the Middle East. He called for more security training and other international military support for Libya. (Bradley Klapper, Associated Press)
White House Meeting. Paul Ryan met with President Obama for the first time since he took over as Speaker of the House today. Though little is likely to come from the meeting, the leaders, who were joined by Senate Majority Leader Mitch McConnell, discussed Puerto Rico's debt crisis, criminal-justice reform, the opioid epidemic, and Obama's trade deal. (Amber Phillips, The Washington Post)
Tomorrow in One Paragraph: President Obama visits the Islamic Society of Baltimore, marking his first visit to a U.S. mosque since he took office. Donald Trump makes his way to Arkansas, while Ted Cruz heads to New Hampshire—where Marco Rubio, Jeb Bush, and Chris Christie are also campaigning. Hillary Clinton and Bernie Sanders are in the Granite State, too, where they'll participate in a town hall hosted by CNN at 8 p.m. ET. Rick Santorum heads to South Carolina, where Bill Clinton is also stumping for Hillary.
---
Follow stories throughout the day with our new Politics & Policy page. And keep on top of the campaign with our 2016 Distilled election dashboard.
---
Top Read:
"Rather, his triumph resulted from identifying those voters, relentlessly pursuing them, ridding the campaign of rivals for their support, and surviving a vicious home stretch in which a convergence of opposing forces attempted to steal what his team felt was rightfully theirs." National Review's Tim Alberta and Eliana Johnson on Ted Cruz's win in Iowa.
---
Top Lines
'Running While Female.' New York magazine's Rebecca Traister on the lessons Hillary Clinton has had to learn about running for president as a woman, starting with the race in Iowa.
San Bernardino's Woes. The city's police department is perhaps best known for leading the heroic search for the terrorists who killed 14 people in December, but the department is being "savaged by budget cuts, rattletrap equipment, crushing workloads, and sunken morale." (Michael Wines, The New York Times)
---
Top Views
Who Really Chooses the Nominees? Well, it's complicated. Watch Yoni Appelbaum, The Atlantic's senior politics editor, break down the process in this short video.
The Story of Google. Or, Alphabet, rather—the name of its parent company. The Economist traces the rise of the world's most valuable enterprise in this chart.
---
We want to hear from you! We're reimagining what The Edge can be, and would love to receive your complaints, compliments, and suggestions. Tell us what you'd like to find in your inbox by sending a message to newsletters@theatlantic.com.