The Edge: The End of Gilmentum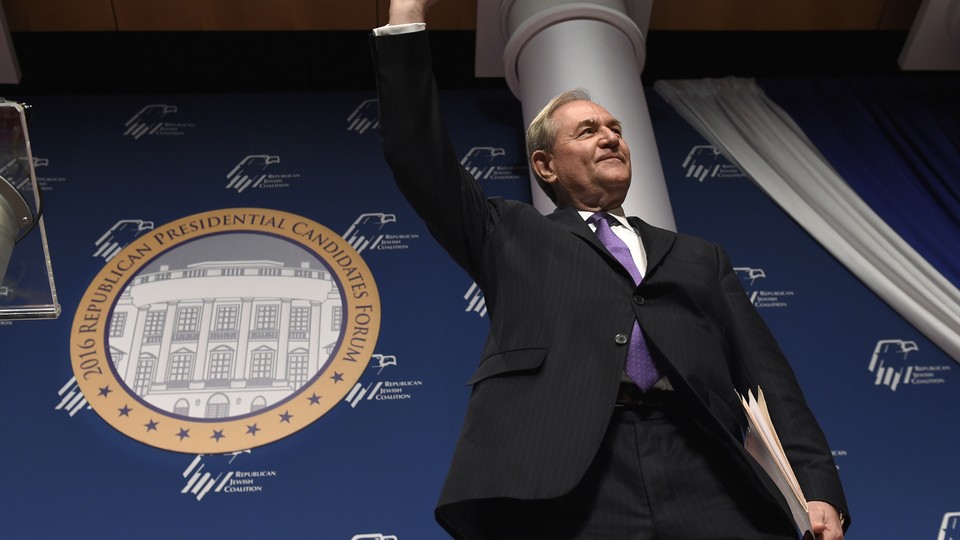 Today in One Paragraph
Republican presidential candidate Jim Gilmore ended his campaign. Donald Trump threatened to sue Ted Cruz for not being a natural born citizen. The heads of the Roman Catholic and Russian Orthodox churches met for the first time in nearly 1,000 years. The U.S. government plans to open commercial flights to Cuba. Secretary of State John Kerry announced an upcoming temporary ceasefire in the Syrian civil war. Two high-school students were killed in a shooting in Glendale, Arizona. And President Obama has designated three new national monuments.
---
Top News
Jim Gil-no-more. The former Virginia governor has ended his campaign for president after failing to gain momentum. Gilmore said he would continue working to "ensure that our next President is a free-enterprise Republican who will restore our nation to greatness and keep our citizens safe." (Daniel Chaitin, Washington Examiner)
When in Doubt, File a Lawsuit. Donald Trump threatened to sue Ted Cruz for his birthplace, tweeting that if Cruz "doesn't clean up his act, stop cheating, & doing negative ads," he has grounds for a lawsuit against him. (Bradford Richardson, The Hill)
A Historic Meeting. For the first time since the Great Schism in 1054, the pope met with the leader of the Russian Orthodox church in Cuba, marking an important step toward inter-faith relations. (Doug Stanglin, USA Today)
School Shooting. Two female students were found fatally shot at a high school in Glendale, Arizona. "This is not an active-shooter situation, and we realized that once we got on scene," authorities said. (Megan Cassidy, Ricardo Cando, and Anne Ryman; The Arizona Republic)
Your Ticket to Havana. The U.S. government will announce Tuesday that it will open commercial air travel to and from Cuba for the first time in decades, according to a notice sent to congressional offices. It will approve up to 110 flights per day. (Jake Sherman, Politico)
A Pause in Syria. Secretary of State John Kerry announced that a compromise between Russia and U.S. has led to a "cessation of hostilities" in the Syrian civil war. The U.N. hopes to deliver aid to some areas within the next 24 hours. (BBC News)
The Weekend in One Paragraph: It's Presidents' Day weekend, and what's better a holiday treat than another presidential debate? On Saturday, the GOP presidential candidates will debate at 9 p.m. ET in Greenville, South Carolina. And a new batch of Hillary Clinton's emails are expected to be released to the public.
---
Follow stories throughout the day with our new Politics & Policy page. And keep on top of the campaign with our 2016 Distilled election dashboard.
---
Top Read:
"The Social Security Administration found, for example, that life expectancy for the wealthiest American men at age 60 was just below the rates in Iceland and Japan, two countries where people live the longest. Americans in the bottom quarter of the wage scale, however, ranked much further down — one notch above Poland and the Czech Republic." The New York Times' Sabrina Tavernise on the disparity in life expectancy between high- and low-income Americans.
---
Top Lines
Gift to the GOP. Even though Carly Fiorina dropped out of the presidential race this week, she was a blessing to the Republican party, argues The National Review's Ian Tuttle—and she's expected to be back in the "media hot seat" again soon.
Where Christie Went Wrong. The New Hampshire primary marked the end of the New Jersey governor's campaign, but it also helped boost John Kasich moving into the South Carolina primary. Why? (Nora Kelly, The Atlantic)
An Effective Attack. By pointing out Bernie Sanders's unwillingness to address to issues other than income inequality—like racism—Hillary Clinton might have finally found her footing in her fight against him. (Jamelle Bouie, Slate)
---
Top Views
How Widespread Is Lead Poisoning? It stretches the entire U.S. To see which states are reporting high blood lead levels, check out this interactive explainer. (Julia Lurie, Mother Jones)
---
We want to hear from you! We're reimagining what The Edge can be, and would love to receive your complaints, compliments, and suggestions. Tell us what you'd like to find in your inbox by sending a message to newsletters@theatlantic.com.