The Edge: Sanders and Clinton Prep to Move Debate Offline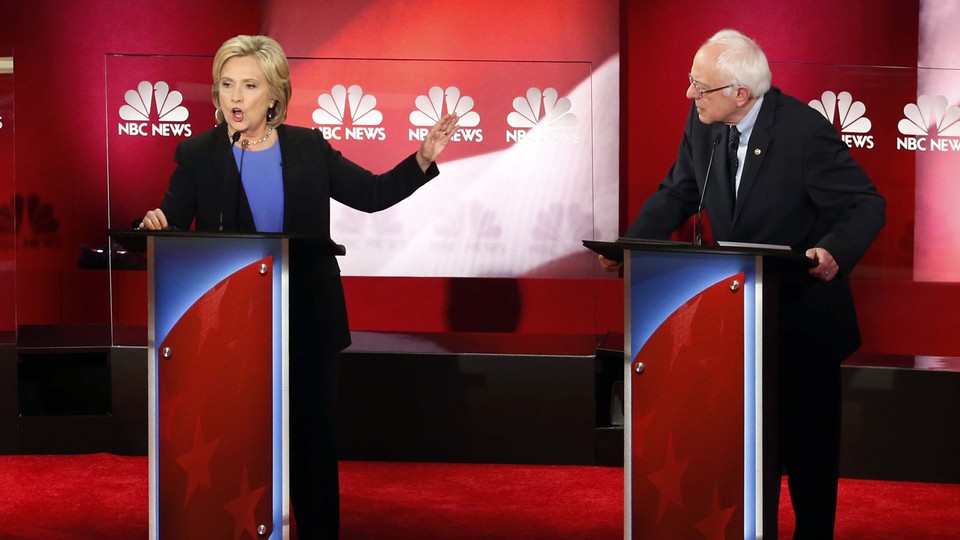 Today in One Paragraph
Hillary Clinton and Bernie Sanders—who picked up the endorsement of former NAACP head Ben Jealous—return to the debate stage. Ben Carson's campaign said that it will significantly downsize. The White House said that Obama will propose a $10-per-barrel tax on oil in his 2017 budget plan. On the Hill, Senate Democrats blocked a sweeping energy-reform bill after failing to reach an agreement with Republicans on an amendment that would provide federal aid to Flint. Martin Shkreli invoked the Fifth Amendment before a congressional hearing about drug prices. And the four remaining militants occupying a land reserve in Oregon are facing federal charges.
---
Top News
Party of Two. A day after Hillary Clinton and Bernie Sanders sparred over the meaning of progressivism at a CNN Democratic presidential town hall, they're back on stage tonight—this time without Martin O'Malley—at the University of New Hampshire. The debate, which was only confirmed on Wednesday, begins at 9 p.m. ET on MSNBC. Join us for live coverage. (The Atlantic staff)
Taxing Oil. Barack Obama's final budget proposal as president will include a $10-per-barrel fee that would be paid by oil companies. Though it is likely to fail in the Republican-controlled Congress, the move is part of the White House's effort to encourage a greater "focus on clean renewable fuels that do not exacerbate climate change." (Ayesha Rascoe and Roberta Rampton, Reuters)
Carson Camp on Life Support. More than 50 staff positions will be cut as Ben Carson—once a leading contender in the Republican field—struggles to regain steam. (Robert Costa, The Washington Post)
Feeling the Bern. Ben Jealous, who led the NAACP for five years, will put his support behind Bernie Sanders for president. Sanders has struggled to gain traction among black voters, but Jealous's support may signal that he's resonating among the base in the Democratic Party. (Nia-Malika Henderson, CNN)
Blocked. Senate Democrats held up a comprehensive energy bill after Republicans refused vote on an amendment to provide $600 million to Flint for infrastructure improvements unless corresponding spending cuts were applied elsewhere in the federal budget. The bill failed on a 46 to 50 vote. (David Henry, The Hill)
Pleading the Fifth. Martin Shrkeli—the "Pharma Bro" vilified as the face of pharmaceutical-industry greed—declined to answer questions in front of the House Oversight Committee, which is investigating the high cost of prescription drugs. He did, however, share his thoughts about the hearing on Twitter, where he called his questioners "imbeciles." (Marcy Gordon and Matthew Perrone, Associated Press)
More Indictments in Oregon. A total of 16 protesters are facing charges related to the occupation of the Malheur National Wildlife Refuge, including four who are still holding out, according to documents unsealed Thursday. Ammon Bundy, who led the armed occupation and is now in custody, has urged the remaining four occupants to stand down. (Doug Stanglin and Gordon Friedman, USA Today)
Tomorrow in One Paragraph: Four days out from the first-in-the-nation primary, Bernie Sanders and Hillary Clinton will be back on the campaign trail in New Hampshire. Nearly the entire remaining GOP field—Ted Cruz,Marco Rubio, Jeb Bush, Carly Fiorina, Chris Christie, and John Kasich—will also be in the Granite State. Donald Trump, however, will be in South Carolina.
---
Follow stories throughout the day with our new Politics & Policy page. And keep on top of the campaign with our 2016 Distilled election dashboard.
---
Top Read:
"The more America intensifies its war against ISIS, the more ISIS will try to strike Americans. And the more terrorism ISIS manages to carry out, the more fiercely America will escalate its air attacks, thus creating the civilian casualties that 'tremendously help the narrative of a jihadi group like the Islamic State.'" The Atlantic's Peter Beinart on the danger of escalating attacks on Islamic State.
---
Top Lines
'The Buchanan Boys.' National Review's Kevin D. Williamson argues that Donald Trump's Iowa performance is strikingly similar to Pat Buchanan's in 1996: "second place, enjoying the support of approximately one in four Republican caucus-goers ... powered by the resentment and anxiety of the white working class."
Iowa's Not Done Yet. The state is still dealing with fallout from both sides of the aisle—reports of mischief in the Cruz campaign, and alleged bungled vote-counting in Democratic precincts—following the first caucuses of 2016. (Alan Rappeport, The New York Times)
---
Top Views
The Guy That Nobody Likes. From high-school classmates to Senate colleagues, Ted Cruz can't seem to escape the hate. New Republic visualized some of the comments that, together, amount to a kind of "political poetry."
'ISIS in America.' The New York Times contextualizes the threat posed by Islamic State sympathizers on U.S. soil in this graphic.
---
We want to hear from you! We're reimagining what The Edge can be, and would love to receive your complaints, compliments, and suggestions. Tell us what you'd like to find in your inbox by sending a message to newsletters@theatlantic.com.